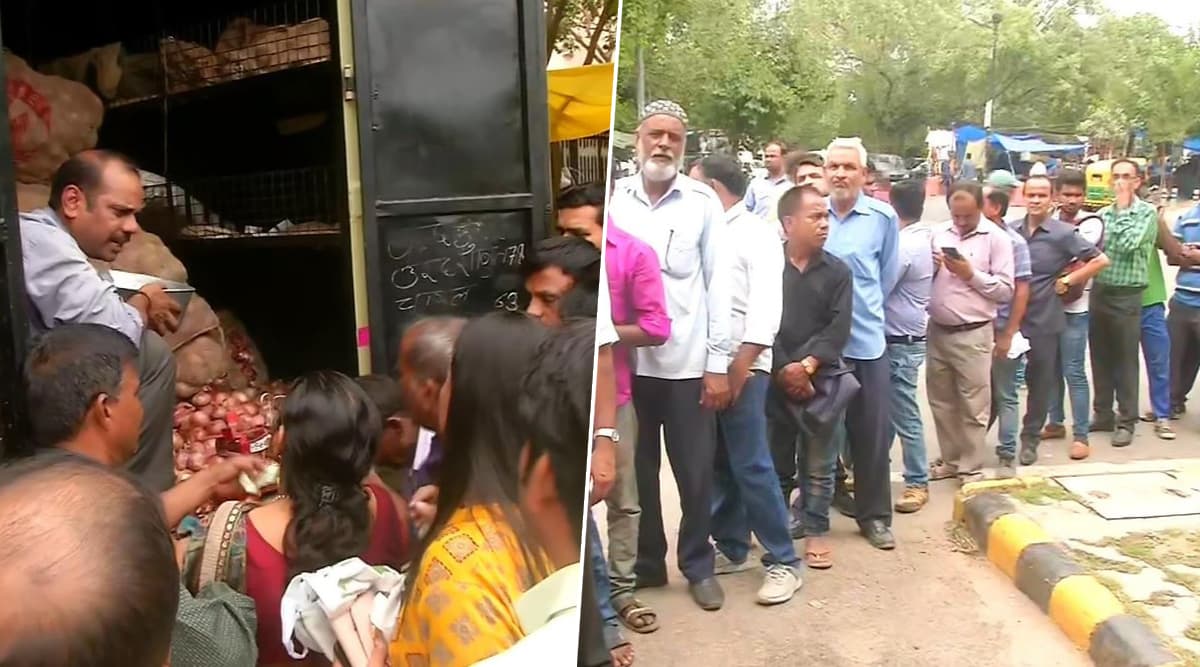 New Delhi, September 24: In a major relief for Delhiites, the government on Tuesday sold onions at Rs 22 per kg in mobile vans amid the current price surge of the kitchen staple. According to a tweet by ANI, people were seen standing in long queues to buy onions which were being sold by the Government of India at subsidised rates. In Delhi, onions were costlier than apples. The rise in the price of onions is because of the supply disruption due to excess rainfall in the major onion producing states especially Maharasthra, Karnataka, Andhra Pradesh, Gujarat. Due to shortage in supply of onions, onion sold at Rs 50 per kg in wholesale, while in retail, it touched as high as Rs 75 per kg at many places in Delhi-NCR.
The rising onion prices are bringing tears to the eyes of common man. In the last one week, the price of this vegetable has increased by 40-50 per cent. Onions are now being sold costlier than apples in Delhi. According to reports, the wholesale price of onions at the vegetables and fruits market is Rs 50 per kg, while the seasonal apple, of average quality, is available at Rs 30-40 per kg in the market. Meanwhile, the retail price of onions at some places ranges even higher - between Rs 60 and 80. Onion Price Hike Continues, Centre Mulls Releasing More Onions From Buffer Stocks.
Here's the tweet:
Delhi: People queue up to buy onions being sold at Rs 22 per kg by the Government of India. pic.twitter.com/Ew448jHbmh

— ANI (@ANI) September 24, 2019
The sharp surge in onion prices is almost tearing up the consumers. According to the APMC data, onion shot up from Rs 20-40 per kg on Thursday to Rs 22.50-50 per kg on Friday, which is a difference of Rs 10 or 25 per cent. It was retailing in Delhi and the NCR between Rs. 50 and Rs. 75 per kg . On Monday, Delhi Chief Minister Arvind Kejriwal said his government was procuring onions and will sell them at cheaper prices in fair price shops and mobile vans.