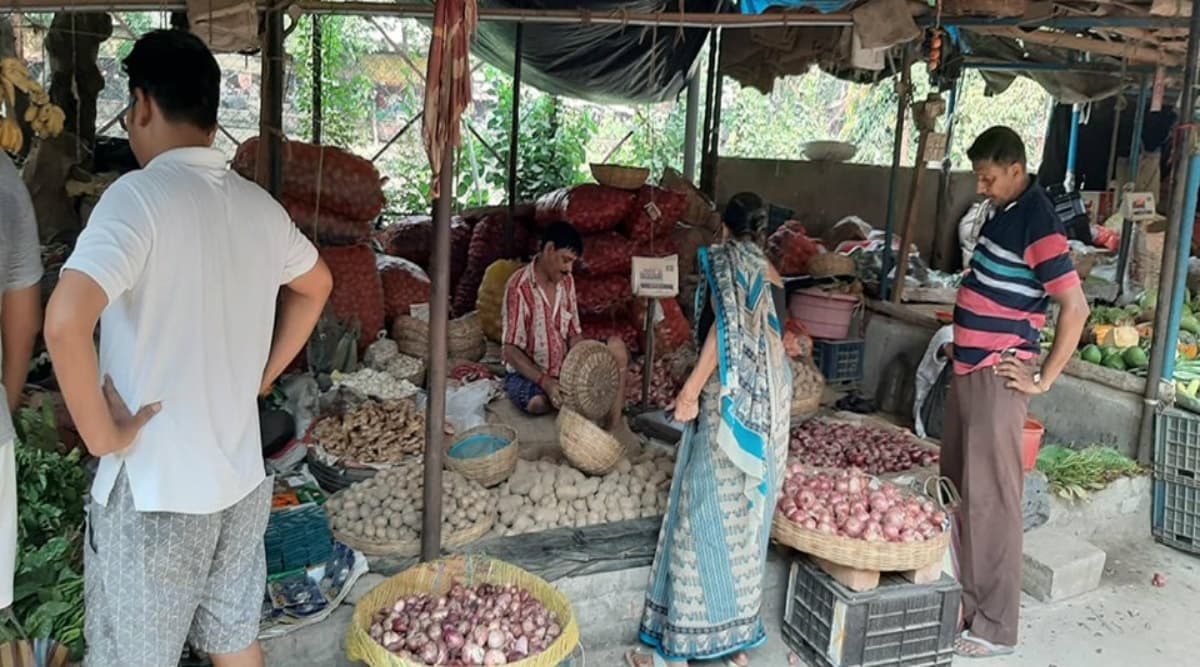 New Delhi, September 24: With onion prices hitting a record four-year high in the country, the Central and the state governments have geared up to ramp up the supply of the kitchen staple from its held buffer stocks. The retail prices of onion have shot up to Rs 70-80 per kg in the national capital and other parts of the nation. The sudden surge is due to supply disruption due to excess rainfall in the major onion producing states especially Maharasthra, Karnataka, Andhra Pradesh, Gujarat, eastern Rajasthan and western Madhya Pradesh, where excess rainfall has wrecked havoc in the last two days. Onion Prices Soar 25 Per Cent High Due to Supply Shortage.
Onion Price Touches Rs 4,200 per Quintal
According to reports, the modal price of onions rose by 82 per cent in Lasalgaon. The price per quintal was Rs 2,251 in August, which increased to Rs 4,100 and later touched a new high of Rs 4,200 per quintal. As per a data by consumer affairs ministry, retail onion prices rose to Rs 57/kg in Delhi, Rs 56/kg in Mumbai, Rs 48/kg in Kolkata and Rs 34/kg in Chennai last week. The prices were quoted at Rs 60/kg in Gurgoan and Jammu during the same period. Meanwhile, the trade data showed retail onion prices skyrocketing to Rs 70-80 per kg towards the end of the last week from Rs 50-60/kg in the previous week. MMTC Not to Import Onions From Pakistan Over Kashmir, Modifies Tender.
Centre Mulls Imposing Stock Limits
The government informed that it may consider imposing stock holding limits on onion traders if the situation does not normalise in the next 2-3 days and prices continue to rise. According to a report by PTI, the stored onions right now are sold in most parts of the country as fresh kharif (summer) crop will hit the market from November onwards.
Onion Transportation Hit Due to Heavy Rains
The onion traders informed that there is enough supply of stored onion of the previous year's crop in the country but its transportation has been affected because of heavy rains. Much of the onion is stored in Maharashtra, where rains disrupted the transport of the kitchen staple to other parts of the country.
At the wholesale market of Lasalgoan, onion prices rose to Rs 45/kg last week, when compared with less than Rs 10/kg in the year-ago period. Lasalgoan in Maharasthra is Asia's largest onion market.
Centre Has Buffer Stock of 56,000 Tonnes of Onion
According to reports, the Centre has a buffer stock of 56,000 tonnes of onion, of which 16,000 tonnes has been offloaded so far. In Delhi, 200 tonnes a day is being offloaded.
Reports inform that apart from rains, onion prices are under pressure on likely fall in kharif production of this year owing to less planted area under onion on account of excess rains. According to a report by Financial Express, a Central team is on a three-day tour to main markets in Maharashtra to take stock of the onion supply in the state. The team also visited Lasalgaon, the country's largest wholesale onion market to find out reasons for the volatility in the market prices.