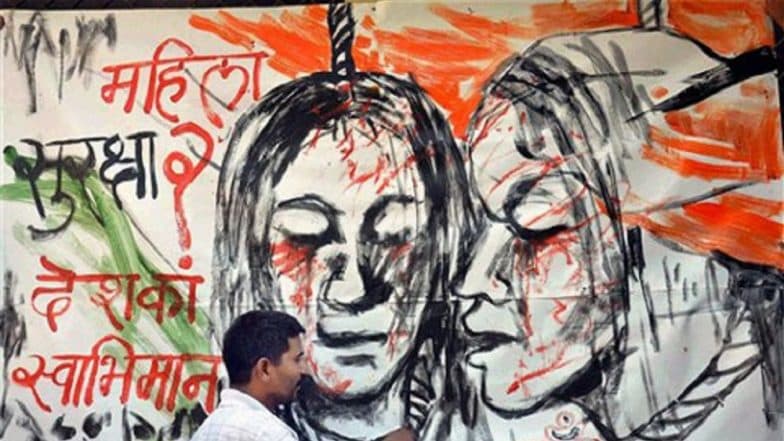 Coimbatore, March 12: The AIADMK on Monday expelled its youth wing member Nagraj from the party for assaulting the brother of a 20-year-old college woman who was sexually harassed by a four-member gang. According to reports, the woman was molested by the gang. The gang members forcibly removed her clothes and filmed her. The victim's brother then thrashed gang leader Thirunavukkarasu of Makinampatti and his accomplices after he came to know about the incident, reported The Times of India. Tamil Nadu: 50 Women Trapped Through Facebook 'Raped' by 4-Member Gang of Pollachi.
When Thirunavukkarasu told Nagaraj about this incident, he assaulted the victim's brother on February 26. Police arrested Nagaraj and his four friends for the assault. Later, he was released on a bail. Nagraj was the AIADMK Jayalalithaa Peravai's 34th ward secretary in Pollachi. Opposition parties of the state attacked the ruling AIADMK government over the entire incident. Ghaziabad District Court Cancels Arrest Warrant of Rape Accused After Directing Him to Plant 5 Tree Saplings.
Tweet of DMK leader Kanimozhi:
The shocking incidents of sexual assault & blackmail in Pollachi clearly shows that women are not safe in TN. This appears to be a big network. Govt should immediately crackdown such networks, and the people involved.

— Kanimozhi (கனிமொழி) (@KanimozhiDMK) March 11, 2019
Meanwhile, the Tamil Nadu police on Monday said that it had busted a gang of sexual offenders for allegedly harassing about 50 female Facebook users across the state and arrested a four-members from Pollachi, near Coimbatore. With this, the police said that a total of eight people in two separate cases registered had been arrested since the first complaint was filed three weeks back.
Briefing about the arrests, the police stated that they had arrested four youth, all in their 20s, in the last week of February for allegedly blackmailing and sexually harassing the victim in Pollachi. Police added that they had seized four cellphones from the accused and it had videos and photographs of about 50 women.