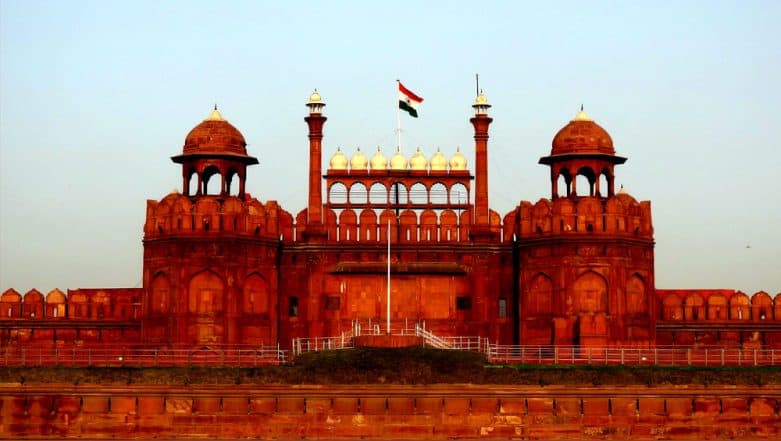 New Delhi, January 22: The Red Fort in Delhi will remain closed for the Public and general visitors for 10 days in view of the Republic Day function and Bharat Parv celebrations. As per directions of Archaeological Survey of India under the aegis of Ministry of Culture, the Red Fort will be shut from the morning of 22nd January 2019 to 31st January 2019. Reports inform that the rehearsal for the Republic Day 2019 will start at 9.50am on January 23 from Vijay Chowk and will head to the Red Fort. Elaborate security arrangements have already been made for the mega event in the national capital. Republic Day 2019 Speeches in English: Watch Videos of Patriotic Addresses for Students to Present in School & Celebrate 26th January. 
Moreover, the airspace over Delhi will be shut on January 18 and from January 20 to 26 for commercial flights due to Indian Air Force (IAF) rehearsals for the Republic Day. According to reports, nearly 1300 flights arrive and depart from IGI airport daily which includes VIP movements, private jets and Defence planes. However, the rehearsal may affect the air traffic and disrupt around 1,000 flights. The flights scheduled during the closure hours have been rescheduled while the international carriers have also been asked to reschedule their flights due to the temporary restrictions. Republic Day Parade 2019: Delhi Airspace to Remain Suspended for 2 Hours on These Days.
The Delhi Police in the last week prohibited the operation of any unmanned aircraft systems by the public from January 20 in view of the Republic Day celebrations. The order, which will remain in force from January 20 to February 15, prohibits "flying of sub-conventional aerial platforms like paragliders, para-motors, hang-gliders, UAVs, UASs, microlight aircraft, remotely piloted aircraft, hot air balloons, small size powered aircraft, quadcopters or para jumping from aircraft, etc."