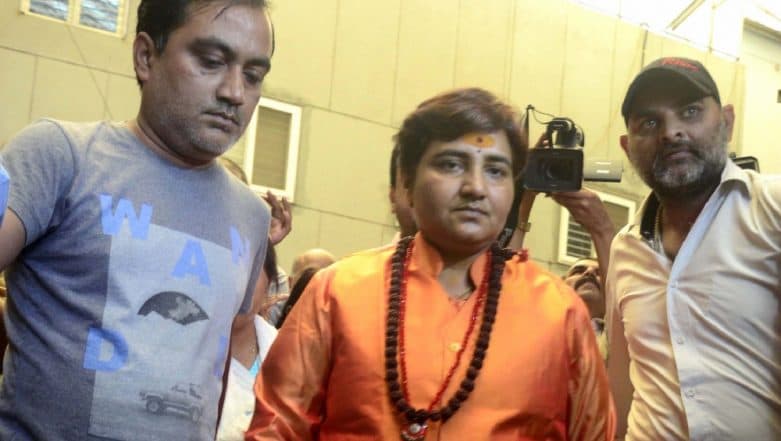 Bhopal, April 21: After raising the political storm over her 'curse' remark on 26/11 martyr Hemant Karkare, the Bharatiya Janata Party (BJP) Bhopal candidate Sadhvi Pragya Thakur has made another controversial statement on Saturday- she said that she does not have any regret regarding demolishing the Babri Masjid structure on December 6, 1992. In fact, Thakur said, she is proud of it. The Election Commission of India (ECI) served a notice to BJP Bhopal candidate for her controversial remark. Sadhvi Pragya Insults 26/11 Martyr Hemant Karkare, Says 'He Died Because He Was Cursed'; Watch Video.
"Why would we regret the demolition of the Babri Masjid? We are, in fact, proud of it. There were some waste products of the Ram temple and we removed it. This has awakened the self-respect of our country and we will construct a grand Ram temple," Sadhvi Pragya said in an exclusive interview with Aaj Tak.
When asked about why Ram mandir has not been constructed yet where Babri Masjid was demolished, BJP Bhopal candidate said that this is not a political issue for BJP. Sadhvi Pragya Thakur Apologises, Calls 26/11 Mumbai Attacks Hero Hemant Karkare a 'Martyr'.
"The Congress has ruled for 70 years and look what it has done. Even our temples were not secure. By gathering and demolishing the structure of the Babri Masjid, the Hindus have awakened the self-respect of the country. Where will the Ram temple be constructed if not in this country?" Sadhvi Pragya said to Aaj Tak. Sadhvi Pragya Singh Thakur Breaks Down Recalling Her 'Torture' in Custody; Watch Video.
Sadhvi Pragya's controversial statement comes a day after she said that 26/11 martyr Hemant Karkare died because 'he was cursed'. "Hemant Karkare falsely implicated me [in Malegaon blasts] and treated me very badly. I told him your entire dynasty will be erased. He died of his karma," Sadhvi Pragya said.
After her remark broke out a controversy, the BJP released a statement and said that the party considers Hemant Karkare a martyr and Sadhvi Pragya's statement are personal which she might have given of mental and physical torture she had faced. Sadhvi Pragya also apologised and said the statement was her personal pain and Karkare is certainly a martyr.