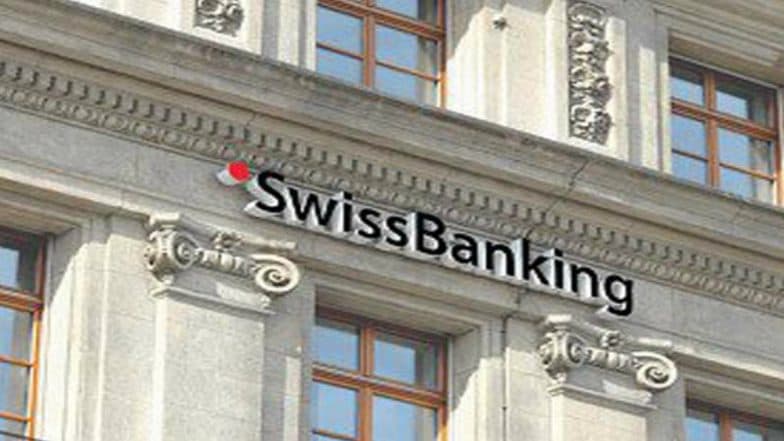 Geneva, October 7: Nearly three years after the path-breaking Automatic Info Exchange (AIE) framework was inked with the Indian government, Switzerland has shared the first tranche of Swiss bank details of Indian account holders. The details, pertaining to the financial year 2018-19, was scheduled to be shared by September 2019. Reports citing top officials in the Swiss government confirmed on Monday that the details have been sent to their counterparts in India. Government Declines to Share Black Money Details Received From Switzerland Citing Confidentiality.
Information related to the Indian account holders in Swiss banks is likely to bolster the Narendra Modi government's resolve to crackdown on "black money" or unaccounted wealth. Ahead of the 2014 general elections -- which led to the ouster of Manmohan Singh-led UPA government, Modi's Bharatiya Janata Party (BJP) had promised to retrieve the black money stored by Indians in offshore accounts based in Switzerland.
1st Tranche of Info Shared by Switzerland:
#NewsAlert - India gets 1st tranche of Swiss bank details of its residents under automatic info exchange framework. Next exchange of information on financial accounts with India in September 2020: PTI quotes Switzerland Tax Deptt official. | @Ashish_Mehrishi with details. pic.twitter.com/ECKwS25PVb

— News18 (@CNNnews18) October 7, 2019
The next tranche of information, under the AIE framework, will be shared in September 2020, confirmed a senior official of Switzerland's Federal Tax Department, while speaking to news agency PTI.
Notably, the AIE pact was sealed between New Delhi and Berne on November 22, 2016. The joint declaration was signed by Sushil Chandra, the then Chairman, CBDT and Gilles Roduit, the then Deputy Chief of Mission, Swiss Embassy in India.
With signing of the AEI, it was expected that India would start receiving information on accounts held by Indian residents in Switzerland from September 2019 for 2018 and subsequent years on an automatic basis.
"Both jurisdictions recognise the importance and potential benefits of cross-border investment and financial services. They will thus strive to facilitate and improve the conditions for providing financial services between their jurisdictions and strengthen their cooperation on financial sector issues through regular dialogue," said the statement issued by the Indian embassy in Switzerland after the signing of the AEI framework.