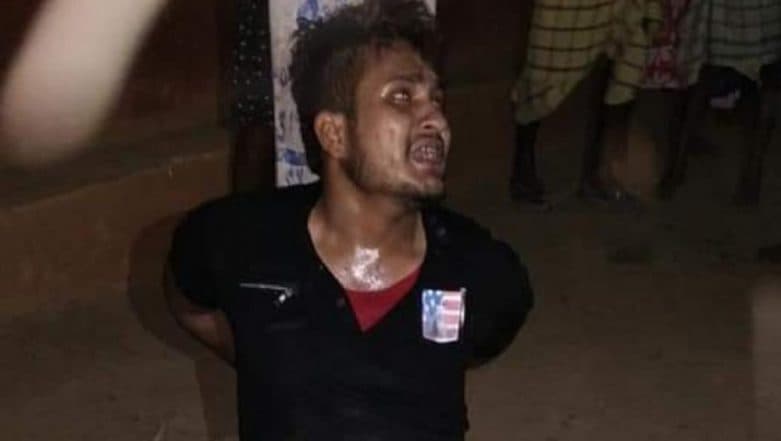 Ranchi, September 13: Days after the Jharkhand Police dropped murder charges against the accused in the Tabrez Ansari lynching case, a new medical report said that though the death of Ansari was preceded by a cardiac arrest, the cardiac arrest was a result of a serious injury on the skull. Five HoDs of the MGM Medical College in Jamshedpur signed a document that verifies the above claim, reported India Today. PM Narendra Modi On Tabrez Ansari's Killing: 'Mob Lynching Pains Me But Don't Insult Jharkhand'.
The new report said that Tabrez's cardiac arrest was a result of a skull fracture that resulted in the excessive flow of blood in his heart. 'Jharkhand Has Become Factory of Lynching And Violence, PM Modi Still Mute': GN Azad.
"The combined effect of fracture of the bone, pale organs and heart chambers full of blood resulted into cardiac arrest," the report concludes.
On the investigation front, senior police officer Karthik S was quoted by NDTV as saying. "Medical report did not give any supporting evidence for murder so that we charged (the accused) under culpable homicide not amounting to murder which is also equally punishable if not to the extent of murder sections,". "Once we got the medical report, we asked for the second opinion from a higher level of experts. They also gave same sort of opinion," he added.
A mob attacked Ansari in Jharkhand's Seraikela-Kharswan district on June 17. He was tied to a pole and thrashed for over seven hours on charges of theft before being handed over to police.
He was forced to chant 'Jai Shri Ram' and 'Jai Hanuman'. A severely wounded Ansari was taken to a district hospital, which cleared him for jail. Four days later, when his condition deteriorated, he was rushed to another hospital, where the doctors declared him "brought dead".