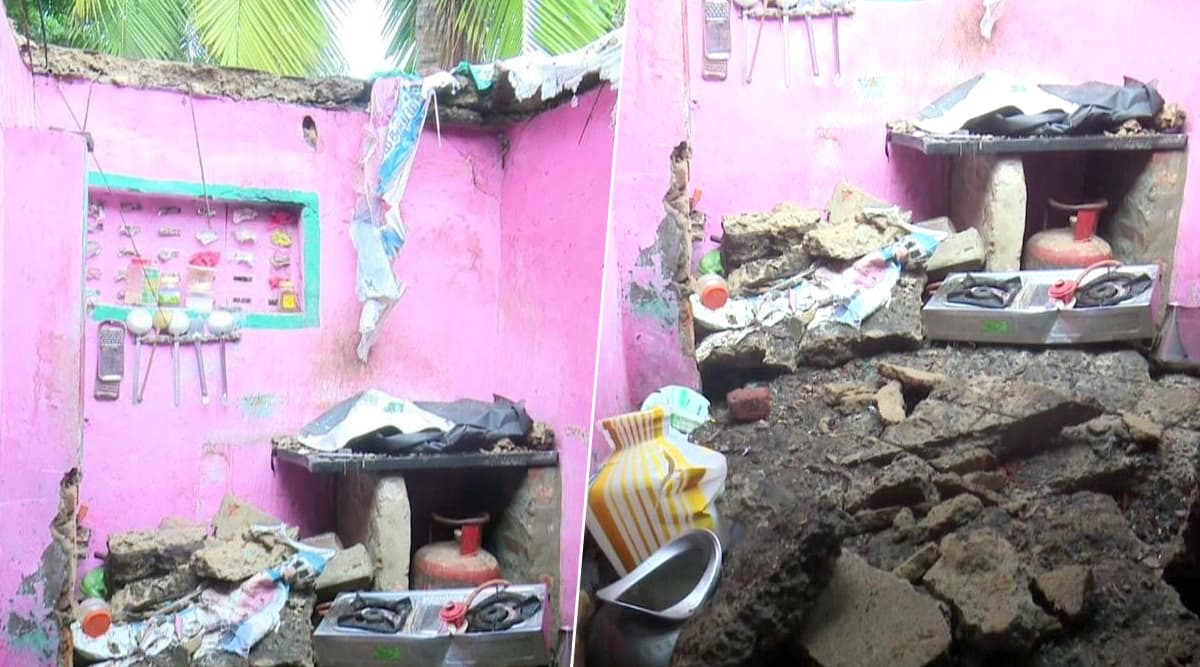 Chennai, October 17: In a tragic incident, a roof of a house in Rameswaram collapsed due to heavy rainfall in the region following the onset of northeast monsoon. According to a tweet by ANI, the incident took place in Rameswaram's MK Colony. The Northeast monsoon hit the southern states of Tamil Nadu, Karanataka and Puducherry on Wednesday. No injuries or loss of life were reported in the incident.
According to a weather bulletin by the India Meteorological Department (IMD), the southwest monsoon has withdrawn from the entire country and simultaneously Northeast monsoon rains have commenced over Tamilnadu and adjoining areas of Andhra Pradesh, Karnataka and Kerala from October 16. This year, the late arrival of the Northeast Monsoon has left many parts of southern India high and dry. Monsoon 2019: Highest September Rainfall Recorded in 2019 After 102 Years, Says IMD Report.
Here's the tweet:
Tamil Nadu: Roof of a house in Rameswaram's MK Colony collapses due to rainfall, after northeast monsoon hit the state yesterday. No injury or loss of life reported. pic.twitter.com/XVJAH1Wuma

— ANI (@ANI) October 17, 2019
On Thursday, moderate to heavy rain and thunderstorms across Southern India, mainly over Kerala and the adjoining areas. In the wake of the current weather conditions, heavy rainfall is expected in most parts of Tamil Nadu, Puducherry and Kerala from Wednesday. The IMD had also issued an orange alert in the southern states and have urged officials to "be prepared". As the northeast monsoon has commenced, torrential rains are likely in most parts of Tamil Nadu, Kerala and Karnataka till October 20, the Met agency said in its bulletin.