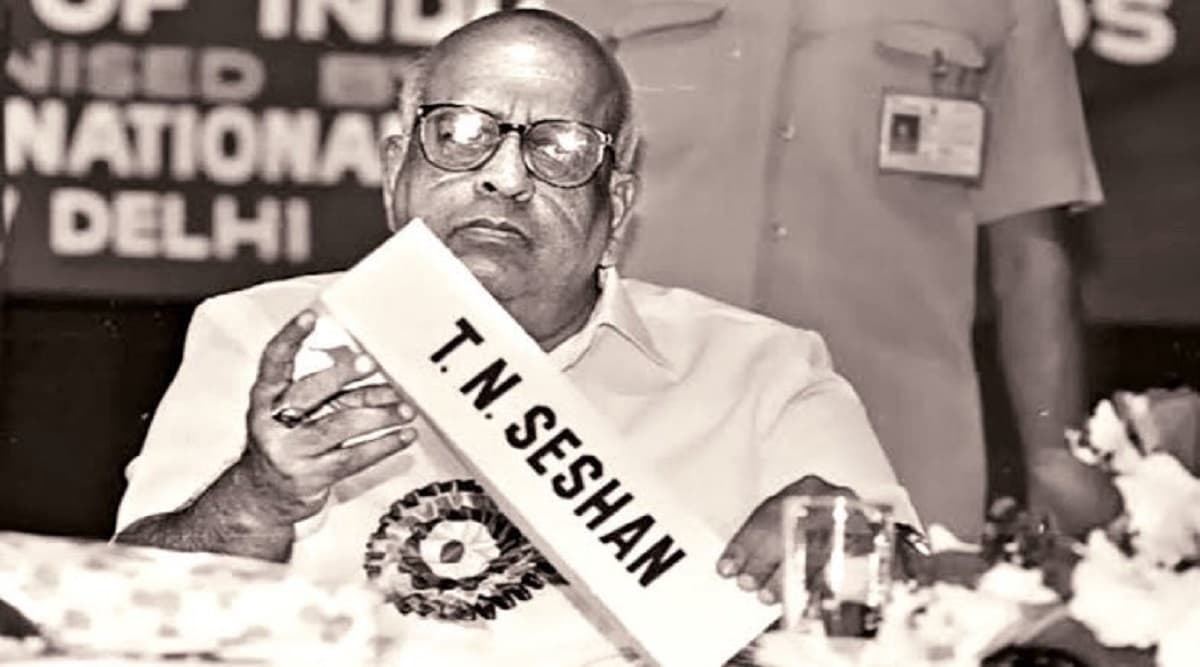 Chennai, November 11: Former Chief Election Commissioner (CEC) of India, Tirunellai Narayana Iyer Seshan passed away on Sunday due to cardiac arrest. He was 86 years old and passed away in his Chennai residence. The entire nation was mourning the death of one of the most influential and impactful Election Commissioner. Condolence messages started pouring from everywhere including political leaders who expressed grief on his demise. TN Seshan, Former Chief Election Commissioner, Dies at 86 Due to Cardiac Arrest.
Seshan had won the Ramon Magsaysay Award in 1996. He was born on December 15, 1932, in Palakkad district of Kerala. From PM Narendra Modi,  Shivraj Singh Chouhan, Shashi Tharoor, Sunil Deodhar and others paid their tribute to Seshan.
Check PM Narendra Modi' tweet:
Shri TN Seshan was an outstanding civil servant. He served India with utmost diligence and integrity. His efforts towards electoral reforms have made our democracy stronger and more participative. Pained by his demise. Om Shanti.

— Narendra Modi (@narendramodi) November 10, 2019
Shivraj Singh Chouhan's tweet:
India loses yet another beloved son, a true trailblazer in the legendary exCEC #TNSeshan.

Indian Democracy will be indebted to him forever. His legacy will live on for time immemorial.

My deepest condolences to his family.

— Shivraj Singh Chouhan (@ChouhanShivraj) November 10, 2019
This is what Sashi Tharoor had to say on Seshan'a demise:
Sad that former ChiefElectionCommissioner

TN Seshan has passed away in Chennai. He was my father's classmate at VictoriaCollege Palakkad — a courageous &crusty boss who asserted the ElectionCommission's autonomy& authority as no CEC before him had done. A pillar of our democracy pic.twitter.com/FfGBuJnWoU

— Shashi Tharoor (@ShashiTharoor) November 10, 2019
Sunil Deodhar's tweet:
Implemented model code of conduct, issued voter IDs, controlled election expense, ban on influencing voters etc & the list goes on!

Deeply saddened to hear death of former CEC #TNSeshan Ji, visionary who changed functioning of #electioncommission & made it autonomous

Om Shanti🙏 pic.twitter.com/hNQ1YphN7p

— Sunil Deodhar (@Sunil_Deodhar) November 10, 2019
Check Kiran Bedi's tweet:
Just been informed Mr TN Seshan is no more. I am informed he was ailing for some time.

He was an epitome of a decisive public servant who believed in constant improvement dynamically.

He was a very warm hearted person. One with a tough exterior with a very humane/soft interior

— Kiran Bedi (@thekiranbedi) November 10, 2019
Seshan was appointed as the 10th CEC of India between 1990 and 1996. During his tenure, he changed the face of the election in the country. In India, before him, elections were all about money and power, but he played an instrumental role in strict implementation election code of conduct. During his tenure, there was a limit on a candidate's expenditure per constituency.
Issuance of Voter ID cards and a crackdown on all forms of bribery during the electioneering were some of the most remarkable poll reforms undertaken by him.