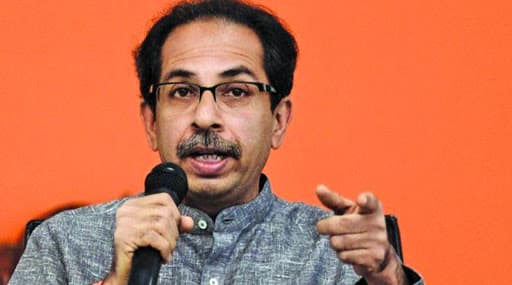 Mumbai, September 18: Shiv Sena Chief Uddhav Thackeray stoked a controversy on Wednesday after he said that senior Congress leader Mani Shankar Aiyar should be thrashed with shoes for his comments about Vinayak Savarkar made in 2018. On Tuesday, during his speech at the launch of a book based on the life of Savarkar,  Savarkar: Echoes From A Forgotten Past, Thackeray slammed Aiyar for saying that the Hindutva icon proposed the two-nation theory. Shiv Sena Alleges Damage in Savarkar Statue at Andaman & Nicobar, Port Blair Municipal Council Denies.
Aiyar had also alleged that Savarkar coined the term "Hindutva". Taking a dig at Rahul Gandhi, Thackeray said that a copy of the book should also be given to the former Congress president so that he could understand thoughts of this country. The Shiv Sena chief also demanded Bharat Ratna for Savarkar. Swap Mahatma Gandhi With Veer Savarkar on all Currency Notes: Hindu Mahasabha to Centre.
Thackeray said, "Savarkar must be awarded the Bharat Ratna. We don't deny the work done by (Mahatma) Gandhi and (first PM Jawaharlal) Nehru, but the country saw more than two families being born on the political scene." He further added, "I'd have called Nehru as Veer (brave) if he had survived jail for 14 minutes against Savarkar who stayed in prison for 14 long years."
Vikram Sampath is the author of the book. He said that it was the first of two volumes and covered the period between 1883 to 1924, from Savarkar's birth at Bhagur in Nashik district to his days as a firebrand student leader in Pune's Fergusson College, as well as his fight for freedom that ended in a life sentence in the infamous Cellular Jail.
In June this year, the Congress government in Rajasthan has made changes in freshly-printed books for the Rajasthan Board of Secondary Education (RBSE). The government removed "Veer" tag given to Vinayak Damodar Savarkar and mentioned that he had called himself a "son of Portugal" in his mercy petition.