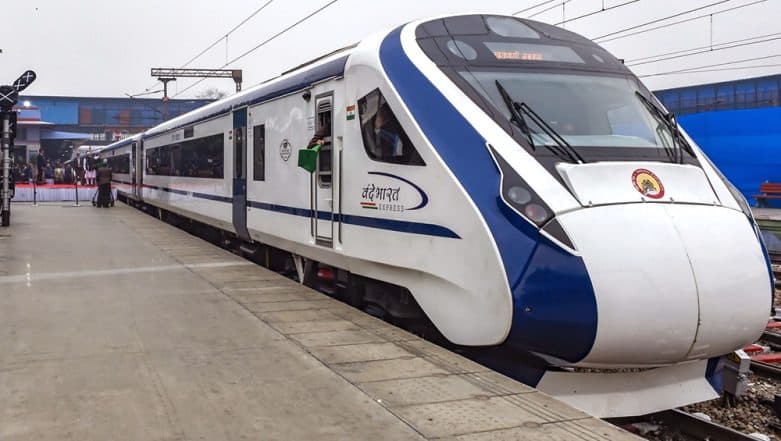 New Delhi, May 13: Vande Bharat Express, India's first semi-high-speed train, will soon get a body double (a back-up train with same features) which doesn't have any faults that the existing one has, reports said. The Vande Bharat Express train was flagged off by Prime Minister Narendra Modi on February 15 this year from the New Delhi Railway Station. According to a report by Hindustan Times, officials familiar of the development said that the new train is all set to arrive later this month and will be pressed into service whenever the existing train is sent for repairs. Facilities in Train 18: Passengers of Vande Bharat Express to Enjoy Muffins and Patties for Breakfast and Delicious Meals During Their Travel. 
The new train, termed as a 'back-up' train, is all set to arrive in New Delhi by the end of May. The train, which will come with adjustable seats and several other features, will be used every time the old unit is sent for maintenance.
Vande Bharat Express, which was earlier known as Train 18, can run up to a maximum speed of 160 kmph. The train has travel classes like Shatabdi trains but with better facilities that aims to provide a totally new travel experience to passengers. The Vande Bharat Express comes with 16 air-conditioned coaches of which two are executive class. The total seating capacity is 1,128 passengers. Train 18: Visuals From The Inside of 'Vande Bharat Express'; Watch Video.
The train is much more than the conventional Shatabdi rakes of equal number of coaches, which is possible due to shifting of all electric equipment below coaches and seats in the driving coach also. Moreover, the coaches of the train are equipped with automatic doors, GPS-based audio-visual passenger information system, on-board hotspot WiFi for entertainment purposes and very comfortable seating.