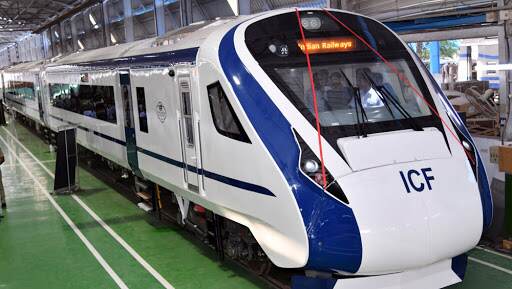 New Delhi, February 13: Passengers travelling in Train 18, now christened as Vande Bharat Express, will now enjoy the train journey with meals that will  tickle their taste buds. According to reports, passengers will now be able to enjoy their travel with delicious breakfast comprising of muffins, patties and doughnuts and mouth-watering lunch from an upmarket restaurant in Allahabad. According to a report by Hindustan Times, apart from the sumptuous lunch and breakfast, Train 18 passengers will also be able to savour a five-star dinner from a hotel in Kanpur.
The report states that passengers in Train 18 will no longers be served the regular Indian Railway breakfast of cutlet and bread. Also, the food would be packaged in such a way that it would stay warm until it is served. Train 18: Visuals From The Inside of 'Vande Bharat Express'; Watch Video.
Prime Minister Narendra Modi will flag off the indigenously built Train 18, called the Vande Bharat Express, on February 15 at 10 a.m. from the New Delhi railway station. The Vande Bharat Express is India's first engine-less train manufactured by the Integral Coach Factory in Chennai. To travel between New Delhi and Varanasi by Train 18, passengers will have to shell out 30-40 per cent higher fare than they do for Shatabdi Express, Railway Ministry officials said on Monday. Train 18 Fares: Vande Bharat Express Ticket Cost Slashed by Indian Railways.
Take a look at the video:
Fares of Vande Bharat Express:
According to reports, the New Delhi-Varanasi journey by the indigenously built high-speed train would cost Rs 3,310 for Executive Class (EC) while Chair Car (CC) will cost Rs 1,760, inclusive of taxes. The passengers travelling from New Delhi to Varanasi in the executive class will be charged Rs 399 for morning tea, breakfast and lunch, while travellers in the chair car will need to pay Rs 344 for the same. Indian Railways Approaches PMO to Launch Train-18 with Fares 40-50% Higher than Shatabdi Express.
The train recently became India's fastest train by hitting a speed of over 180 kmph during a trial run. It would soon start replacing the Shatabdi Express trains and run between Delhi and Varanasi. A railway official was quoted by IANS saying that the Chair Car fares are about 1.4 times the base price of Shatabdi Express trains covering the same distance, while the fares of EC are 1.3 times that of the base fare for First Class air-conditioned seating.