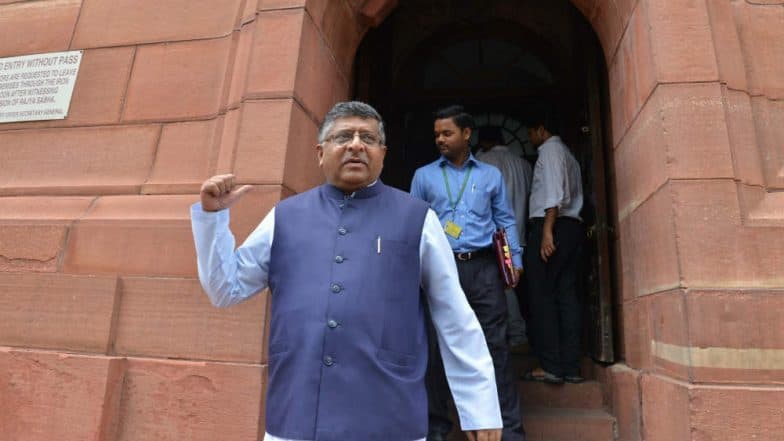 New Delhi, March 14: Hitting back at Rahul Gandhi for a tweet, the Bharatiya Janata Party (BJP) on Thursday said the Congress president was celebrating after China again blocked a proposal at the UN to ban Jaish-e-Mohammed chief Masood Azhar. Addressing a press conference, senior BJP leader Ravi Shankar Prasad said Rahul Gandhi was speaking Pakistan's language and it was his great grandfather Jawaharlal Nehru who 'gifted a permanent seat in United Nations Security Council (UNSC) to China'.
"Would the Congress party adopt a different voice even in case of a cruel killer and a global terrorist Masood Azhar? Rahul Gandhi's tweets and remarks are all over TV channels and newspapers in Pakistan. We are angry and furious over Rahul Gandhi's tweet. The foreign diplomacy is a serious issue which cannot be determined through tweeting," Prasad said. The BJP leader slammed Rahul Gandhi for meeting Chinese envoys when tensions were high between India and China due to the Doklam issue. Hand Over Masood Azhar if You Are So Generous, Sushma Swaraj Tells Imran Khan.
"Nehru suggested that the UNSC seat which was then held by Taiwan be given to China," Prasad also said. The BJP leader's sharp rebuttal came in response to Gandhi's tweet wherein he hit out at Prime Minister Narendra Modi, saying he was weak and scared of Chinese President Xi Jinping after China blocked a UN resolution to designate Azhar a global terrorist. Gandhi attacked the prime minister and said he had not spoken on China blocking the resolution in the UN Security Council.
"Weak Modi is scared of Xi. Not a word comes out of his mouth when China acts against India. NoMo's China diplomacy: 1. Swing with Xi in Gujarat. 2. Hug Xi in Delhi. 3. Bow to Xi in China," the Congress chief tweeted. India's bid to designate the Pakistan-based terror group Jaish-e-Mohammed's chief as a global terrorist suffered a setback with China on Wednesday putting a technical hold on a proposal to ban him following the Pulwama terror attack. Here's How China Blocked the Listing of Masood Azhar at the UNSC.
The proposal to designate Azhar under the 1267 Al Qaeda Sanctions Committee of the UNSC was moved by France, the UK and the US on February 27, days after a suicide bomber of the JeM killed 44 CRPF soldiers in Jammu and Kashmir's Pulwama, leading to a flare-up in tensions between India and Pakistan.