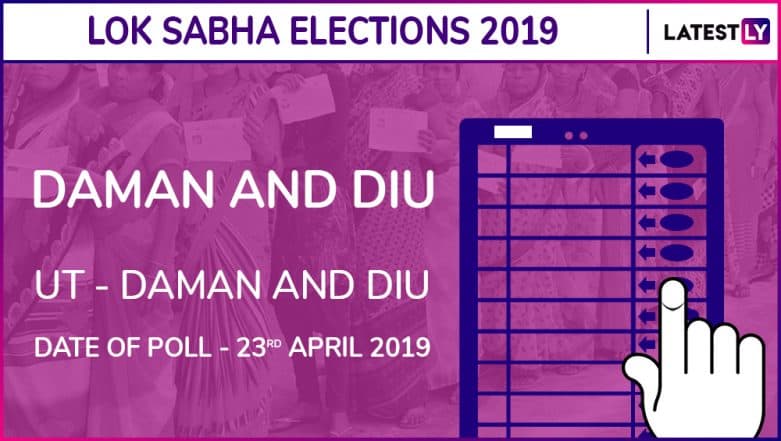 Daman & Diu is the only Lok Sabha constituency in the Union Territory of Daman & Diu in western India. In 1987, this constituency came into existence, following the implementation of the Goa, Daman and Diu Reorganisation Act, 1987.  The date of poll for this seat is April 23, 2019, as per the phase 3 schedule of Election Commission of India. The constituency number of this seat is PC No.1.The results of the Daman and Diu Constituency will be declared today. The counting of votes began on the Parliamentary seat in Daman and Diu at 8 am on Thursday, May 23. Voting took place for the Daman and Diu seat in the third phase of Lok Sabha Elections 2019. A total voter turnout of 71.83 per cent was recorded, as per Election Commission of India. Stay with us for Live updates on the results for the Daman and Diu Lok Sabha seat. BJP Candidate Lalubhai Babubhai Elected MP.  Lok Sabha Elections 2019 Schedule: Voting In 7 Phases From April 11 to May 19, Counting And Results On May 23; Check All Dates For General Elections.
The parties are yet to declare nominees for the Lok Sabha seats in Daman & Diu. The Election Commission has declared April 4, 2019, as the last date of filing on nomination from the seats. The last date for withdrawal of candidature is April 8, 2019. Lok Sabha Elections 2019 Phase III: List of States And Constituencies Voting On April 23.
Watch: Details of LoK Sabha Polls Phase III
Lalubhai Patel from BJP won the seat here in the last General Election of 2014 by securing 46,960 votes. He defeated Ketan Patel of Indian National Congress(INC) by a margin of 9,222 votes. Even Aam Aadmi Party candidate Kessur Goan and Bahujan Samaj Party's Bhavesh Patel contested in the 16th Lok Sabha election for this seat. Total of 1316 voters pressed on the NOTA button in the last election. The total turnaround of voters were 87,233 voters.
The 17th Lok Sabha Election will be held throughout the country starting from April 11, 2019. The polling will be conducted in 7 phases with last phase held on April 19, 2019. The result for this General Election 2019 will be out on May 23, 2019.