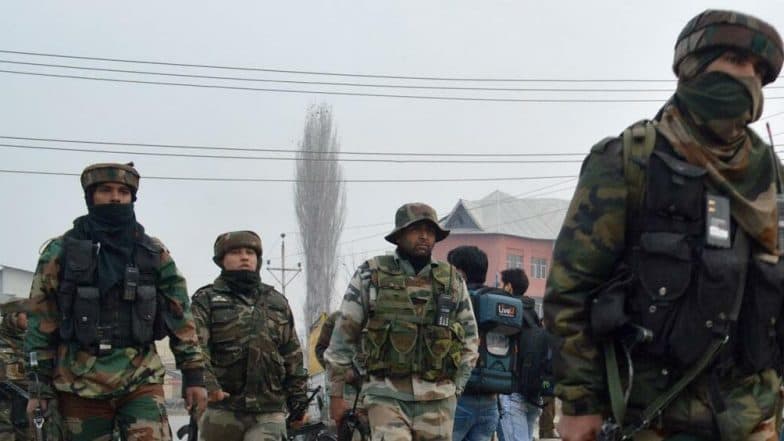 Srinagar, August 18: Jammu and Kashmir Principal Secretary R Kansal on Sunday said that two to three incidents of "minor disturbances" were reported from areas which did not see any relaxation but added that there have been "untoward" incidents. The comment by the Principal Secretary comes a day ahead of schools and offices opening in Jammu and Kashmir in a phased manner. "As of now, we've reports of 2 injuries; both are reported to be minor injuries. We'll endeavor that landline communication is restored to its full functionality as soon as possible,subject to physical limitation that BSNL is facing," added R Kansal, reported news agency ANI. Article 370 Revoked: Nirmal Singh Removes Jammu And Kashmir Flag From Official Vehicle, Watch Video.
On Friday, Jammu and Kashmir Chief Secretary BVR Subrahmanyam had declared that schools and offices in the Union Territory of Jammu and Kashmir will reopen from Monday onward in a 'phased' manner. Jammu and Kashmir Saw No Loss of Life Despite Pakistan's Efforts to Destabilise Valley After Article 370 Abrogation, Says J&K Chief Secretary BVR Subrahmanyam.
Speaking at a press conference, the Chief Secretary had added that Jammu and Kashmir witnessed no loss of lives despite Pakistan's effort to manufacture violence in the valley after the abrogation of Article 370 and the bifurcation of J&K into two separate Union Territories of Jammu and Kashmir and Ladakh.
Jammu and Kashmir has been under a high-security cover since August 4 - a day before the announcement of revocation of Article 370 which gave special status to Jammu and Kashmir and bifurcating it into two union territories Jammu and Kashmir, and Ladakh.
Divisional Commissioner Jammu, Sanjeev Verma also issued a statement saying, "We have taken action against some people who have scripted wrong stories and rumours. Today, police have already been tasked to collect details of all such people who have been active and participating in spreading of wrong information."
Jammu and Kashmir DGP, Dilbagh Singh on Sunday visited Rajouri, Udhampur, and Jammu to review security scenario and law & order situation. He later chaired a high-level meeting in Jammu and interacted with police officers and personnel.
The restrictions put in place in the Union Territory of Jammu and Kashmir and  in the valley specifically, were being eased with 2G calling and other permissions allowed gradually. However, the government made it clear that the lifting of restrictions will depend upon the situation and as and when "normalcy" returns.
The UN Security Council meet held on Friday to discuss the issue of India abrogating Article 370 in Jammu and Kashmir fetched little for Pakistan as the global body suggested a "bilateral" solution, said reports. India also made it clear that in order for talks to begin with Pakistan, it will first have to "stop terror to start talks". India also made it clear that the issue of Kashmir is an "interna matter".