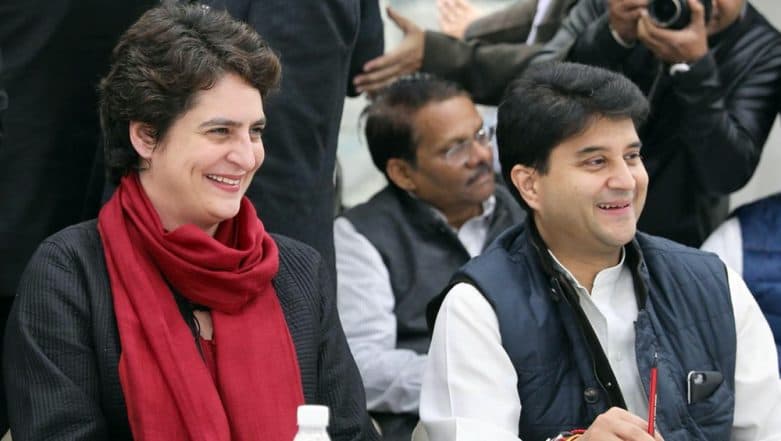 Lucknow, February 13:  With the Lok Sabha elections knocking the door, Congress on Tuesday announced that newly appointed party general secretaries for Congress Uttar Pradesh (East and West) - Priyanka Gandhi and Jyotiraditya Scindia, would lead the campaign for 41 and 39 seats respectively. The decision comes barely a day after Rahul Gandhi, along with sister Priyanka and colleague Scindia, participated in the mega road show in Lucknow. Priyanka Gandhi Makes Political Debut With Mega Roadshow With Rahul, Jyotiraditya Scindia in Lucknow.
Congress MP K C Venugopal made an official announcement about the recent development in a statement released on late Tuesday evening.
Priyanka Gandhi Vadra made her debut in Uttar Pradesh's political arena as Congress general secretary with a grand road show on Monday, raising hopes of a turnaround in the party's fortunes, as her brother and party president Rahul Gandhi asserted that it was the time to uproot the BJP and form the government in the state. Congress Transition Post Sonia Gandhi: Priyanka Gandhi Vadra Gets Room at AICC Next to Rahul Gandhi.
Virtually launching the party's Lok Sabha poll campaign, Priyanka Gandhi, accompanied by Rahul Gandhi and Jyotiraditya Scindia, in-charge of the state's western region, was the cynosure of many eyes with thousands of onlookers, including enthusiastic party workers jostling to get a glimpse and capture the image of the 47-year-old beaming leader in their phones.
Rose petals were showered and marigold garlands tossed towards the brother-sister duo as their cavalcade embarked on a roughly 25-km-long road show, from the airport to the party headquarters as the duo exchanged brief pleasantries with some members of the crowd.
Significantly, Priyanka Gandhi did not address the crowd during the road show or at the Congress office and it was Rahul Gandhi, who attacked the Modi government and pitched a roadmap for the party going forward — seen by many commentators as a subtle political message that he will be calling the shots despite Priyanka Gandhi's popularity in the state.
Asserting that the party will "play on front foot", Rahul Gandhi said," till a Congress ideology government is installed here (UP), we will not rest and ensure justice for farmers, the youth and the poor."