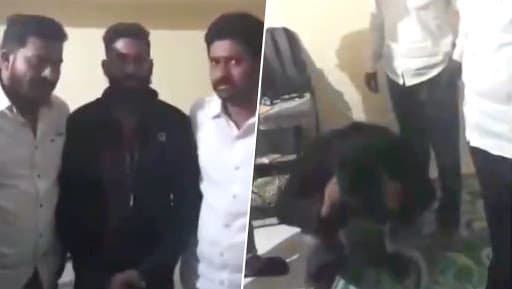 Mumbai, May 7: In a shocking incident, a Mumbai man was threatened by Maharashtra Navnirman Sena worker for allegedly insulting the party chief Raj Thackeray. In the video, that went viral, the man - identified as Sandeep Tiwari - was made to do 50 sit-ups by the MNS worker for criticising the MNS chief. This is the second incident within a month, where workers of MNS have threatened a common man for criticising Raj Thackeray.
According to the video that Tiwari had allegedly criticised Thackeray in writing and due to this, he was made to do 50 sit-ups by holding his ears. The punishment is not only violations of human rights, but is also derogatory. As per initial reports, Tiwari is an alleged member of Aam Aadmi Party. Soon after the video was posted on social media, it went viral. Mumbai Man Assaulted by MNS Workers For Making Derogatory Comments Against Raj Thackeray.
Here's the Video:
A person was forced to do 50 sit ups & forced to say sorry by MNS workers for criticising the MNS cheif raj thackeray.

The MNS worker in the video is saying that we are not beating him & giving him this kind of punishment only bcoz he is a marathi boy.pic.twitter.com/dQZ18sqQyE

— ヴィラージ カダム (@MyselfViraj) January 4, 2019
Earlier too, MNS workers have assaulted a man for allegedly making derogatory comments against Raj Thackeray on April 7. Instead of taking action against the accused, police booked a case against the victim, identified as Vijay Vare, but no case has been registered against MNS workers.
It is to be known that on April 6 Vijay Vare allegedly made abusive comments on one of the pictures, shared by supporters of Raj Thackeray of his Gudi Padwa rally held earlier on social networking site Facebook. The next day, a group of MNS workers barged into his house in Ghatkopar East and thrashed him. Vare was made to do sit-ups and apologise.