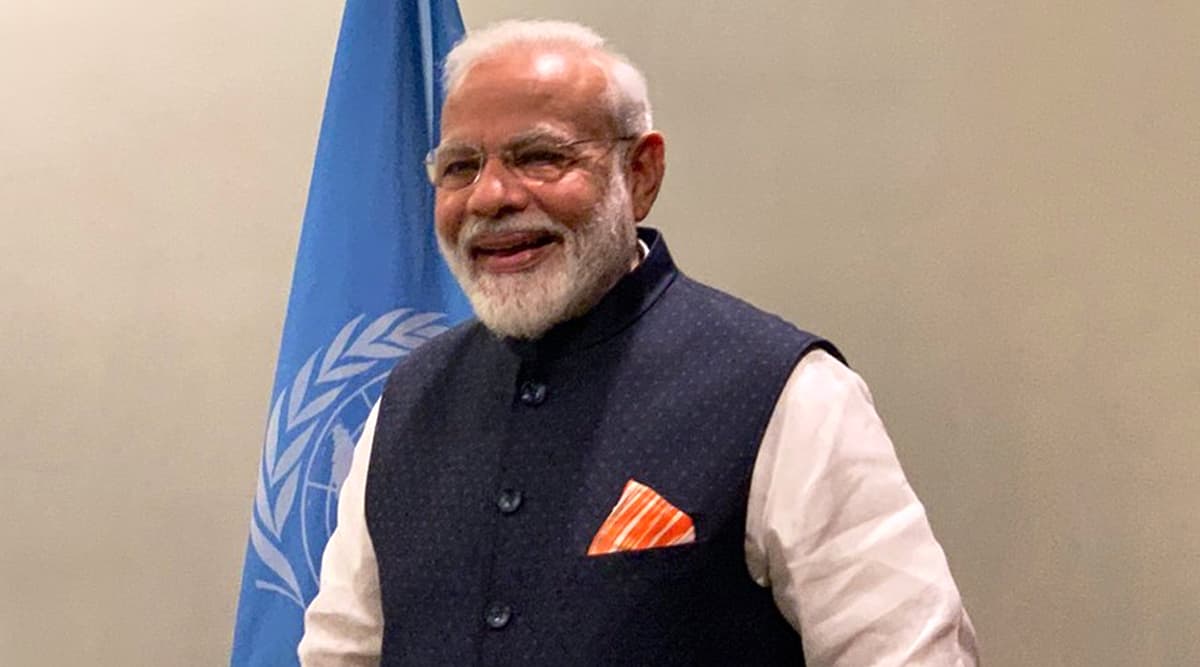 New York, September 27: Prime Minister Narendra  Modi on Friday addressed the 74th session of the United Nations General Assembly (UNGA) in New York. This is his maiden speech at the world body after assuming office for the second term. Prime Minister Narendra Modi started his speech by invoking Mahatma Gandhi and his 150th birth anniversary. Prime Minister Narendra Modi called the recently concluded 2019 Lok Sabha Elections as historic and said that his government built 11 crore toilets in India in five years. PM Modi called India the land of Buddha and not Yuddha (war), to highlight the no-war policy of India.
The Prime Minister in his speech emphasised the various social welfare schemes undertaken by his government and said that a developing country like India running such programmes and schemes sets an example.
PM Modi also spoke on the issue of single use plastic and said that his government is running a movement to fight single use plastic. PM Modi also added his government is comitted to providing water to 15 crore people.
Prime Minister Narendra Modi said that his government opened the bank accounts of 37 crore people. PM Modi also added that India running the largest health-care programme sets an example for the rest of the world.
Watch PM Modi's Full Speech at UNGA:
The government has maintained that the Prime Minister will not mention the Kashmir issue at all during the time allotted for the address, in view that the revocation of Article 370 is India's internal matter. Narendra Modi's speech will outline the country's larger role on the world stage and what it was doing on the development, peace and security fronts.
Islamabad, on its part, has made it clear that Khan would raise the issue of Kashmir at the world body. The country has been pitching the matter aggressively ever since August 5, even after being snubbed on several occasions in the past. Modi's speech on Friday comes four years after he last addressed the top world body; in the interim years, the UNGA was addressed by then External Affairs Minister Sushma Swaraj.
The 69th session of the UNGA had witnessed the Indian Prime Minister calling for the early adaptation of the Comprehensive Convention on Global Terrorism, saying it was a matter that had been pending for long. He had made it clear that India wanted to pursue bilateral talks with Pakistan, in an environment of peace, free of the shadow of terror. Modi's address at the UN comes on the final day of his six-day visit to the US.