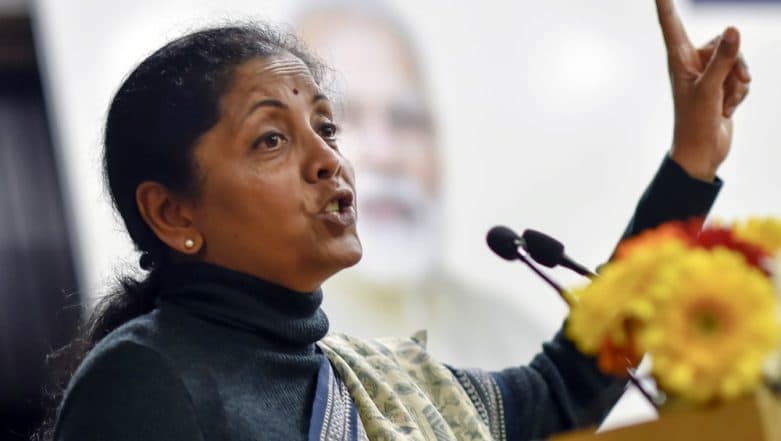 Nirmala Sitharaman, Former Defence Minister has now been appointed as the new Finance Minister of India in the Narendra Modi Cabinet 2.0. With the new allocation in place, Sitharaman replaces Arun Jaitley, who opted out of the new government due to his deteriorating health condition. Sitharaman, the 59-year-old senior BJP leader, who was the first woman full-time defence minister in India is now also the first woman full-time Finance Minister of India. Narendra Modi Cabinet 2.0 Ministers And Portfolios: Amit Shah Gets Home, Rajnath Singh Defence; Check Full List. 
Going by history, Sitharaman is the second woman to helm the key ministries- Defence and Finance - after former Prime Minister Indira Gandhi, who had held both the portfolios in the seventies. However, it must be noted that Gandhi had kept additional charges of the Finance Ministry and Defence Ministry with herself, but Sitharaman is the first woman full-time defence minister and Finance Minister of India. PM Narendra Modi Congratulates Newly Appointed Ministers, Vows to Work For Country's Progress.
In 2017, Sitharaman became the first woman to be appointed full-time Defence Minister of India and in 2019, she became the full-time Finance Minister. In 2014, she was made a Minister of State in the Narendra Modi government and was given the portfolio of commerce and industry minister with independent charge.
Here's Who Got What in the Modi Cabinet; Watch Video:
In the recently concluded Lok Sabha Polls 2019, the Bharatiya Janata Party (BJP) won a landslide 303 seats out of the total of 543. In all, BJP and its allies- the NDA- won 353 seats with the Congress-led United Progressive Alliance topped 92 seats.
This time, a number of women ministers have been inducted into Prime Minister Narendra Modi's new Cabinet. A total of six women ministers have taken oath at a glittering ceremony at the Rashtrapati Bhavan on May 30.  Senior BJP leaders Nirmala Sitharaman, Smriti Irani and Harsimrat Kaur Badal are some of the prominent women ministers that have been inducted in the Modi Cabinet. While Nirmala Sitharaman gets the Minister of Finance and Minister of Corporate Affairs, Irani has been appointed as the Minister of Women and Child Development and Minister of Textiles and Harsimrat Kaur Badal has retained the Food Processing Industries Ministry.
This time, the Prime Minister has sought to broaden BJP's reach by the composition of the council of ministers with several first-time MPs. On May 30, the Modi government inducted 20 first-time union ministers including BJP chief Amit Shah, former Foreign Secretary S. Jaishankar and two former chief ministers Ramesh Pokhriyal Nishank and Arjun Munda. While several experienced hands have been retained by the Modi Cabinet, there are 19 first-time ministers this time. It must be noted that nearly 35 ministers of the previous council of ministers have been replaced.