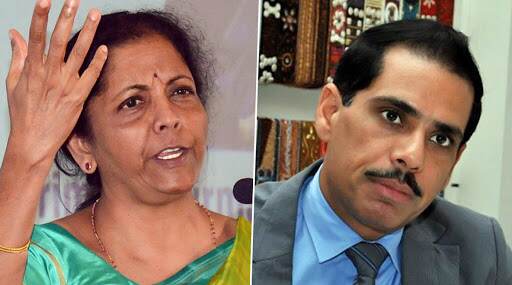 New Delhi, December 2: Union Finance Minister Nirmala Sitharaman on Monday took a jibe at Congress general secretary Priyanka Gandhi's husband, Robert Vadra, stating that Prime Minister Narendra Modi-led Union government don't have jijas (brothers-in-law) in their party, but only have karyakartas (workers). She also mentioned that the BJP government listens and responds to criticism and said, "It is not in our DNA to run away from questions."
Answering to the concerns and queries of the oppositions in the parliament, she said, "Eight crore people got gas connections under Ujjwala. Who are the 68 lakhs beneficiaries of Ayushman Bharat? Who are those 11 cr people who got toilets in their houses? Are they someone's 'damaad or jija?' We don't have jijas in our party, we only have karyakartas." Nirmala Sitharaman Responds to Rahul Bajaj, Opposition's Tirade: 'Been Told I'm Worst FM...Not in Our DNA to Run Away From Questions'. 
Apart from this, Sitharaamn also pulled Vadra again -- without naming him -- while counting the welfare schemes launched by the BJP government to ease the agrarian crisis and help the ailing farmers. The FM said, "Today, 1.1 lakh crores are in farmers' accounts. Did someone's brother or brother-in-law give the money to farmers."
Commenting on the lowering corporate tax helps only rich, she said, "We're called 'suit-boot ki sarkaar' again and again. We're told that lowering corporate tax helps only rich. I want to tell them that the corporate tax cut helps all small and big businesses registered according to the Companies Act." Following the answers, Sitharaman said, the Taxation Laws (Amendment) Bill, 2019 has been passed by Lok Sabha. Nirmala Sitharaman Reveals Why Modi Govt Slashed Corporate Tax Rate From 30 to 22 Percent.
Earlier, in her concluding remarks on the economic crisis -- prevailing in the country -- Sitharaman had said, "We are a government we listen, we hear, we respond. When Home minister responded to an industry leader, it was with a clear attitude that we are willing to hear or take criticism."
It is to be known that the Modi government had been facing criticism not only from the opposition parties, but from the corporates like Biocon Managing Director Kiran Mazumdar Shaw and Bajaj Group chief Rahul Bajaj. The top industrialists have said it is essential for the Centre to allow the free-flow of dissent and introspect over constructive criticism.