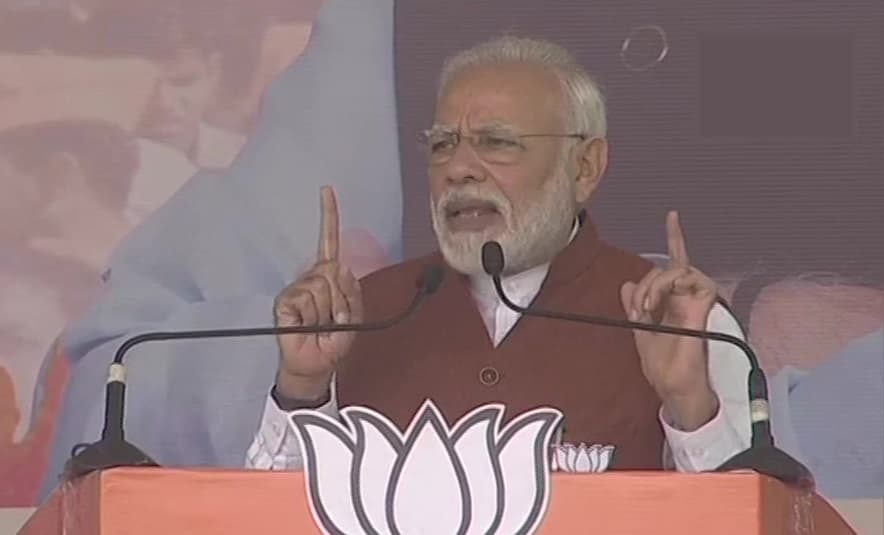 Ranchi, December 12: Prime Minister Narendra Modi, while addressing an election rally in Jharkhand's Dhanbad region, appealed the residents of Northeast states to end their protests against the Citizenship Amendment Bill (CAB). The law, Modi said, is only aimed at "righting the wrongs" of Partition and not intended to snatch away the cultural and linguistic rights of Assam and neighbouring states. CAB Passage Jolts Northeast: Why Assam and Neighbouring States Are Up in Protest Against Citizenship Amendment Bill.
Putting the onus on Congress for the ongoing unrest in Guwahati and other parts of Assam, Modi said the prime Opposition party is deliberately fueling panic and anxiety to reap political benefits. "There are attempts to fuel tensions in the Northeast region. Most of the region is out of the ambit of this bill but politics of Congress and its allies depends on illegal immigrants," he said.
"I assure every state of the East and Northeast. The traditions, culture, language etc of Assam and other states will not be affected at all. Central government will work with state governments for your development. Don't be misled by Congress' statements," the Prime Minister added.
Modi further blamed the successive Congress governments in most of independent India for ignoring the plight of refugees from Pakistan. The apathy shown by previous regimes hs forced the Centre to amend the Citizenship law, Modi said.
"Congress in the past had promised relief to persecuted minority refugees but never did anything for them. The condition in which they were living in Pakistan, similar treatment was given by Congress governments to them," the PM alleged.
Apart from attempting to allay the concerns of Northeast residents, Modi also appealed for calm among the Indian Muslims. The community, he said, should not be distressed as "the law is not targeting them".
Watch Video of Modi Accusing Congress For N-E Unrest
#WATCH PM Modi on #CitizenshipAmendmentBill2019: There're attempts to fuel tensions in Northeast, don't be misled by Congress. Assure every state of East & Northeast. The traditions, culture, language etc of Assam&other states won't be affected. pic.twitter.com/AUnkXXGEqK

— ANI (@ANI) December 12, 2019
Violent protests have erupted in Assam, Tripura and Meghalaya's Shillong, where students' unions and indigenous rights' bodies have hit the streets demanding rollback of the Citizenship Amendment Bill. The law, they allege, would allow Northeast to be "overrun by outsiders".
The All Assam Students' Union (AASU) and the North East Students' Union (NESO), which are spearheading the agitation, have also expressed dissatisfaction over the exemption granted by the Centre to areas under Sixth Schedule and Inner Line Permits. Several areas in Assam and Tripura, they point out, fall out of the purview of both regulatory regimes.