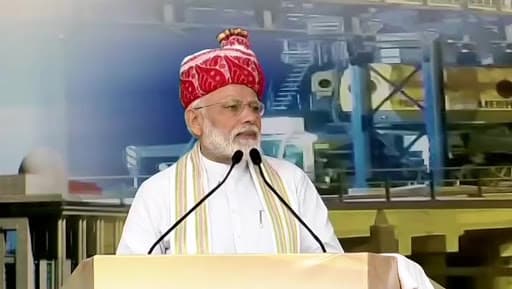 Ranchi, September 12: Prime Minister Narendra Modi on Thursday drew a quote from Bollywood superstar Shah Rukh Khan's movie to claim that his Union cabinet's achievements in its first 100 days in governance were just a "trailer". Stating that the "entire movie is yet to come", PM Modi mentioned that his government would strive to make all aspirations of voters come true. Narendra Modi Launches Pension Schemes For Farmers, Traders.
Addressing an electoral rally in Ranchi, the Premier said, "Before the (Lok Sabha) elections, I had promised to create a strong and work-oriented government -- a government that will work at a speed that's even faster than the earlier one, a government that will strive to make all your aspirations come true. Our 100 days in governance was just a trailer, the entire movie is yet to come."
PM Modi even opined that his Cabinet is committed to ensuring all-round progress of the country as well as punishing those "looting" it. He said, "Development is our (BJP) promise and intention too. The country has never seen such rapid pace of development before. At the same time, a massive crackdown on corruption has begun. The people who try to loot the public will be put in their place." Narendra Modi Launches Slew of Government Schemes for Farmers.
The BJP stalwart had launched the electoral rally for the upcoming Assembly polls in Jharkhand, scheduled with elections of Maharashtra and Haryana later this year-end. Reports had arrived that the Election Commission of India might announce the dates in a couple of days.