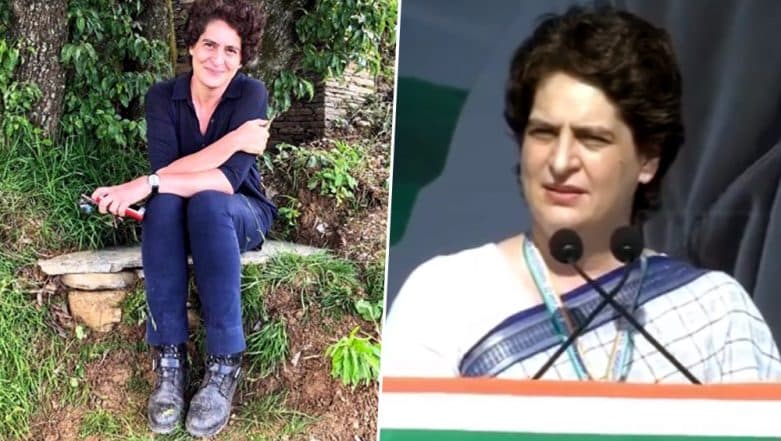 New Delhi, March 14: Congress' UP general secretary Priyanka Gandhi Vadra is buzzing on Twitter, within weeks of debuting on the microblogging site. Over the past couple of days, she has remained the topic of discussion on social media for two reasons: changing her profile photo to one in which she is wearing jeans, and debuting her political speech in Gujarat with "meri behno (my sisters)" reference.
When the Gandhi scion opened her Twitter account on February 11, the display picture showed her wearing a traditional dress. Earlier in the week, she replaced it with a new image, in which she appears casually seated at a nature spot in jeans.
The DP drew mixed reactions from the Twitterati, with a section of the conservative voices asking her to "stick to sarees". Meanwhile, progressive commentators lauded her decision, crediting her for breaking a stereotype.
First Female Politician in India to Do So
Finally a women politician wearing Jeans in Twitter DP, in Public..@priyankagandhi takes it a notch higher..

Very significant... Big symbolism.

— Sumit Kashyap (@sumitkashyapjha) March 13, 2019
She's Cool
Congress Gen Sec @priyankagandhi 's DP and Cover pic looks so cool 😎

— Sachin Krishna🇮🇳 (@reachsk7) March 13, 2019
This is New India!
A woman politician in jeans, most refreshing face I've seen in a long time. Now THIS is #NewIndia @priyankagandhi pic.twitter.com/BFslOquuGk

— Ethel Da Costa (@DacostaEthel) March 14, 2019
Meanwhile, the Congress leader was also the subject of discussion for breaking another political stereotype during her rally in Gujarat. Instead of using the standard form of reference - "mere bhaiyo aur behno" - she reversed the trend by starting with "my sisters and my brothers".
The reference went unnoticed for nearly a day, but was brought to light by Congress lawmaker and party's women wing chief Sushmita Dev.
Here is the Twitter Conversation Between Her and Priyanka:
...and I thought no one noticed!! 😉 https://t.co/neQADGP35y

— Priyanka Gandhi Vadra (@priyankagandhi) March 14, 2019
Watch: Full Video of Priyanka Gandhi's Speech in Gandhinagar
In her maiden speech after political plunge, Priyanka targeted the Narendra Modi government on the lack of jobs and growing rural distress, apart from appealing the electorate to exercise their power of vote. "Your vote is a weapon. Use it," she said.