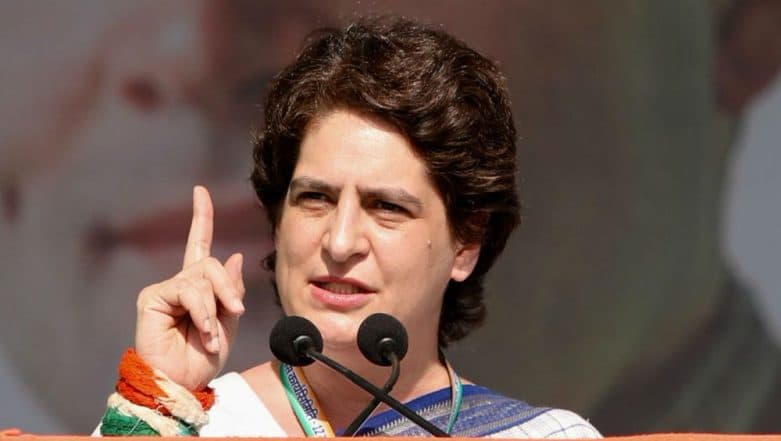 Gandhinagar, March 12: Newly appointed AICC General Secretary for UP East, Priyanka Gandhi Vadra, in her first public speech after entering active politics, addressed a rally in Gandhinagar, Gujarat at the Congress Working Committee (CWC) meeting. Priyanka in her short speech targeted the Narendra Modi government over the issue of jobs and said that the Modi government first has to answer the country on the issue of lack of jobs. Senior Congress leaders were also present at the rally. Priyanka Gandhi Officially Enters Active Politics, Appointed Congress General Secretary for UP East Ahead of Lok Sabha Elections 2019.
This was the first meeting of the Congress Working Committee (CWC) and AICC General Secretaries before the 2019 Lok Sabha Elections. Priyanka spoke before Congress president Rahul Gandhi at Gandhinagar, Sardar Patel Smarak. Lok Sabha Elections 2019: Priyanka Gandhi Gets Charge of 41 Seats Including Amethi and Raebareli in UP, Jyotiraditya Scindia Gets 39.
Speaking at the rally, Priyanka Gandhi raised a number of concerns including the issues raised before the 2019 Lok Sabha Elections. Talking about the issues dominating political discourse, Priyanka asked the participants, "You will have to think what exactly is this election (for). What are you going to choose in this election? You are going to choose your future. Useless issues should not be raised." Priyanka also said that, "This country is made on the foundations of love, harmony & brotherhood. Today whatever is happening in the country is very sad."
Priyanka Gandhi targeted the BJP government and alleged it of meddling with the democratic institutions in the country. "Our institutions are being destroyed. Wherever you see, hatred is being spread. Nothing matters more to us that you and I protect this nation, work for it and move forward together," said Priyanka before ending her speech.
The Congress on March 7 released its first list of candidates for the upcoming Lok Sabha elections 2019. The list consisted of names of 15 candidates. Out of the 15 names, 11 are from seats in Uttar Pradesh and four from Gujarat. UPA Chairperson Sonia Gandhi will contest from Rae Bareli and Congress President Rahul Gandhi will contest from Amethi seat. However, Priyanka's name was missing from the list as a candidate from any seat.