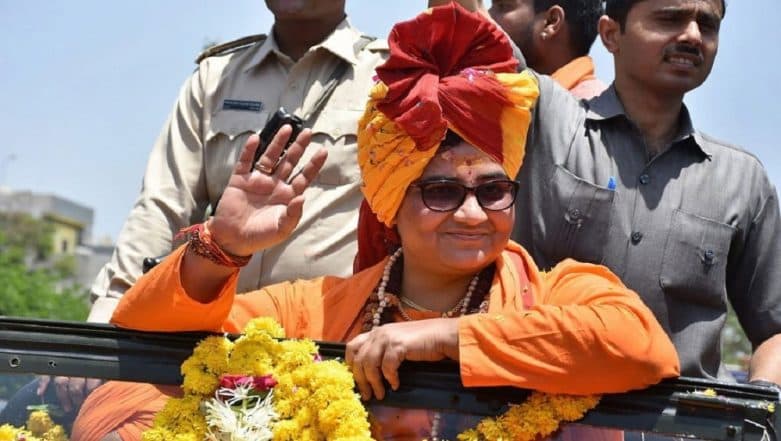 Bhopal, April 22: Controversy continues to trail BJP's Bhopal Lok Sabha candidate and Malegaon blasts accused Sadhvi Pragya Singh Thakur. Days after being served an Election Commission notice for her "cursed Hemant Karkare" remark, the saffron-robed leader is set to be booked for her claim of being part of the Babri Masjid demolition.
A poll officer in Bhopal has taken suo moto cognizance of her interview to news channel TV9, in which she boasted of climbing atop the disputed structure in Ayodhya on December 6, 1992, and helping the fellow kar-sevaks to bring it down. Pragya Thakur's Comments on Martyr Hemant Karkare 'Unwarranted and Atrocious', Says Former Public Prosecutor.
"We had removed a blot from the country. We had gone to demolish the structure. I climbed atop the structure and broke it and I feel extremely proud that God gave me this opportunity. We will make sure that a Ram Temple is built at that site," Pragya Thakur was reported as saying on Saturday.
The Commission has served her a notice for remarks deemed to be in violation of the Model Code of Conduct (MCC) as its fans "communal hatred between communities". The Sadhvi has, however, remained unfazed and said she stands by what she said.
"I had said it yesterday too, not denying it. I had demolished the structure," Pragya Thakur said, adding that she would be part of the Ram temple's construction too in the near future.
Based on her response, a top Election Commission officer has ordered the registration of the First Information Report or FIR.
As per reports, the BJP top brass has also asked Pragya Thakur to exercise restraint and refrain issuing anymore controversial remarks.
The 48-year-old, who is the prime accused in the 2008 Malegaon blasts which left 6 dead and over 100 injured, has been fielded as the BJP candidate from Bhopal. The Congress nominee from the seat is former Madhya Pradesh chief minister Digvijay Singh. The constituency will go to polls on May 12, in the sixth phase of Lok Sabha Elections 2019.