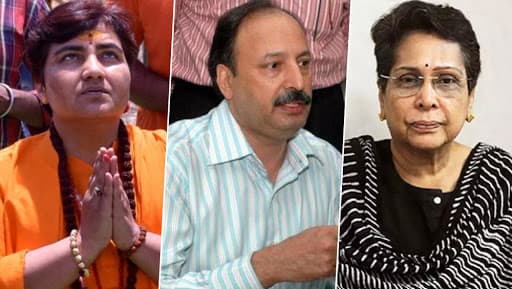 Mumbai, April 21: Days after Bharatiya Janata Party's Lok Sabha candidate Sadhvi Pragya Thakur made another controversial statement on 26/11 martyr former Mumbai Police's ATS chief late Hemant Karkare and allegedly called him a traitor, a former public prosecutor in the Malegaon blast case Rohini Salian has slammed her and called the comments 'unwarranted and atrocious'.
Claiming that the courts had found no evidence of Pragya Thakur being tortured or placed in illegal detention - as alleged by BJP leader, Salian trashed Thakur's accusations. The former public prosecutor even referred Thakur's comments on martyr Karkare as unwarranted and atrocious. Sadhvi Pragya Thakur Says, 'Proud of Demolishing Babri Masjid, will Build Ram Mandir', Gets Election Commission Notice on Controversial Statement.
Accusing Thakur on making comments for publicity, Salian said, "I have never come across a man dying after being cursed by a sadhvi. These remarks (against Hemant Karkare) are unwarranted and uncalled for. I feel she is doing this for publicity as she is contesting the polls. Unwanted commentaries of this sort are atrocious."
Adding more, she said, as quoted by the news website, "There is evidence to show that both the accused were last seen with Pragya Thakur in Bhopal. Her vehicle (a scooter) was lying in the same compound where they were staying. Finally, it was taken to the site of the blasts and used there. So they (the accused) challenged the verdict in the High Court, which went through all the records - including medical reports - and rejected her appeal too."
Earlier, Thakur while speaking to the media had called martyr Hemant Karkare an 'anti-national'. She had said, "Hemant Karkare was anti-national. He was Dharam Virudh (anti-religion). You won't believe this, but I said that he will be destroyed. Soon after, terrorists killed him." Soon after the comment, the Election Commission issued her a notice for violating the model code of conduct, currently active as part of the Lok Sabha Elections 2019.
Facing flak from everywhere, BJP released a statement and said that the party considers Hemant Karkare a martyr and Sadhvi Pragya's statement are personal. Even Sadhvi Pragya also apologised and said the statement was her personal pain and Karkare is certainly a martyr.