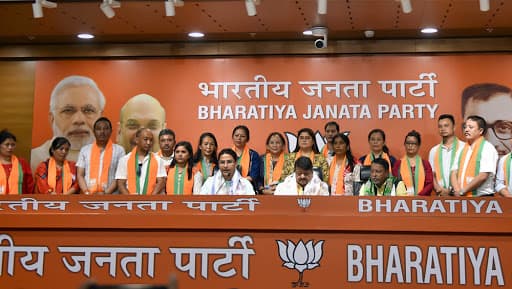 Darjeeling, June 8: Days after several Trinamool Congress leaders joined Bharatiya Janta Party, 17 councillors of the Darjeeling municipality followed the suit on Saturday. All these Councillors were formerly with the Gorkha Janmukti Morcha.
With this new induction, BJP has now gained a majority in the 32-member Darjeeling municipality. This latest development has given a morale boost to the BJP which secured 18 seats in the Lok Sabha Elections 2019. Informing about the latest induction, BJP leader from West Bengal Mukul Roy briefed about this in a press conference. Nitish Kumar Reacts on Prashant Kishor Signing Up With Mamata Banerjee, Says 'Its His Personal Decision' 
BJP's in-charge for West Bengal Kailash Vijayvargiya tweeted:
राष्ट्र की मुख्यधारा में स्वागत है!

भाजपा का कुनबा बढ़ रहा है! #WestBengal से लोकसभा की 18 सीटें जीतने बाद राज्य के 50 से ज्यादा पार्षद #BJP में शरीक हुए! अब दार्जिलिंग के 17 #TMC पार्षद भाजपा में आ गए!

बढ़ता कुनबा, बढ़ती जिम्मेदारी! pic.twitter.com/23FzVhiHLt

— Kailash Vijayvargiya (@KailashOnline) June 8, 2019
Earlier, in the press conference, Roy accused West Bengal Chief Minister Mamata Banerjee of using police to harass the elected members and their supporters. He said, "Our battle to save democracy in the state continues. People's mandate went against the chief minister in the Lok Sabha polls, but she is now using 'police raj' to harass BJP workers and supporters."