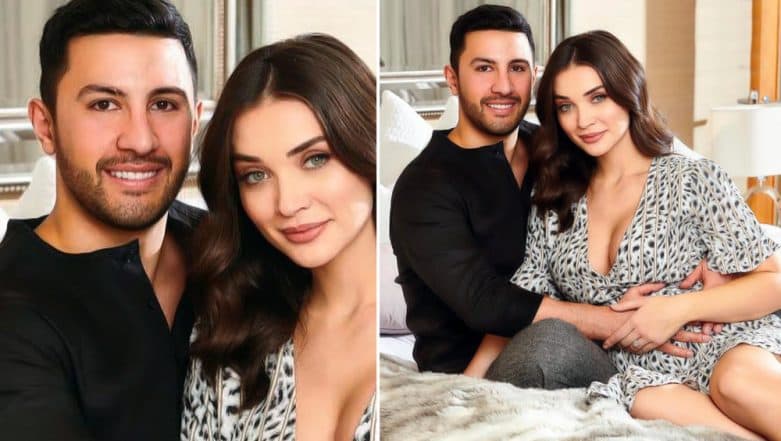 Amy Jackson surprised everyone when she announced her pregnancy on her Instagram page on March 31. The actress got engaged to millionaire George Panayiotou on the last New Year's Eve. The gorgeous looking couple features in a special story, in the upcoming issue of Hello magazine, which will be complete with exclusive pictures of the pregnancy and interesting insights about their relationship. The actress, who has featured in several Bollywood movies and the hit TV show Supergirl, took to her Instagram page to share the first glimpse of the pictures. The couple is twinning in monochrome clothes on the feature image and is looking stunning. Amy's baby bump can be seen clearly in the pictures.
The issue with Amy and George's pictures and interview will be available on stands this week, but the mag has published an excerpt from the same. "We're at that stage where we're definitely ready for it. I don't think you can ever plan something perfectly, but we're in such a good place. We're happy together, we have a beautiful home and we're excited to be a mum and dad," Amy says, talking about her life at the moment. All You Need to Know About Amy Jackson and George Panayiotou's Greek Wedding in 2020.
Check out the picture of Amy Jackson and George Panayiotou from the pregnancy photoshoot below:
Amy also talked about her career. "It's important to have your own career and identity, but it's nice to have this time to think about what's next," she said. "I've always gone from one film to the next so I'm using this as a bit of respite – for now."
On the work front, Amy was last seen in Rajinikanth-Akshay Kumar's 2.0, the spiritual follow up to Robot. The movie fared well, though Amy's role was limited below her potential. We are eagerly waiting for the news about the arrival of the baby, and, of course, the pictures from the wedding, whenever it happens.