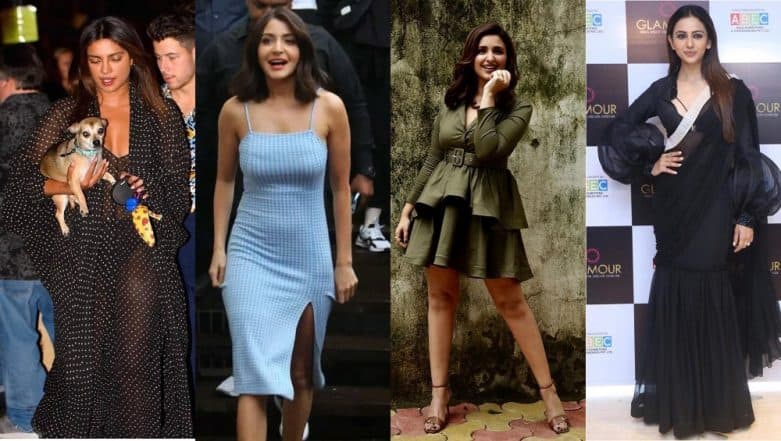 Celebrities surely chose to keep things chic this weekend. From Priyanka Chopra to Anushka Sharma, the actresses definitely opted to wear some gorgeous ensembles that would make the rainy weekend less gloomy. Although rains weren't a big concern in the Big Apple, Priyanka Chopra did wear a sultry see-through polka dot maxi dress with a matching shrug as she took her doggo, Diana, out for a walk.
In Mumbai, Anushka Sharma, who made an appearance after a long time, wore a lovely summer dress as she headed for an advert shoot. Sunny Leone also stepped out in baggy pants and a sea-green top with black boots. The best accessory of her ensemble was her cute baby seated happily on her hip with a cute Simba-like hairband. Best And Worst Dressed Celebs Over The Weekend: Deepika Padukone, Kareena Kapoor Khan, Hrithik Roshan Strutted Out In Charismatic Ensembles!
Mira Rajput also looked pretty in her chic (probably H&M) maxi dress. Diana Penty's denim-inspired airport ensemble also put us in a happy mood. The whole look with blue and white made Penty look like a treat! Malaika Arora's pint and red separate with a thigh-high slit and white pumps might not be the right idea for the monsoon but at least it made her look hot! Best And Worst Dressed Over The Weekend: Ananya Pandey, Tara Sutaria, Shanaya Kapoor - The Young Brigade Sure Got Their Style Game On Point!
Best
Priyanka Chopra
View this post on Instagram
Anushka Sharma
Malaika Arora
Parineeti Chopra
Mira Kapoor
Diana Penty
Sunny Leone
There were some looks that we didn't quite appreciate such as Rakul Preet Singh's black saree. It seemed a little too much and not in a good way. Shraddha Kapoor's plain look cannot be called bad, per se, but it was just too sad. Wish she would make an attempt to wear snazzy ensembles. Kajol's silver pantsuit ensemble was also not a good bet made by the actress for a red carpet appearance.
Worst 
Rakul Preet Singh
Kajol
Shraddha Kapoor
With a good recap of what celebrities wore over the weekend, which ones did you like? Would you ape any of them or would you not bother? Stay tuned to this space as we will bring you more on fashion!