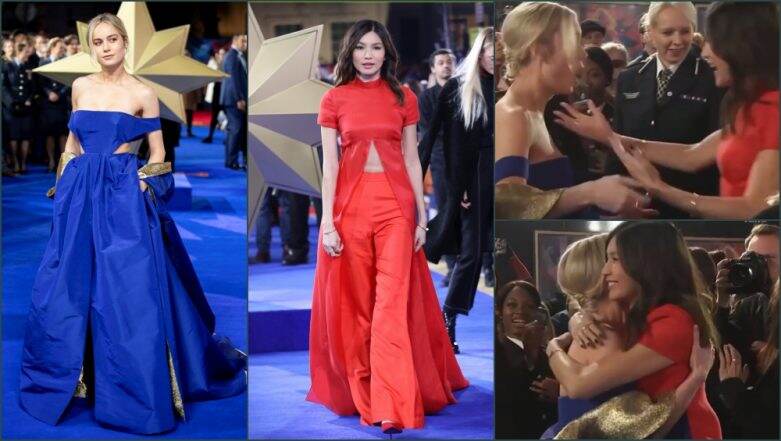 Marvel's strongest superhero 'Captain Marvel' star Brie Larson and her co-actress Gemma Chan displayed female bonding and how. The incredibly talented and gorgeous ladies were attending Marvel Cinematic Universe (MCU)'s twenty-first film's European premiere in London with the rest of the cast. But Brie and Gemma's meeting at the red carpet soon turned into a cute moment. Both could not stop admiring each other's stunning outfits. While Gemma showered praises on Brie's custom Maison Valentino blue-golden gown, Brie was completely in awe of former's fiery red Brandon Maxwell cape co-ords. Captain Marvel UK Premiere: Brie Larson And Samuel L Jackson Ditched Their Superhero Suits For Stylish Ensembles And Rocked The 'Blue' Carpet! (View Pics).
"Love your @MaisonValentino dress, Brie!" "No, I love the @BrandonMaxwell cape, Gemma!" The priceless reactions of Brie Larson and Gemma Chan as they hugged on the red carpet of a gala screening of Captain Marvel is making fans fall head over heels in love with them. Gone are the days when actresses were constantly pitted against each other. Gone are the days of catfights and insecurities and silly jealousy. These new-age female superstars believe in uplifting and celebrating each other, and that's exactly what fans saw during the London premiere held at The Curzon Mayfair. Captain Marvel Star Brie Larson at Oscars 2019: Sexy Silver or Red Hot, Pick Your Favourite Celine Gown Worn by Academy Award-Winning Actress (See Pics).
Here's Video of Brie Larson and Gemma Chan Being Super Cute!
While Captain Marvel and Minn-Erva (Gemma's character in the superhero flick) cannot decide whose dress is prettier, you guys could pick your favourite. We loved how the ladies wore Captain Marvel's red, blue and golden colour scheme. Academy Award-winning actress, Brie wore the prettiest yet powerful gown to make a head-turning appearance.
Brie Larson in Maison Valentino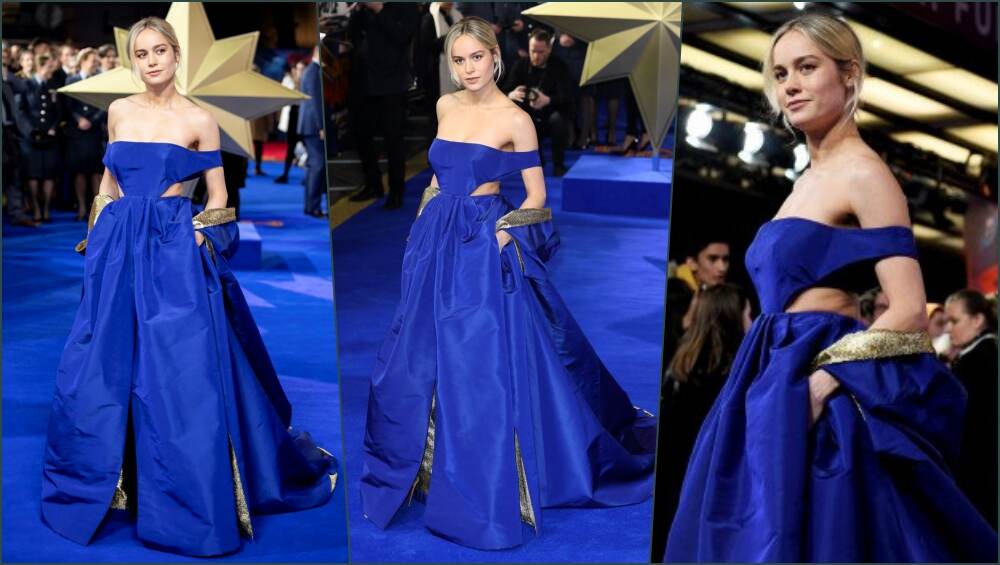 Brie's stylist Samantha McMillen put up this incredible look. The bespoke cobalt gown with a classic Bardot neckline and a bodice and cut-outs at the sides totally flattered The Room actress' figure. There is also a matching jacket with a golden border, but Brie chose to carry it as a shawl instead. And yes, Brie's gown had pockets, which she totally used to give some incredible poses on the red carpet!
Gemma Chan in Brandon Maxwell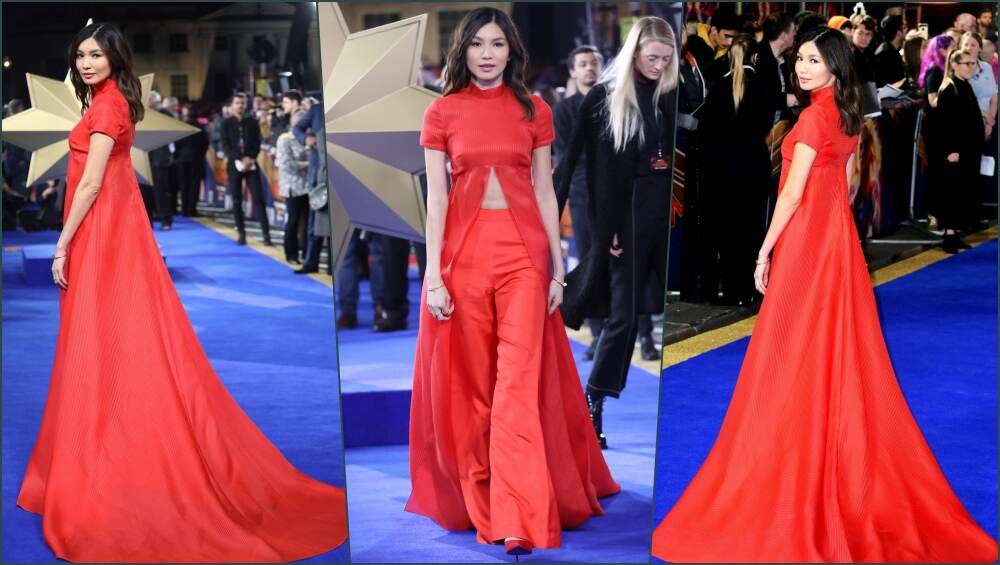 Coming to Gemma's outfit, it is a perfect example of how to keep your style simple yet highly classy. The 36-year-old British actress flaunted her love for capes again after taking the Oscars 2019 red carpet by storm. Except for this time around, it was a little less dramatic than the hot pink Valentino Haute Couture. Gemma wore a red Brandon Maxwell co-ord set featuring a cape-styled turtleneck top, which gave a view of the toned stomach and matching red pants. Wow.
We know it's a tough call to choose between these two dresses. But what if you had to pick one, which is your ultimate choice. Meanwhile, on this International Women's Day on March 8, Captain Marvel arrives. And, she is not going to fight our wars but end it!
Brie Larson in Valentino Gown or Gemma Chan's Brandon Maxwell Cape
40%
Bold Blue! Brie Larson in Valentino Gown
60%
Fiery Red! Gemma Chan in Brandon Maxwell