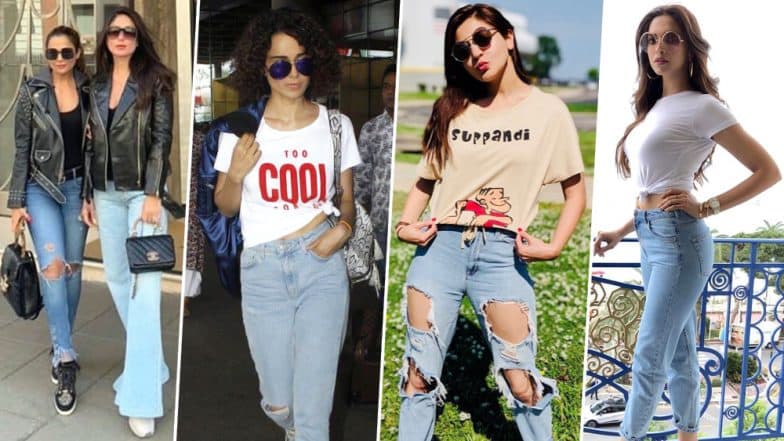 World Denim Day is celebrated all across the globe on April 24, every month. The day is observed via Denim Day campaigns to commemorate Sexual Assault Awareness Month. The day began to be observed after a ruling by the Italian Supreme Court was given where a rape conviction was overturned because the victim was wearing tight jeans she must have helped the person who raped her remove her jeans. This was considered as consent from her side. After the judgement was passed women in the Italian Parliament came to work wearing jeans in solidarity with the victim and after that, every year on the 24th of April World denim day is observed. Well, even beyond the important cause, denim has become an important part of our lives. Denim pants are extremely versatile and can be worn for any occasion, teamed up with any kind of clothes. Not only is denim amazing to look at but are also durable and comfortable. Here are 5 ways you can style your denim jeans.  9 Unique Denim Styles From Our Bollywood Divas Who Dared To Go Different. 
Denim With White Tee
There is nothing that looks so chic and comfortable at the same time as the basic white tee and blue denim jeans. Many celebrities opt for this classic look for the airport.
Deepika Padukone Rocks Denim with  Plain White Tee:
View this post on Instagram
Denim on Denim Look
What is better than a pair of denims? Two denims, or maybe three! The denim on denim style may seem effortless. But it is actually quite tricky and can throw your whole look off if the right texture of jeans is not paired together.
Deepika Padukone Slaying the Denim on Denim Look:
View this post on Instagram
High-Waist Denim with Crop Tops
High-waist denim is totally in right now. Teamed with crop tops or embellished shirt and just the right pair of stilettos, you are all set to rock a party!
Kangana Ranaut Pairs Denim With a Crop Top:
View this post on Instagram
Flared-Bottom Denim with Black Leather Jacket
Bring the 80s back with the bell bottom jeans and rockstar black leather jackets. They look cool and can be carried effortlessly.
 Kareena Kapoor Khan with her BFF Amrita Arora Wearing Flared Bottom Denim:
View this post on Instagram
Super Distressed Jeans
Excessively ripped jeans may look exotic but aren't for everyone. It can completely make or mar your look in no time. If you are wearing a super distressed/ripped/damaged pair of jeans, make sure to mellow down with the top you're wearing with it.
Anushka Sharma Aces Ripped Pair of Jeans:
View this post on Instagram
Jeans are probably the most reliable piece of clothing a person can have. Would you wear your favourite pair of denims on April 24 to stand for the cause? Whether ripped, flared, boot cut or distressed, rock your denims in these celeb-inspired styles.