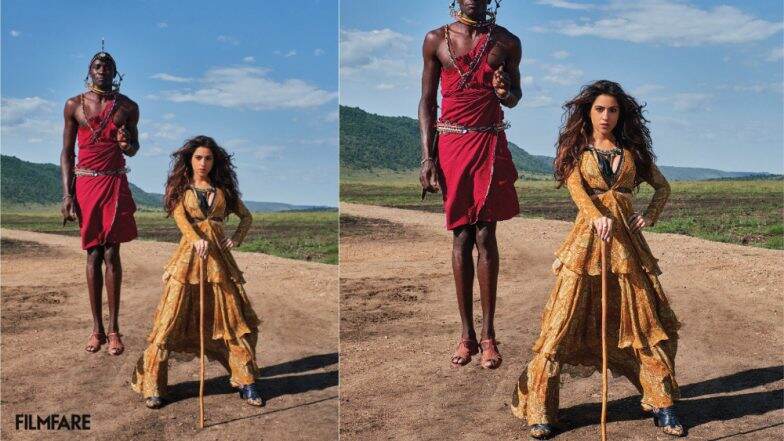 Sara Ali Khan, who made her Bollywood debut in December 2018, has also made her magazine debut. The upcoming issue of Filmfare magazine will feature the actress on the cover. The cover shot and the inside pictures have already gone viral on the internet. But before we ask ourselves if she will win Diet Sabya's monthly magazine wars, we have something else to deal with. One particular picture from the set is garnering more attention than others because INTERNET. The people were able to see the 'photoshop fail' in one of the photos. Call it the silver lining, but this time it was not the face or the body of the subject that was altered.
In one of the pictures, a man can be seen floating behind Sara. While you can see Sara's shadow, the man doesn't cast one. So, this shadowless man has got the internet to creep up real hard and people are asking questions. Important questions that need to be answered. Like - what sorcery is this? Koffee With Karan 6: 'I am Earning Money to Match Sara Ali Khan's Standards', Says Kartik Aaryan.
Check out Sara Ali Khan's Picture with the Shadow-less Man Here:
If looks could kill... #SaraAliKhan is an absolute stunner in this new still from our latest cover shoot.

Watch this space for more exclusive pictures from the shoot. pic.twitter.com/HezQdrRuqA

— Filmfare (@filmfare) February 26, 2019
Why would Filmfare do this to the internet? Was this a photoshop fail? Or was this an intentionally surreal picture that is beyond the comprehension of many? Read the story for answers.
Kharab editing hi karwani thi toh mere se karwa lete!

— the 'VAIBHAV' (@kaatilana) February 26, 2019
Where is shadow of the tall man behind

— Dawar Abbas Khan (@dawark1) February 26, 2019
Maybe, just maybe, we need to take a step back and give the native people of Kenya, where the photo shoot took place, what they deserve as humans. A shadow. Well, the answer is sort of an illusion. The shadow has not been edited out but the Kenyan man is jumping. Thus, his shadow is cast very close to Sara Ali Khan. Look closely, again. Yes, the man is jumping.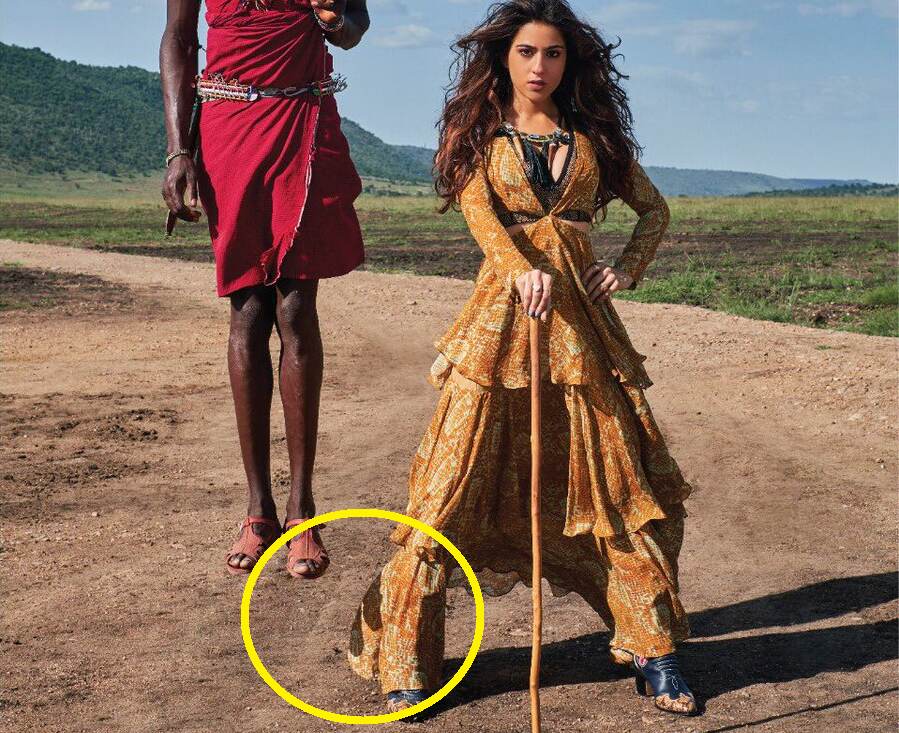 So, that was enough internet for everyone today. Until next time, let us all wonder together over the amazement of how sometimes we miss what is right there in front of our eyes. No, this is not a metaphor about love.