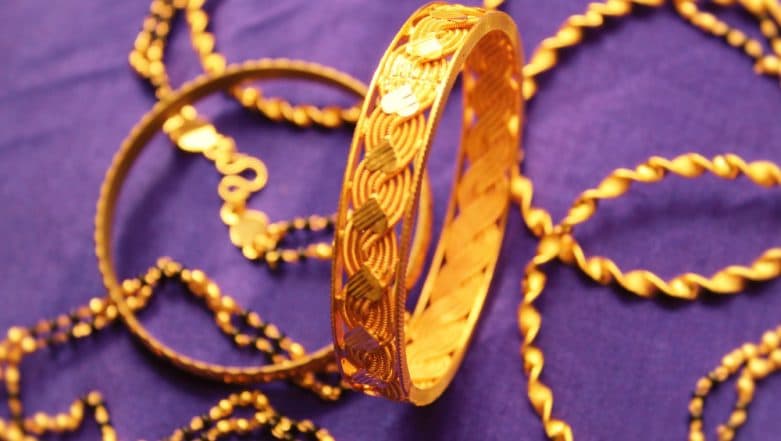 Akshaya Tritiya, also known as Akha Teej or Akti, is an annual spring festival in India, centred on prosperity. Celebrated by Hindus and Jains, the festival falls in the Shukla Paksha (Bright half) of the Vaisakha month. The festival also marks the birth of Lord Parashuram, one of Lord Vishnu's incarnation and the day Veda Vyasa began to write the Mahabharata. The day falls in April or May according to the Gregorian calendar. Akshay Tritiya 2019 will be celebrated on May 7, Tuesday. On this day, it's a custom for Hindus to buy gold, a symbol of prosperity and happiness. But apart from its symbolic importance, gold is also valued in the Indian society for its many healing qualities since ancient times. Planning to Buy Gold? 10 Jewellery Inspirations For This Akha Teej.
Gold is said to heal by rebalancing energy fields, but it loses some of its potency when mixed with alloys like copper. That's why 24 karat gold was used extensively in ancient times for its healing qualities. Here are some of the benefits of wearing gold.
1. Maintaining Body Temperature
According to ancient accounts, wearing gold was seen as a way to regulate the body temperature, especially if the person suffers from chills, hot flashes and fevers. Wearing gold is believed to stabilise the body's temperature and protect it from the fluctuations of the climate. When Is Shubh Muhurat to Buy Gold and Silver on Akha Teej This Year?
2. Reliving Arthritic Pain
Ayurvedic texts also say that wearing gold is good for people who have arthritis. When gold ornaments, especially the 24-karat variety, come in contact with the skin and body, it is said to reduce arthritic pain.
3. Improving Circulation
Wearing gold above the waist is said to improve blood circulation. Although there's no scientific proof, gold is believed to boost the flow of oxygen to every cell in the body. Buying Gold on Akshaya Tritiya? Here's Why the Tradition is Followed on this Festival of Goddess Lakshmi.
4. Increasing Immune Functions
One of the uses of wearing gold on the upper half of the body is to improve immune functions. By maintaining the body's temperature, gold helps in boosting the immune system.
5. Reducing Stress and Anxiety
Wearing gold also has an impact on your mental health according to ancient wisdom. The yellow mental imparts a sense of peace in the wearer, protecting him or her from anxiety and stress.
6. Minimising Sinusitis
Wearing a gold nath or nose pin presses on the pressure points in the body, easing symptoms of sinusitis.
7. Improving Reproductive Health
Wearing gold around the neck puts pressure on points coinciding with the pineal, thyroid and pituitary glands. These glands are associated with the reproductive system.
8. Easing Headaches
If constant migraines are bothering you, wearing a gold ring on the index finger can help. The pressure points on the index finger when stimulated can ease a throbbing headache.
9. Promoting Healing
Gold is said to promote overall wellbeing and healing. Just wearing ornaments made of yellow metal can improve overall health.
But note that gold, according to ancient Indian wisdom, should be worn only on the upper part of the body. Wearing gold below the navel can have an opposite effect, harming the wearer's mental balance.