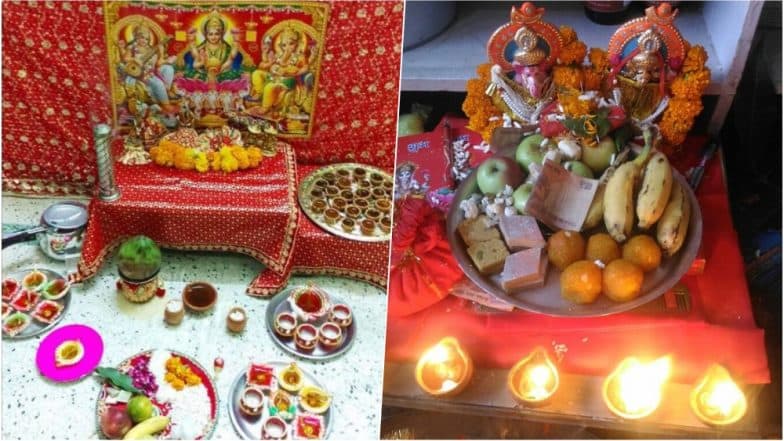 Today is Diwali 2018 and it is considered as one of the most significant Hindu festivals. Celebrated by all the Hindus across the world, it is an auspicious occasion where people come together and wish each other prosperity and happiness in each one's life and pray to Godess Lakshmi. Diwali signifies victory of light over darkness, knowledge over ignorance, good over evil and hope over despair. November 7 is marked as the Badi Diwali and on this date the celebrations where people will perform the Lakshmi puja. Worshipping Goddess Lakshmi and revering her on the propitious festival of Diwali is believed to bring good luck and wealth in everybody's homes. This year, we tell you the Laxmi puja timings, shubh muhurat, rituals and what preparations are done to pay homage to Goddess Lakshmi in India and other parts of the world. Diwali 2018 Greetings & Wishes: WhatsApp Stickers, Free GIF Image Messages, Facebook Status & Cover Photos to Share Online on Deepavali Festival.
Lakshmi Puja Vrat, Rituals & Preparations
People get up early morning, take bath and wear new clothes. Many pray in the morning and observe a long day fast or vrat. The fast is broken after the Lakshmi puja in the evening. As it is also Amavasya day, people also perform shradh for their ancestors. On the day of the Laxmi puja, Hindu devotees decorate their homes and offices with marigold flowers, Ashoka, mango and banana leaves. People also place a Kalash covered with unpeeled coconut at both side of the main entrance of the home. Diwali 2018 Decoration Ideas: Tips on How to Make Toran from Leaves & Flowers at Home – See Videos.
For puja preparations, on a raised platform people keep a red cloth and install idols of Goddess Lakshmi and Lord Ganesha on it after adorning them with silk clothes and jewellery. On other side one should keep a white cloth on a raised platform installing Navgraha Gods. People then perform the Lakshmi puja according to the puja vidhi. A Kalash is placed filled with water, one supari, a marigold flower, coin and rice and mango leaves. Once the idols are placed, people seek blessings of the God and Goddess by keeping their belongings like book, pen and other significant items. A diya is lit on the 'puja ki thali'. Devotees then recite the aarti and mantras devoted to Goddess Lakshmi and Lord Ganesha.
Diwali Lakshmi Puja Muhurat 2018 
Pradosh Kaal Muhurat (According to Drik Panchang)
Lakshmi Puja Muhurat – 06:30 pm to 08:30 pm
Pradosh Kaal – 05:58 pm to 08:30 pm
Amavasya Tithi Begins - 10:27 pm (November 6, 2018)
Amavasya Tithi Ends – 09:31 pm (November 7, 2018)
Choghadiya Puja Muhurat
Morning Muhurat (Labh, Amrit) – 06:45 am to 09:34 am
Morning Muhurat (Shubh) – 10:58 am to 12:22
Afternoon Muhurat (Char, Labh) – 03:10 to 05:59
Evening Muhurat – 07:35 pm to 09:31 pm
The schedule and puja time in US, Canada, Australia and other countries will differ as per their time zones. Immense yourself in the Lakshmi puja and revere Goddess Lakshmi. Also, ask for forgiveness, blessings for new beginnings, happiness and prosperity for each family member. After the main puja, people wish each other Happy Diwali and youngsters seek blessings from their elders. People feed each other sweets and light diyas together while some also burn crackers. This Diwali pledge to have an eco-friendly festival and avoid using firecrackers. We at Latestly, wish you and your family a Happy and Prosperous Diwali 2018!