We are a few hours away from performing Lakshmi Puja on Badi Diwali on November 7, 2018. But the process of sending and receiving 'Happy Diwali 2018' messages, greetings and images have well begun since the morning. And to keep up the pace with your friends and relatives, if you are in search of new Deepavali wishes, Happy Diwali 2018 GIF images, Diwali WhatsApp stickers, free Diwali photos and wallpapers with quotes and unique Diwali messages, we have got you covered! These heartfelt Diwali quotes and wishes help in spreading love and prosperity to your near and dear ones. Aarti for Diwali 'Om Jai Lakshmi Mata' Lyrics & Video: Devotional Deepavali Song Free Download for 2018 Laxmi Puja.
The auspicious occasion of Diwali 2018 will be celebrated on November 7 and today marks the first day of five-day festival with Dhanteras celebrations. Diwali is one of the most important Hindu festivals that is celebrated across the country with great enthusiasm and fervour. On the day of Badi Diwali, people perform Lakshmi puja with their families and meet and greet each other to wish Happy Diwali. People send across wishes and greetings to their relatives and friends who stay far away or are not able to meet them on the day of Diwali. They share messages on WhatsApp as the newly introduced stickers, post on Facebook as their status and share GIF images and SMSs. Choti Diwali 2018 Greetings: WhatsApp Messages, GIF Images, SMS, Facebook Status to Send Diwali Wishes Online.
Diwali, also popularly known as Deepavali, symbolises the victory of light over darkness. On this day, people light up their homes with diyas (butter lamps), lanterns and colourful lights. Diwali is also celebrated to mark the victory of good over evil and ignorance. According to Hindu legends, Lord Ram, the seventh incarnation of Lord Vishnu, destroyed the Lanka king Ravana, defeating the evil. Deepavali marks the new beginnings in everyone's lives and people vow to destroy the evil within and spread happiness and prosperity in their environment and homes. WhatsApp Stickers to Wish Happy Diwali 2018: Messaging App Should Introduce Festive Sticker Images Packs for Sending Funny Diwali Messages.
People perform Laxmi puja in their homes and offices and start the new year and new beginnings by seeking the blessings of Lord Ganesha and Goddess Lakshmi. Diwali celebrations are marked by dressing up in festive traditional clothing, distributing sweets, drawing colourful rangolis and wishing everyone a happy and prosperous Diwali. This festival start anew by greeting people with open arms. To mark the occasion, we have compiled Diwali messages, greetings and quotes that you can share on your WhatsApp groups, on Facebook and even send across text messages. Through these messages share love and happiness with the people you love and let them know that with this Diwali all their wishes will come true and there will be prosperity and happiness everywhere. Diwali 2018 Wishes in Advance: Shubh Diwali Photos, Stickers, WhatsApp Messages, GIF Images, Facebook Status and SMS to Send Deepavali Greetings Online Free.
Diwali 2018 Greetings, Wishes, Messages & Quotes in English
Happy Diwali 2018!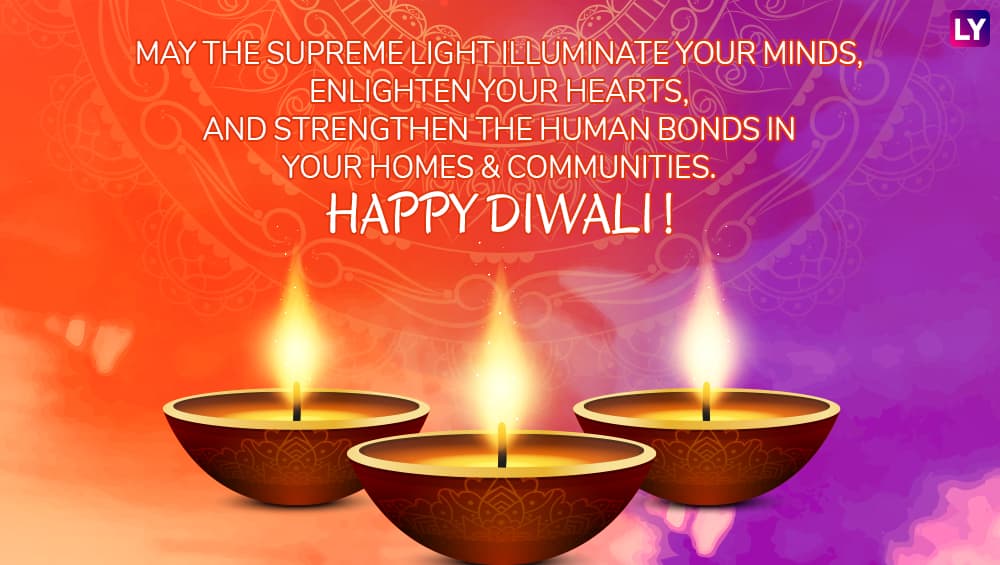 WhatsApp Message Reads: May the Supreme Light Illuminate Your Minds, Enlighten Your Hearts, And Strengthen the Human Bonds in Your Homes & Communities. Happy Diwali!
A Happy & Prosperous Diwali!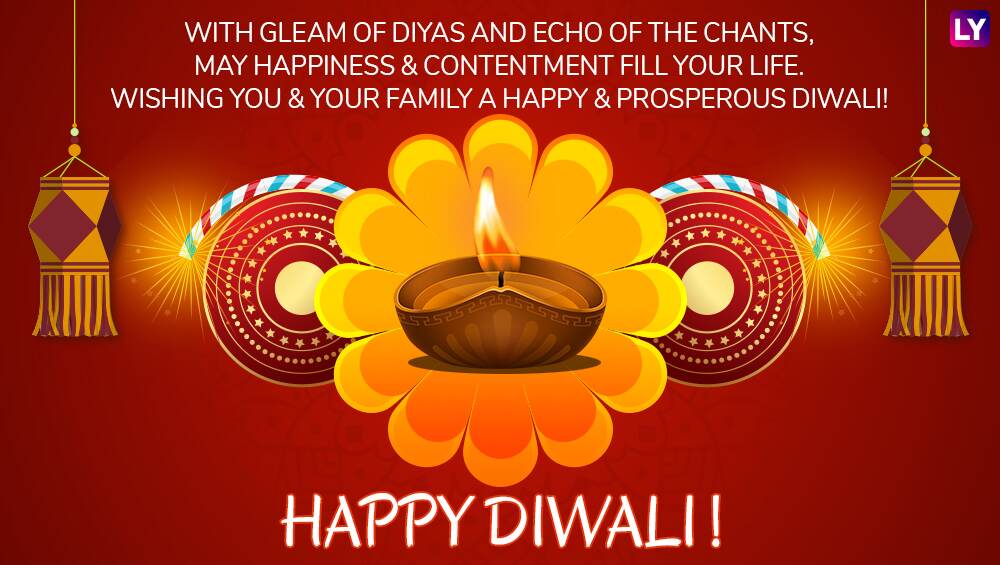 WhatsApp Message Reads: With Gleam of Diyas And Echo of the Chants, May Happiness & Contentment Fill Your Life. Wishing You & Your Family a Happy & Prosperous Diwali!
Happy Deepavali 2018!
WhatsApp Message Reads: Light a Lamp of Love, Blast a Chain of Sorrow, Shoot a Rocket of Prosperity, Fire a Flowerpot of Happiness. Wishing You A Happy & Sparkling Diwali!
Happy Diwali From the Heart!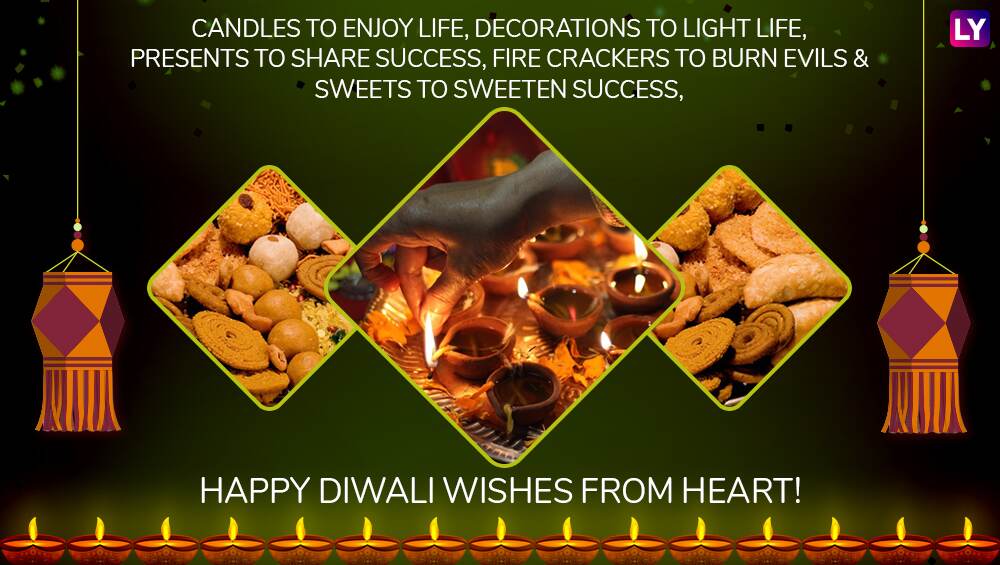 WhatsApp Message Reads: Candles to Enjoy Life, Decorations to Light Life, Presents to Share Success, Fire Crackers to Burn Evils & Sweets to Sweeten Success, Happy Diwali Wishes from Heart!
Wishing You & Your Family a Happy Diwali!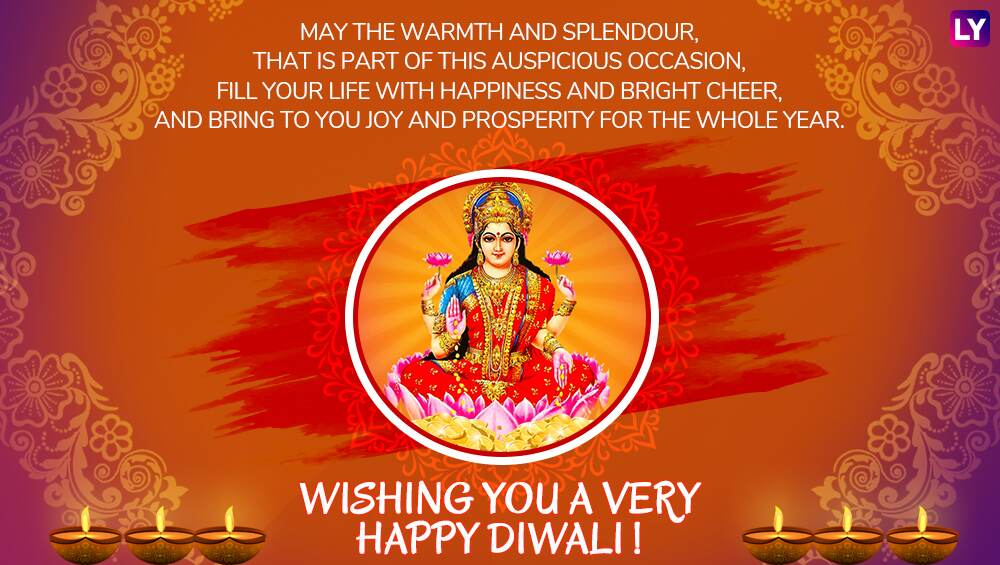 WhatsApp Message Reads: May the Warmth and Splendour, That Is Part of This Auspicious Occasion, Fill Your Life with Happiness and Bright Cheer, And Bring to You Joy and Prosperity for the Whole Year. Wishing You A Very Happy Diwali!
GIF Images
This Diwali pledge to have a clean and safe celebrations. Although firecrackers form an important element of the festival, avoid using them as much as possible. Firecrackers are not only hazardous to the environment but also affect the street animals and pets at home. The next day of Diwali, there are heaps of litter everywhere. This year have an eco-friendly Diwali celebration. Get together with your relatives and friends and enjoy mouth-watering cuisines and have a good laughter. We at Latestly, wish you and your family a Happy & Prosperous Diwali!