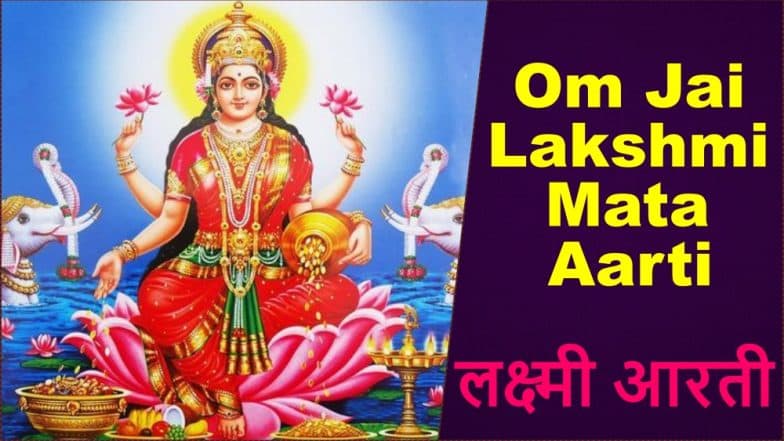 The much-awaited Diwali 2018 evening has finally arrived when devotees will fold their hands before Goddess Lakshmi and seek her divine blessings. On November 7, the third and main day of Diwali festival will see Hindus perform Lakshmi Puja with much faith and devotion. From keeping the Laxmi Pooja shubh muhurat timings to puja vidhi and other rituals in mind, we all will pray to the Goddess of Wealth and Prosperity. Lakshmi Puja ceremony is completed with everyone joining to sing Lakshmi aarti - 'Om Jai Lakshmi Mata'. We bring to you "Om Jai Lakshmi Mata Aarti" videos with lyrics in Hindi to chant on Lakshmi Puja 2018. Several singers over the years have lent their voices for "Om Jai Lakshmi Mata Aarti", and we bring those song videos to you for free download. Diwali Lakshmi Puja 2018 Shubh Muhurat in New York, Chicago, California, London, Sydney and Melbourne: Know Auspicious Time of Celebrations in the US, UK & Australia Time Zones.
"Om Jai Lakshmi Mata Aarti" is a popular devotional song sung in praise of Devi Lakshmi, the Hindu Goddess of Wealth. Goddess Lakshmi, the consort and dynamic energy of Lord Vishnu is venerated on Diwali, also known as Deepavali, the 'Festival of Lights.' She is also the goddess of love, prosperity (both material and spiritual), fortune, and the embodiment of eternal beauty. Diwali 2018, which begins with Dhanteras on November 5 will have devotees performing Lakshmi Puja on Badi Diwali taking place on November 7. And as is the case with other festivities, aarti and bhajan (spiritual and devotional songs) are an integral part of Laxmi Pujan as well.  Diwali 2018 HD Images to Send Greetings in Advance: Best WhatsApp Wishes, Messages, Deepavali GIF Photos and Wallpapers to Download for Free Online.
Diwali is known as Lakshmi Puja, the day we worship the Hindu deity of the goddess of abundance and fortune. The annual festival falls on Amavasya of Krishna Paksha in the month of Ashwin according to the Vikram Samvat Hindu calendar. Lakshmi, along with Parvati (the Hindu goddess of divine strength and power) and Saraswati (the Hindu goddess of knowledge, wisdom and learning) forms the holy trinity of Tridevi. Lakshmi is also known as Sri and her iconography always depicts her with four hands representing the four goals of human life – dharma (virtuous, proper, moral life), kama (pleasure, sensuality, emotional fulfilment), Artha (material prosperity, income security, means of life), and moksha (emancipation, enlightenment, liberation, and release). Devotees believe a happier Goddess Lakshmi means divine blessings from her, which will help them lead a content life. Diwali 2018 Devotional Songs: Laxmi Aarti Songs and Bhajans With Lyrics to Chant During Deepavali.
During Lakshmi Puja, people clean their houses, decorate it Rangoli, Diya and flowers. They wear new clothes, prepare different types of sweets and delicacies. It is believed that Goddess Lakshmi likes neatness and cleanliness and on the Lakshmi Puja, she descends on the earth to visit the houses of her devotees. If she is happy with the preparations and her welcome, she grants boons and fulfils all the great desires of man. This is why we also chant "Om Jai Lakshmi Mata Aarti," a spiritual song in her praises to please the divine body. Diwali 2018 Devotional Songs: Ganesh Aarti and Bhajans With Lyrics to Chant During Lakshmi Puja.
Om Jai Lakshmi Mata Aarti Lyrics
Om Jai Lakshmi Mata, Maiya Jai Lakshmi Mata,
Tumko Nishdin Sevat, Har Vishnu Vidhata.
Om Jai Lakshmi Mata.
Uma Rama Bharmani, Tum Hi Jag Mata,
Surya Chandrma Dhyavat Naard Rishee Gata.
Om Jai Lakshmi Mata.
Durga Roop Niranjani, Sukh Sampati Data,
Jo Koi Tum Ko Dhayata, Riddhi Siddhi Pata.
Om Jai Lakshmi Mata.
Tum Patal Nivasini, Tum Hi Shubh Data,
Karam-Prabhav-Prakashini, Bhav Nidhi Ki Trata.
Om Jai Lakshmi Mata.
Jis Ghar Main Tum Rahti, Sub Sadgun Aata,
Sub Sambhav Ho Jata, Man Nahi Ghabrata.
Om Jai Lakshmi Mata.
Tum Bin Yagya Na Hove, Vastra No Koi Pata,
Khan-Pana Ka Vaibhav, Sub Tumse Pata.
Om Jai Lakshmi Mata.
Shubhgun Mandir Sundar, Sheerodadhi Jata,
Ratan Chaturdhsh Tum Bin, Koi Nahi Pata.
Om Jai Lakshmi Mata.
Mahalakshmi Ji Ki Aarti, Jo Koi Nar Gata,
Urr Anand Samata, Pap Utar Jata.
Om Jai Lakshmi Mata.
Sthir Char Jagat Bchaye Shubh Karam Nar Lata,
Ram Pratap Maiya Ki Shubh Drashti Chahta.
Om Jai Lakshmi Mata.
Watch Om Jai Lakshmi Mata Aarti Video With Lyrics in Hindi
Om Jai Laxmi Mata Aarti with Lyrics by Sadhana Sargam (Watch Video)
Om Jai Lakshmi Mata Aarti By Anuradha Paudwal (Watch Video)
One must worship sincerely and not be greedy in order to please Maa Lakshmi truly. She represents wealth, fortune and success but resides in lives of those who depict a true act of hard work, courage and virtue. One must not take her presence for granted and continuously strive hard to become a better person, because she does not stay at a place, which lacks the right virtues and qualities. This Diwali 2018 let us try and be a better person not just for the sake of materialistic goods. We wish everyone who will be celebrating Diwali and Lakshmi Puja, a very Happy and Prosperous Diwali!