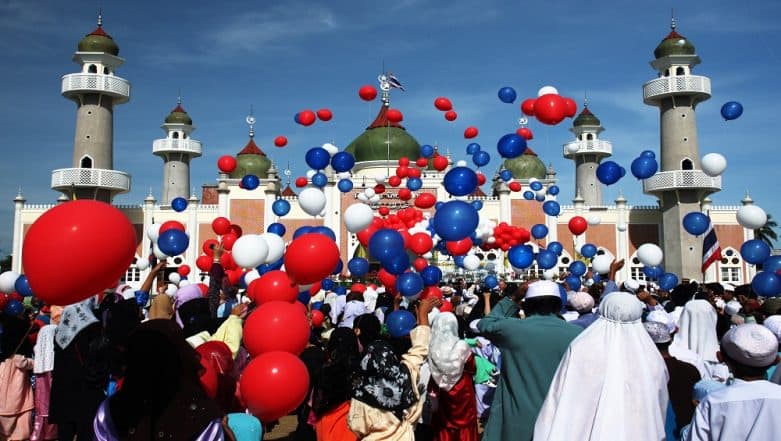 Muslims across the world will celebrate Eid al-Adha, also referred to as Bakra Eid or Eid ul Zuha in some Islamic nations, in the second week of August. The date of Eid al-Adha congregational prayers will be confirmed after the sighting of new moon, which is expected on August 1 or August 2 in the world's western hemisphere.
The festival of Eid al-Adha is celebrated on the 10th date of Dhul Hijjah, the final month in Islamic calender. During this month, Muslims offer animal sacrifice and distribute its meat to the poor, and also undertake the Hajj pilgrimage to Mecca. Bakra Eid on August 12 or 13 in Indo-Pak Region., Check When is Dhul Hijjah Moon Sighting
When is Dhul Hijjah Moon Sighting in Saudi Arabia, UAE, Qatar, UK, US & Other Nations
In the Kingdom of Saudi Arabia (KSA), United Arab Emirates (UAE), Qatar, Iraq and other parts of the Middle East, attempts to sight the Dhul Hijjah moon will be made on August 1. If the crescent is sighted, the new Islamic month would commence and on its 10th date, i.e. August 11, Eid al-Adha would be celebrated.
The lunar cycle will remain the same as Middle East in Europe and North America. Muslims in the United Kingdom (UK) and the United States (US) will largely adhere to the dates as announced by the KSA.
An exception, however, remains the Indian subcontinental region, where the Muslims in India, Pakistan, Sri Lanka and Bangladesh will attempt to sight the crescent on August 2 -- a day after the Middle East. If the moon is sighted, then Eid al-Adha in that part of the world will be celebrated on August 12. id the crescent remains unseen, the festival would be observed on August 13.