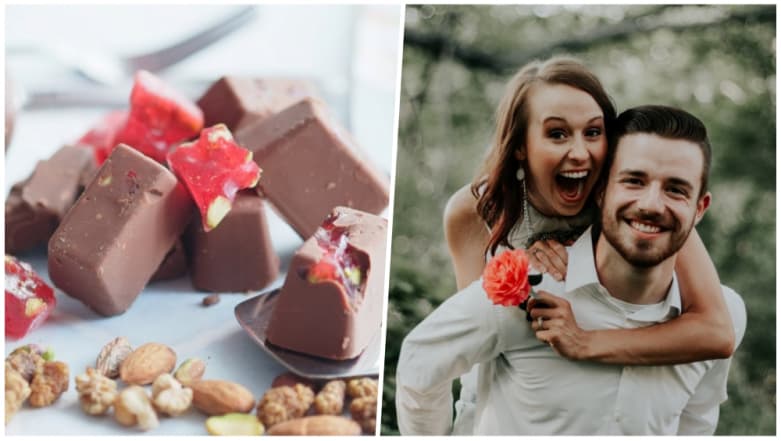 The third day of Valentine's Week 2018 is here. As the seven days of love start, couples all around get another chance to renew their romance and celebrate it with joy. Followed by Rose Day and Propose Day here comes, Chocolate Day. As you express your feelings, making the moment a little chocolicious is not a bad idea. But of course, you definitely need your pick-up lines to impress your love with a sweet tooth. So, we have listed amazing WhatsApp and Facebook messages, SMS wishes and GIF greetings that will perk up your chocolate day. And for long distance couples, these quotes and greetings will be quite a saviour from all the 'major missing' feels.
Before we begin, let us acknowledge the birth of the rescued partner of all time, our beloved chocolate. It was around 1000 BC, when people during that time discovered its aroma and use. And since then, nobody on this planet ever needed an extra reason to eat chocolate. And special dates make the chocolate lovers rejoice. Most of the people lack in creativity and on romance factor when the right time arrives. Chocolates work in a clever way! Your crazy bae will role over again with the bucket of all shapes. This cannot get any more romantic. And the celebration is not just limited to lovers. It is for everyone. Leave a note with a chocolate day message on top of the bucket for your favourite person, family member or your best friend and enhance the smile that is going to last forever.
Love is like swallowing hot chocolate before it has cooled off. It takes you by surprise at first, but keep you warm for long time. 
Shy admirers; just be ready with a perfect date setting and use these fun and cute chocolate day quotes to impress your companion. A box full of M&M or Ferro Rocher or Cadbury Diary Milk cannot go wrong in the evening.
Here are the best WhatsApp and Facebook messages, wishes and cool GIF greetings for the sweet tooth:
WhatsApp Message Reads: There is nothing better than a friend, unless it is a friend with chocolate.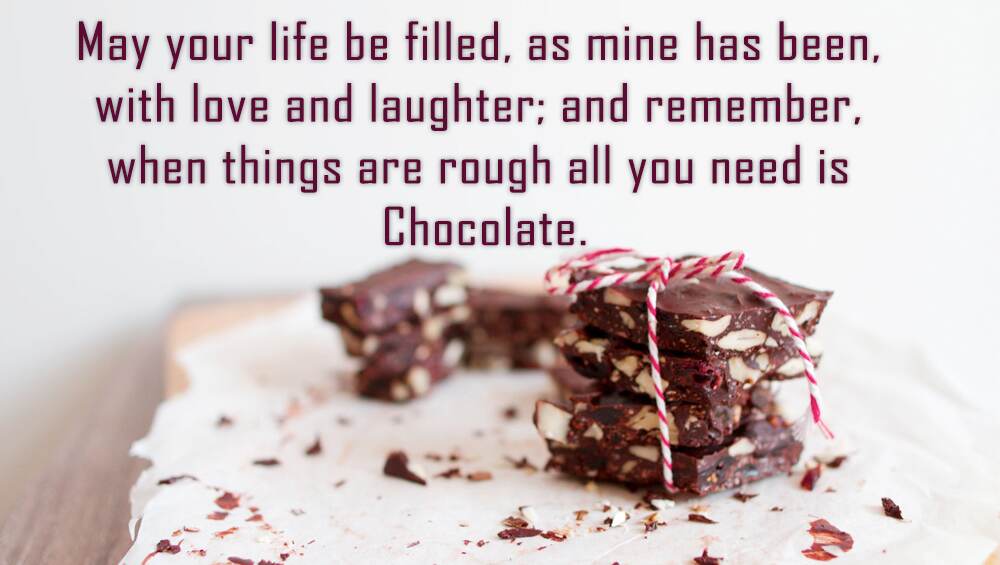 WhatsApp Message Reads: May your life be filled, as mine has been, with love and laughter; and remember, when things are rough all you need is Chocolate.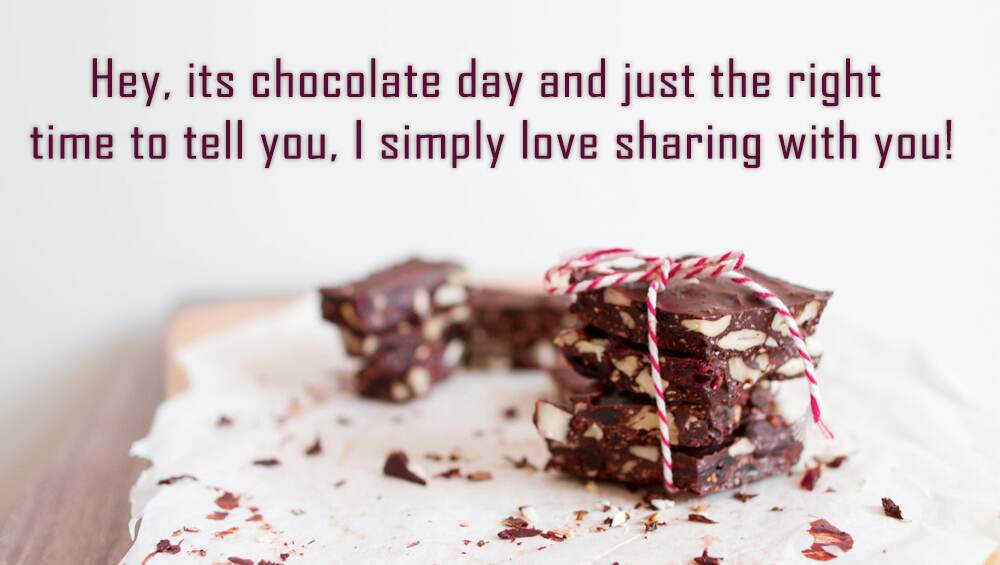 WhatsApp Message Reads: Hey, its chocolate day and just the right time to tell you, I simply love sharing with you!
WhatsApp Message Reads: It's chocolate day. And i am looking forward to get dipped in your sweet and passionate LUV.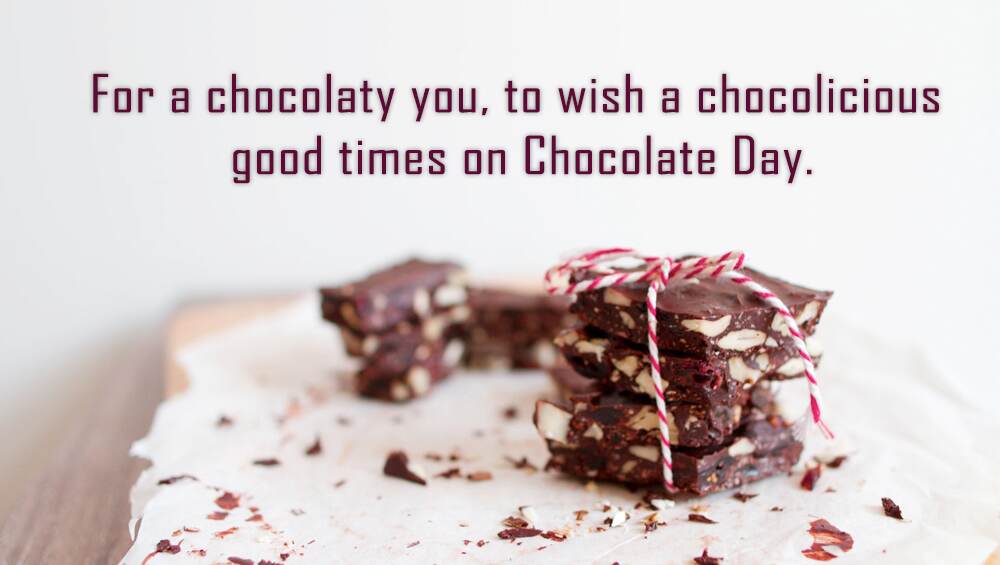 WhatsApp Message Reads:  For a chocolaty you, to wish a chocolicious good times on Chocolate Day.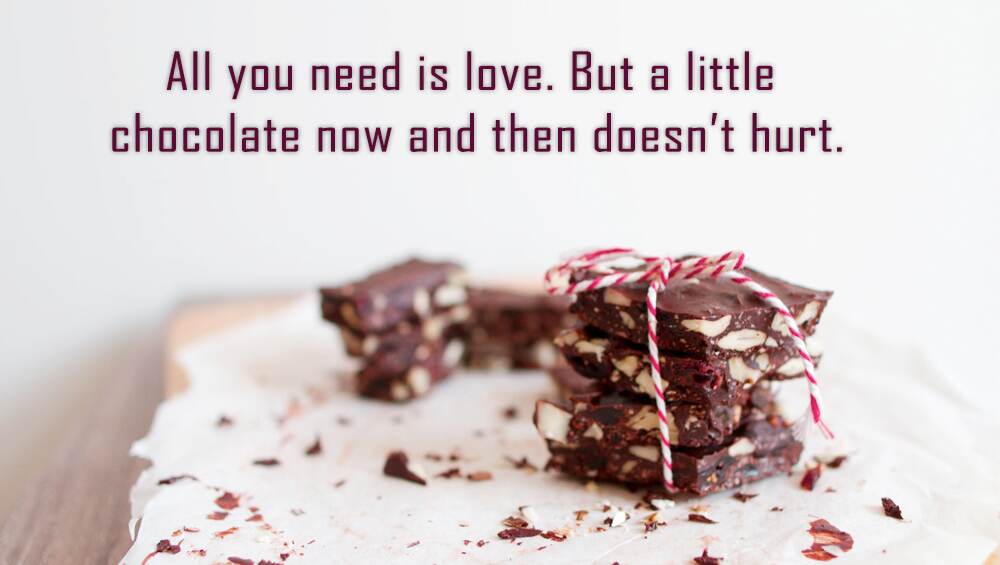 WhatsApp Message Reads: All you need is love. But a little chocolate now and then doesn't hurt.
WhatsApp Message Reads: Lovely chocolates and lovely you. Lovely are the things you do.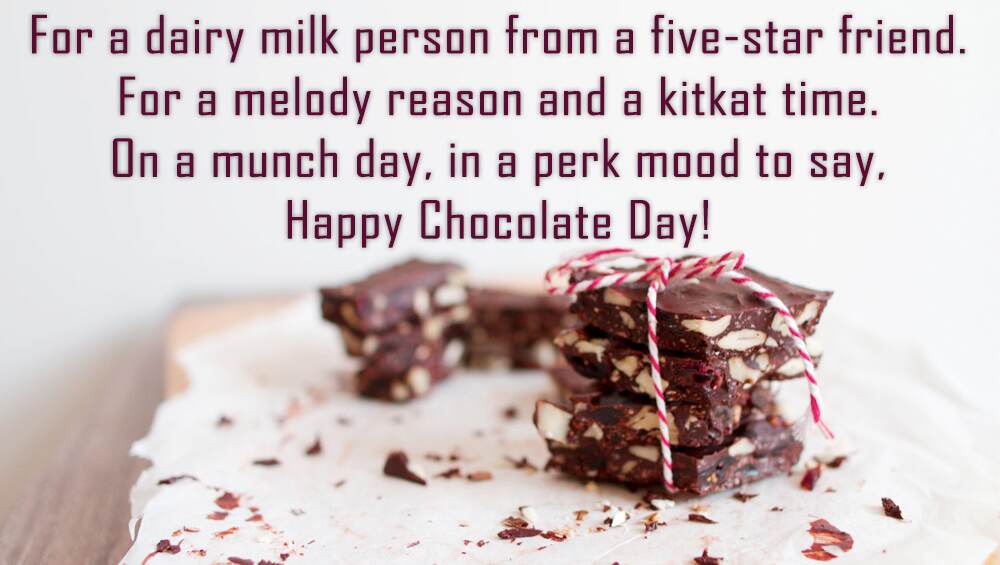 WhatsApp Message Reads: For a dairy milk person from a five-star friend. For a melody reason and a kitkat time. On a munch day, in a perk mood to say, Happy Chocolate Day!
Celebrate this season of love with chocolates. They will make the occasion all the more sweet. And don't forget to carry a beautiful rose to charm the moment.
Happy Chocolate Day!