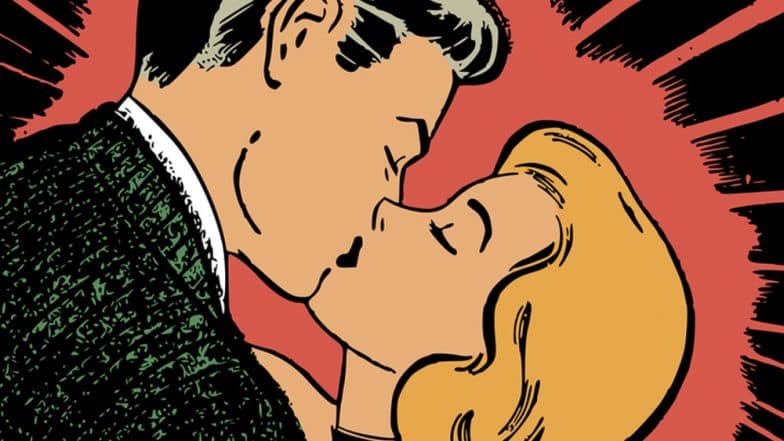 Kiss day is here. A day dedicated to one of the most beautiful aspects of love and relationship- sweet kissing. The Valentine week calendar/list starts with Rose Day on the 7th of February celebrating the "love flower," then Propose Day on 8th of February, Chocolate Day on 9th, Teddy Day on 10th, Promise Day on 11th, Hug Day on 12th, Kiss Day on 13th and finally Valentine's Day on 14th. On kiss day as the name suggests, people in love kiss or smooch each other to show them the love they have for their SO. Kiss is that one thing that is not as elaborate as sex but still intimate and close. Kiss Day 2019 Quotes: Passionate Words of Love to Share With Your Partner on the Most Romantic Day of Valentine Week.
Types of Kisses you might want to try this Kiss Day:
French Kiss
The most popular and hyped type of kiss, a french kiss is all about going out and about with kissing. While with your mouth open, you have to involve your tongue while kissing in the French style. Once you start playing with each other's lips you must slowly let your tongues out and let it flow. This is one of the intense kisses so try it out when you have ample time.
Lip Play
All you have to do is rub your moist lips onto each others' lips in creative ways. Play with your lips and try different sides of the mouth. You can choose one lip at a time as well.
Reverse Kiss
Why do kiss the traditional when you can kiss upside down? Also called the Spiderman kiss, this type of kiss is the replica of how Peter Parker kisses MJ kiss in an alley. One person has to kiss the other upside down in a way that the lower lip of one person should touch the upper lip of the other.
Pecks
Don't like long kisses? You can try a lot of pecks to begin your steamy moment. Sometimes a simple peck on the cheek or lips does the trick.
The Hickey Kiss
Also known as love-bite, a hickey kiss is another type of kiss that is very intense. How to leave a hickey on your partner while kissing? You must suck the area while you are kissing, somewhat similar to eating the area.
Earlobe Kiss
The area around the ear is quite sensitive as well. Why not start your kiss from your earlobes? Start by gently licking and sucking the earlobe and area around it to arouse your partner.
There so much you can explore with kissing. Try out different ways, you never know you may discover a different style of kissing.