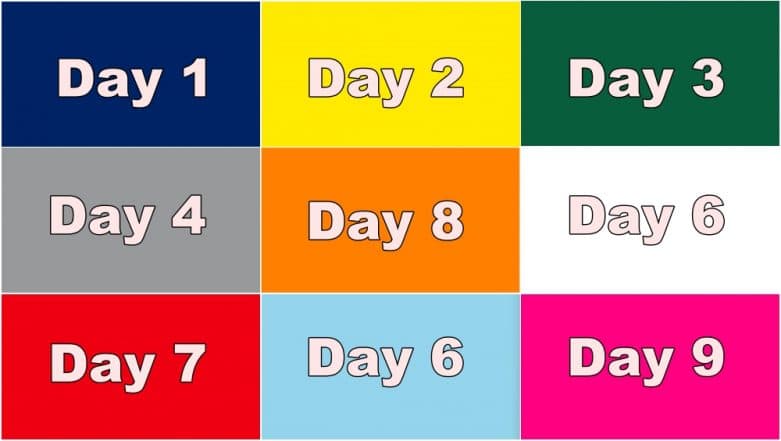 One of the most asked questions during Navratri celebrations is – Which colours to wear on different days of the nine-day festival in honour of Goddess Durga? Especially, if you are celebrating Sharad Navaratri in states of Maharashtra and Gujarat. Wearing nine colours on nine days of celebrations dedicated to nine forms of Durga is an age-old tradition followed by men and women with much excitement. And, Navratri 2018 is no different. The Navdurga festival started on October 10, Wednesday and everyone is curious to know Navratri 2018 dates and colours list, the day-wise significance of nine colours to wear during the festivities. So, we bring to you the last-minute easy Navratri 2018 colours list that you can download for free online in PDF or save in JPEG format. Navratri colours 2018 table with images and video is also made available below. It's Happy Navratri, and we have to celebrate with a lot of fun and enthusiasm. Navratri 2018 Colours to Wear During Nine Days Festival: Day-Wise List & Images of 9 Colours for Each Date of Sharad Navaratri.
The dress code for Navratri is based on the colour cycle, which keeps changing every year. The nine-day colour scheme is decided based on the day Navratri festival begins, and after that, the rest of colours fall in place. The first day or Pratipada tithi of Navratri 2018 falls on Wednesday. Therefore the colour chosen is Royal Blue. Here's complete list – Navratri Day 1 colour is Royal Blue (Date: October 10 – Wednesday), Navratri Day 2 colour is Yellow (Date: October 11 – Thursday), Navratri Day 3 colour is Green (Date: October 12 – Friday), Navratri Day 4 colour is Grey (Date: October 13 – Saturday), Navratri Day 5 colour is Orange (Date: October 14 – Sunday), Navratri Day 6 colour is White (Date: October 15 – Monday), Navratri Day 7 colour is Red (Date: October 16 – Tuesday), Navratri Day 8 colours is Sky Blue (Date: October 17 – Wednesday) and finally, Navratri Day 9 colour is Pink (Date: October 18 – Thursday). Sharad Navaratri 2018: What Are Nine Avatars of Goddess Durga or Navdurga? Pictures, Mantras & Celebration Dates of Navratri Festival.
Navratri festival begins with Ghatasthapana Puja, which is performed to invocate Goddess Durga. It marks the beginning of the multiple-day celebrations. Over the nine days devotees worship the nine forms Maa Durga beginning with Shailputri Puja on first day, Brahmacharini Puja on second day, Chandraghanta Puja on third day, Kushmanda Puja on fourth day, Skandamata Puja on fifth day, Katyayini Puja on sixth day, Kaalratri Puja on seventh day, Mahagauri Puja on eighth day and Siddhidatri Puja on ninth day. Navratri 2018 Day 2 Colour, October 11 - Yellow: From Alia Bhatt to Kajol, Take Cue on How to Shine Bright This Navdurga Festival.
Complete Navratri 2018 Colours Table With Dates, Days and Navadurga Puja
| | | | | | |
| --- | --- | --- | --- | --- | --- |
| Sr. No. | Date | Day | Navratri Days | Colour | Devi Puja |
| 1. | 10th October 2018 | Wednesday | Navratri Day 1 | Royal Blue | Shailputri Puja |
| 2. | 11th October 2018 | Thursday | Navratri Day 2 | Yellow | Brahmacharini Puja |
| 3. | 12th October 2018 | Friday | Navratri Day 3 | Green | Chandraghanta Puja |
| 4. | 13th October 2018 | Saturday | Navratri Day 4 | Grey | Kushmanda Puja |
| 5. | 14th October 2018 | Sunday | Navratri Day 5 | Orange | Skandamata Puja |
| 6. | 15th October 2018 | Monday | Navratri Day 6 | White | Katyayini Puja |
| 7. | 16th October 2018 | Tuesday | Navratri Day 7 | Red | Kaalratri Puja |
| 8. | 17th October 2018 | Wednesday | Navratri Day 8 | Sky Blue | Mahagauri Puja |
| 9. | 18th October 2018 | Thursday | Navratri Day 9 | Pink | Siddhidatri Puja |
You can also download this easy Navratri colours 2018 list image in JPG or JPEG format to share with your family, friends, colleagues and employees in the office. Yes, this is our little attempt to solve the lingering doubt in your mind all the time during Navratri – Which colour to wear today? Well, it is all taken care of with this Navratri colours calendar.
Navratri Colours for Nine Days 2018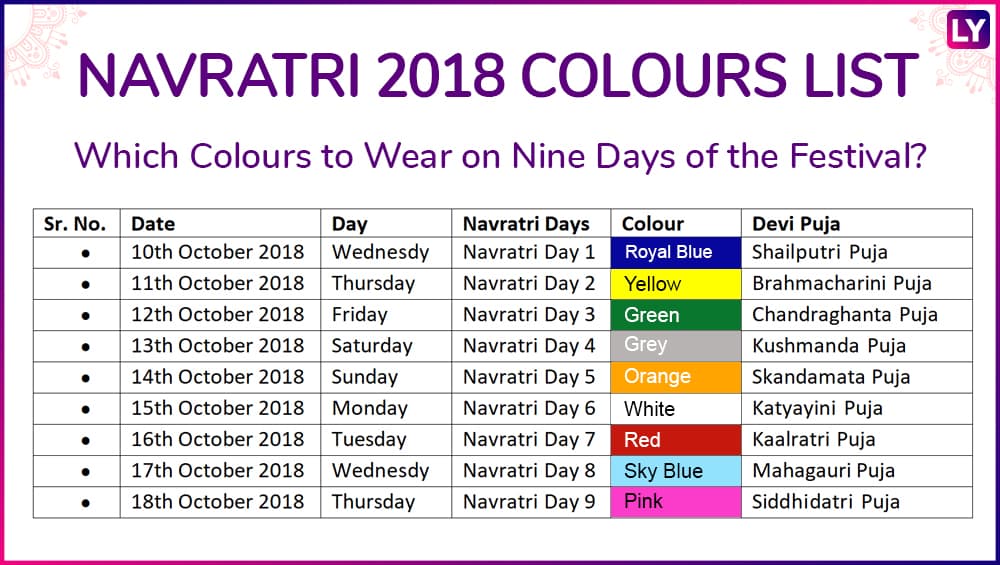 If you're not an image person but a video individual who loves getting their share of information via YouTube videos, well this is just for you. Watch the video with complete details of Navratri 2018 colour scheme.
Watch Video: Navratri Colours 2018 With Dates and Significance 
We are sure you are the enthusiast one who loves following the colourful dress code during the festival, after all, it's once in the year celebrations. And if for some reason your friends in college and colleagues in offices do not seem too interested, you must share this link with them. Why? Well, so they join you in Navratri celebrations in this fun and colourful manner. Yes, yes, it is totally fine to make your best friends and colleagues to follow the Navratri colours chart. It would be fun taking beautiful selfies after getting all decked up. So, bookmark this page, share, spread the word and join in this tradition cum fun activity. Wishing everyone a very very Happy Navratri 2018!