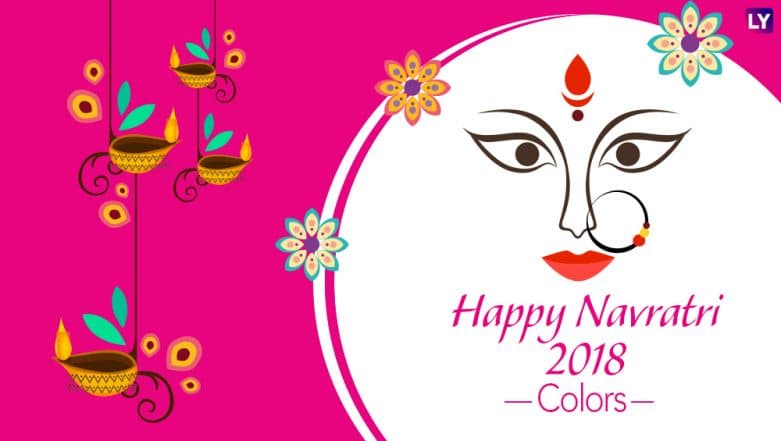 Navratri 2018 is starting today on October 10. One of the most awaited festival which brings devotion and joy together is here. Now when we are almost done with our preparations to invocate Goddess Durga in our hearts and households. Still, there's one big question lingering in our minds is - What are Navratri colours 2018? Now Sharad Navaratri falling post monsoon is considered Maha Navratri as it witnesses several major festivals and celebrations. One such traditional custom followed in states of Gujarat and Maharashtra is wearing nine different colours on nine days of the festival. There are several queries regarding it such as - Navratri colours with images for nine days, Navratri 2018 colours with date, what colour to wear today? navratri 2018 colours with date, Navratri colours 2018 October, which colour dress to wear in Navratri? Here's all Navratri festival information including the list of Navratri 2018 colours with images. Navratri 2018 Dates, Days & Tithi Calendar: Shubh Puja Muhurat & Time for Aarti During Nine-Day Sharad Navaratri Festival.
Navratri also spelt as Navaratri, The 'Festival of Nine Nights', begins on October 10 and ends on October 18.  Commencing during autumn, Sharad Navratri is the most significant of all four Navratri as the country celebrates some of the biggest Hindu festivals such as Durga Puja, Vijayadashami, Dussehra in the time period. One popular tradition followed during Navaratri is following a dress code based on nine colours for each day of nine-day celebrations.
India venerates Goddess Durga and her nine manifestations on the nine days of the festival. This is why the festival has earned the name, Navratri meaning 'nine nights.' India is the land of diversity celebrates Navratri aka Durga Puja in different ways and if you're someone who is in Western states of India, like Maharashtra and Gujarat, then know all about the Navratri colours to celebrate the festival traditionally.
Navratri is the nine-day long festival when devotees worship the divine feminine, Maa Durga. Navratri is a Sanskrit word, which means 'nine nights', "nava" meaning nine and "ratri" meaning nights. The nine forms of Durga, all attributed to Goddess Parvati are worshipped on the nine days. The Hindu festival is celebrated across the country in various ways. There are four Navratri, two being the most significant ones – Chaitra Navratri post-winter in March–April and Sharada Navaratri post-monsoon in September-October. The other two are Magha Navaratri and Ashada Navaratri. The tradition of wearing nine different coloured dresses is followed during Sharad Navratri that too in the states of Maharashtra and Gujarat. Navaratri 2018: From Durga Puja to Dussehra, Check How the 9-Day Sharad Navratri Festival is Celebrated in 9 Different Ways in the Country.
What are the nine forms of Goddess Durga worshipped during Navratri? In North India, the nine manifestations of Maa Parvati are – Goddess Shailaputri (Day 1), Goddess Brahmacharini (Day 2), Goddess Chandraghanta (Day 3), Goddess Kushmanda (Day 4), Goddess Skandamata (Day 5), Goddess Katyayani (Day 6), Goddess Kalaratri (Day 7), Goddess Mahagauri (Day 8) and Goddess Siddhidatri (Day 9). In South India, the nine goddesses are – Vanadurga, Shoolini, Jataveda, Shanti, Shabari, Jwaladurga, Lavanadurga, Asuridurga and Deepdurga.
What are the nine colours of Navratri? The day-wise nine colours worn during Navaratri festival are – Royal Blue, Yellow, Green, Red, Pink, White, Grey, Sky Blue and Orange. Be it college girls, working professionals or homemakers and even few enthusiastic men religiously follow the coloured-dress code religiously on the nine days of the bright and colourful festival.
Why colours of nine days in Navratri changes every year? How is it decided for the year? The nine-day dress code changes every year, and it is decided on what day of the week the festival starts. After that, it follows a fixed cycle based on which people will dress in a different colour each day of Navratri. In simpler terms, devotees check which day Ghatasthapana on Pratipada, which is Day 1 of Navratri festival falls and after that stick to the fixed cycle.
What are Navratri 2018 colours and its significance?
This year Pratipada falls on Wednesday, and hence the colour is Royal Blue. It will be followed by Yellow, Green, Grey, Orange, White, Red, Sky Blue and Pink. Each colour has its own importance and significance. On all the nine days, one form of Maa Durga will be worshipped. Here you have all the details on the upcoming Navratri 2018 colours.
Navratri Colour of Day 1 - Royal Blue - October 10, 2018, Wednesday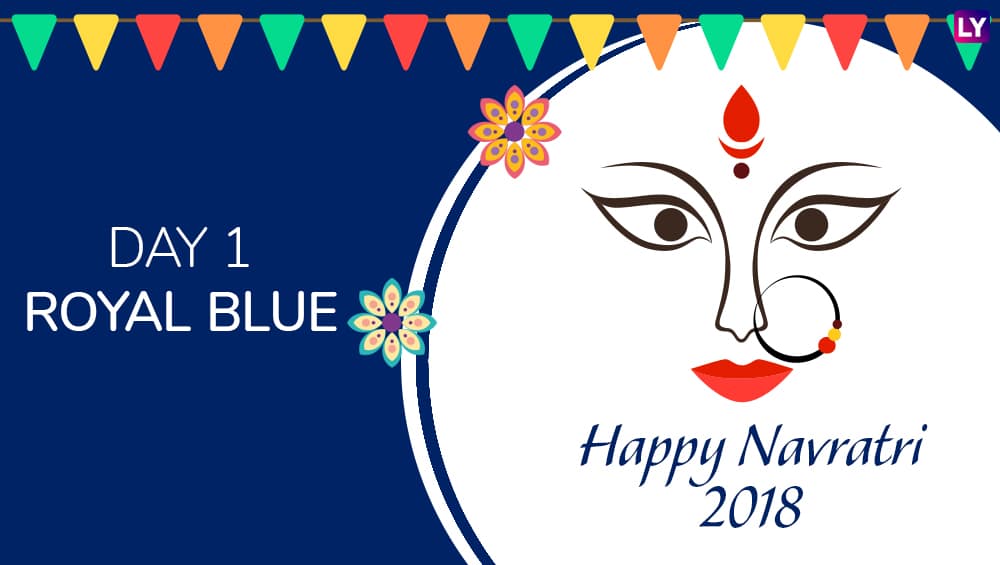 October 10 marks the first day of Sharad Navratri 2018. Navratri colour of Day 1 is Royal Blue as the Pratipada falls on Wednesday. According to Drik Panchang, on the first day, Ghatasthapana, Chandra Darshan, Shailputri Puja and Brahmacharini Puja will take place. Blue colour is the significance of tranquillity, wisdom, strength and intelligence.
Navratri Colour of Day 2 - Yellow - October 11, 2018, Thursday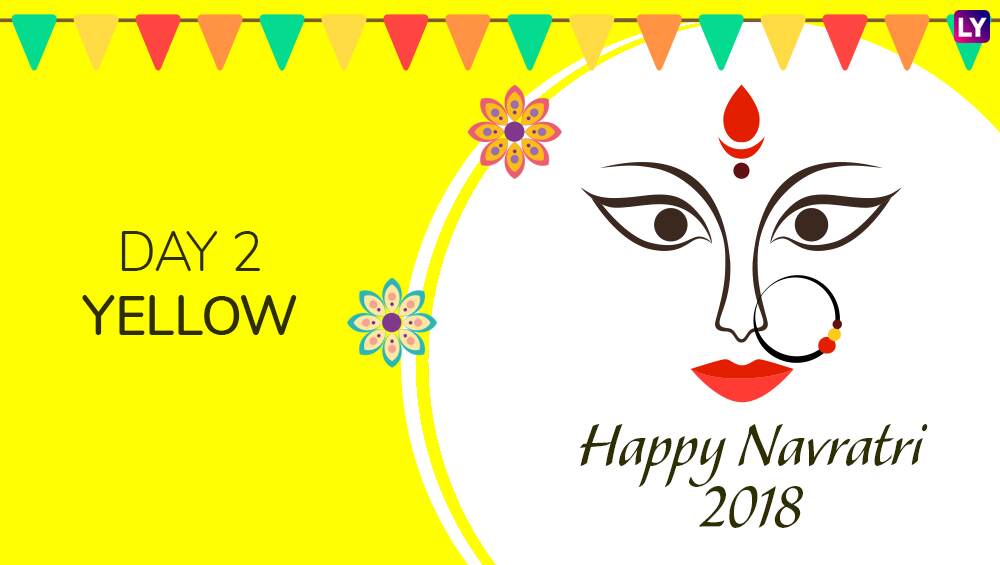 The second day of Navratri is on October 11, 2018, Thursday and the colour to be worn on this day is Yellow. Sindoor Tritiya and Chandraghanta Puja will be done as per Drik Panchang. Yellow colour stands for vivaciousness, positivity, optimism, clarity and happiness.
Navratri Colour of Day 3 - Green - October 12, 2018, Friday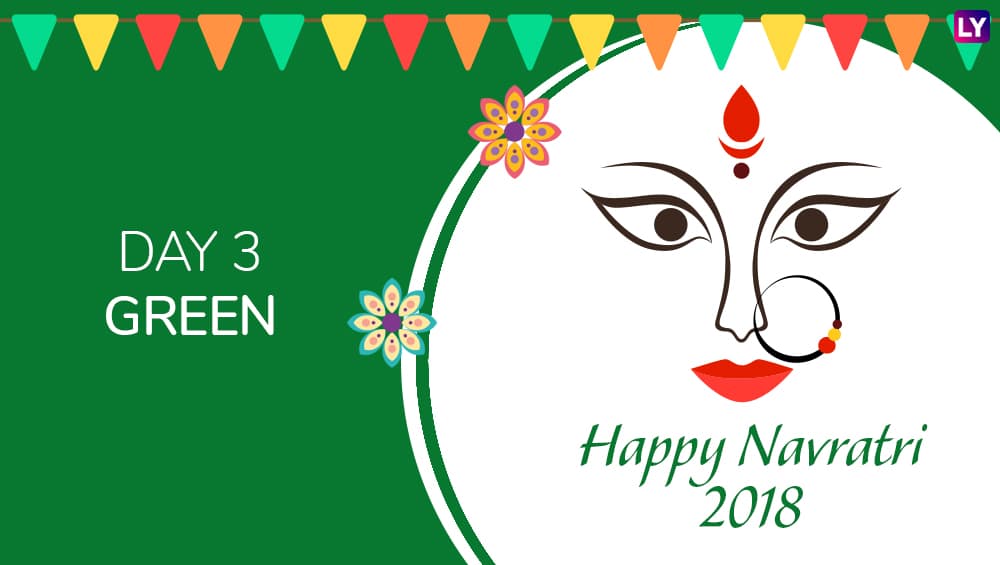 Navratri 2018 day 3 falls on October 12, Friday, and people must dress up in green-shaded outfits. Now, colour green stands for life, renewal and harmony. It is traditionally associated with finance and the economy. Kushmanda Puja and Varad Vinayaka Chauth will be taking place on the third day of the festival.
Navratri Colour of Day 4 - Grey - October 13, 2018, Saturday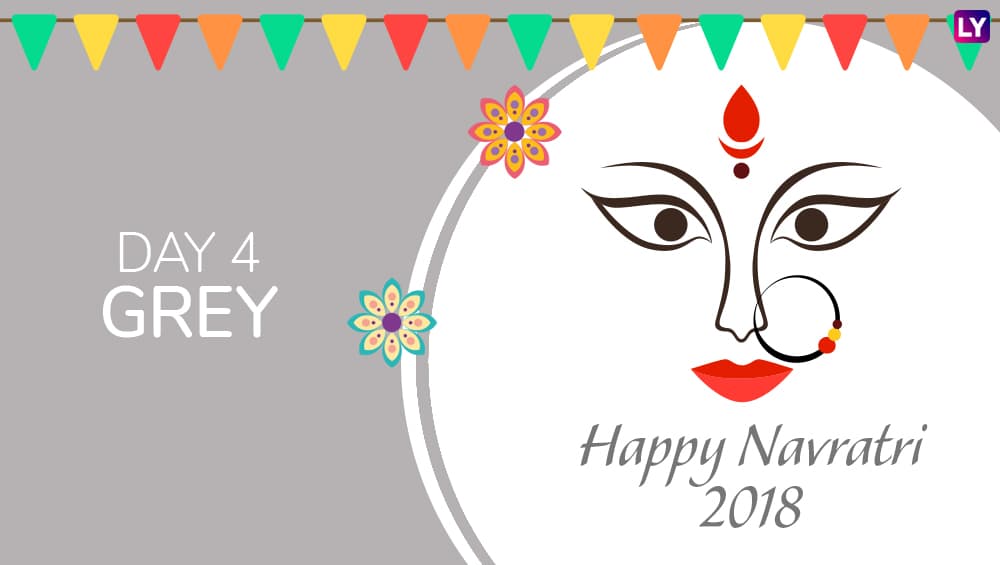 Navratri 2018 colour of the day four is four and it will be worn on October 13, Saturday. According to Drik Panchang, Upang Lalita Vrat and Skandamata Puja will be taking place on Panchami. The colour grey is closely associated with the manifestation of Maa Durga worshipped on the day. Mata Parvati was known as Goddess Skandamata after she the became the mother of Lord Skanda, also known as Lord Kartikeya. Now the grey colour represents a vulnerable mother who can take up a powerful form to protect her child.
Navratri Colour of Day 5 - Orange - October 14, 2018, Sunday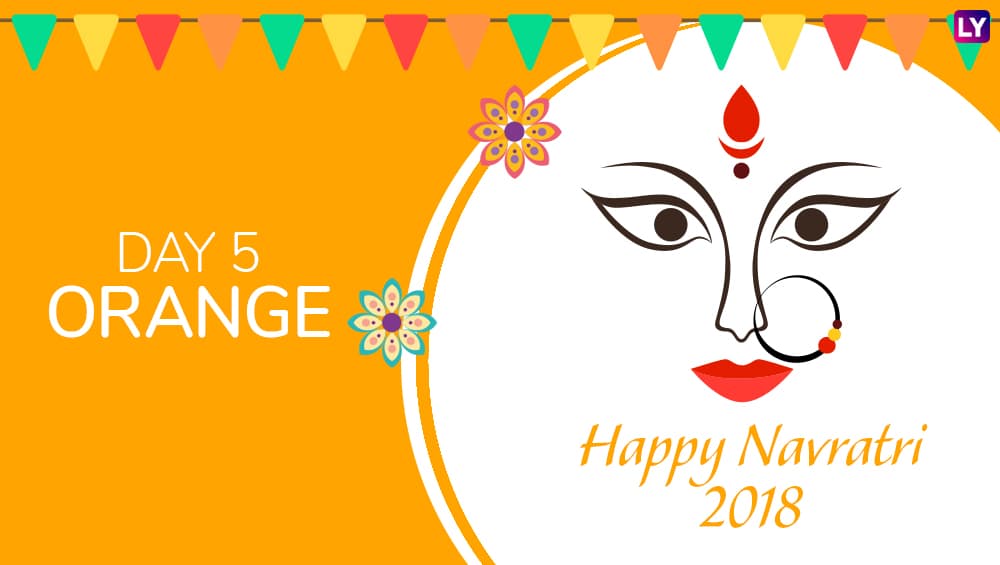 The fifth day of Navratri 2018 falls on October 14, Sunday. On this day, people must wear orange coloured clothes and accessories. Orange depicts the energy of red and the happiness of yellow. As per Drik Panchang, Saraswati Awahan (invocation of Goddess Saraswati) on the first day of Saraswati Puja during Navratri festival will take place.
Navratri Colour of Day 6 - White - October 15, 2018, Monday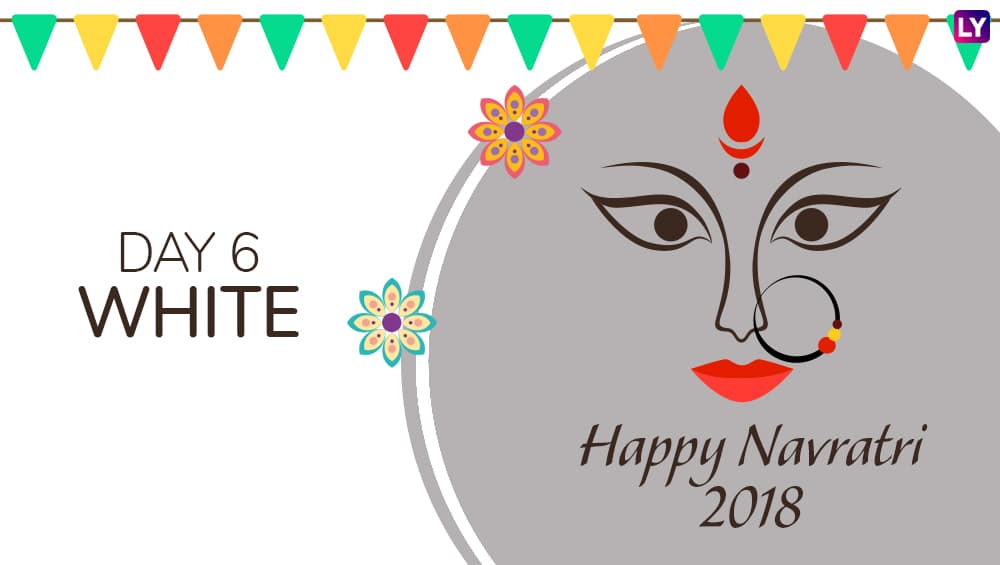 White is the colour of Navratri day 6, which falls on October 15, 2018, Monday. This shade is associated with perfection, light, peace, goodness, innocence, purity, and virginity. On Shashthi, Katyayani Puja ceremony will take place in honour of Goddess Katyayani, believed to be the most violent form of Maa Durga.
Navratri Colour of Day 7 - Red - October 16, 2018, Tuesday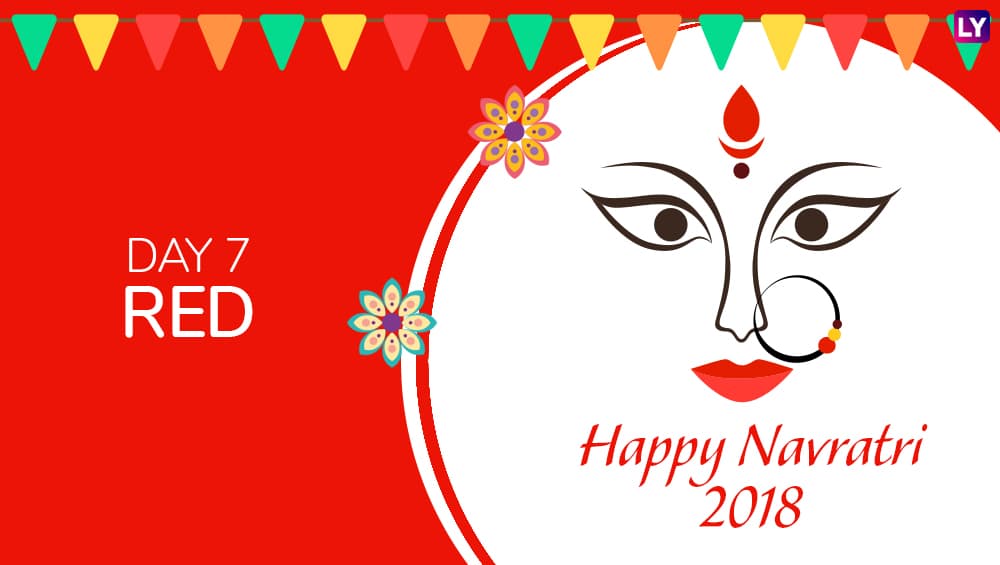 The colour for Navratri Day 7 is Red, the colour of passion, fire, radiance, energy, vigour and willpower. The seventh day or Saptami of Navratri festival will fall on October 16, 2018, Tuesday and is dedicated to Goddess Kalaratri, considered the fiercest avatar of Maa Parvati. Apart from Kalratri Puja, Saraswati Pradhan Puja, second day of Saraswati Puja during Navratri will also take place.
Navratri Colour of Day 8 - Sky Blue - October 17, 2018, Wednesday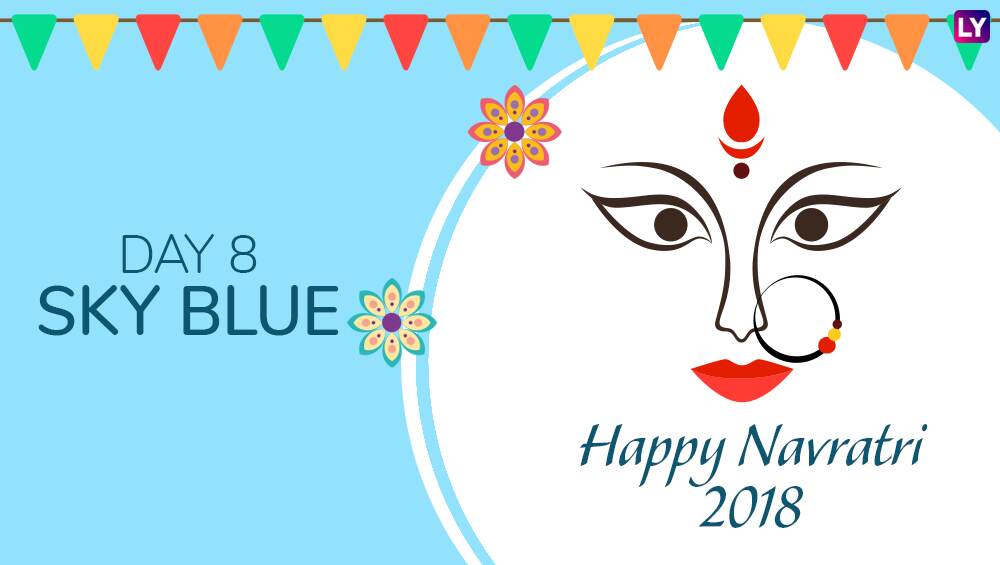 The eighth colour to wear during Navratri 2018 festival is sky blue, yes the second shade of blue after commencing the festival with royal blue. Ashtami falls on October 17, Wednesday and as per Drik Panchang, Durga Ashtami, Mahagauri Puja, Sandhi Puja and Maha Navami will be celebrated on Wednesday. Coming back to the Navratri colour of the day, Sky Blue signifies sincerity, loyalty, wisdom and depth.
Navratri Colour of Day 9 - Pink - October 18, 2018, Thursday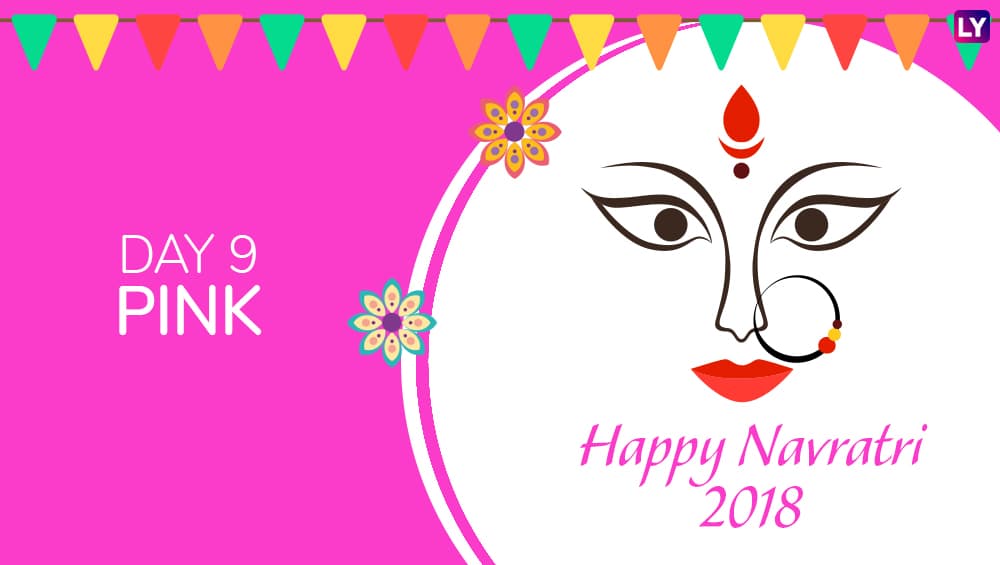 The ninth and final colour of Navratri 2018 is Pink. Yes, how lovely is it to conclude the fun colour-cycle of the festival with this pretty colour. Pink is the universal colour of love and is associated with friendship, affection, harmony, inner peace, and approachability. It is the colour of hope and the new beginning and on the nine-day of the festival or Maha Navami, devotees will do Ayudha Puja, Navami Homa and Navratri Parana.
Watch Video of Navratri Colours 2018 for Nine Days
So that was the nine-day colour cycle of Navratri 2018, which one must follow this time around. Apart from dresses, one must also choose accessories to complement their outfits. Navratri is celebrated with much fun and fervour and girls of all ages deck up to have a blast during 'Garba,' the traditional dance form. Despite a difference in celebrations, customs and rituals, Navratri brings us all together for the legend and its significance remains one - the victory of good over evil. When the cruelty and tyranny of demon king, Mahishasur increased and no god could put an end to his evil ways, Maa Parvati took the form of Maa Durga and killed him to save us all. This Navratri 2018, apart from the fun and festivities, do think about bringing an end to the evils of society and turn it into a better place to live in.