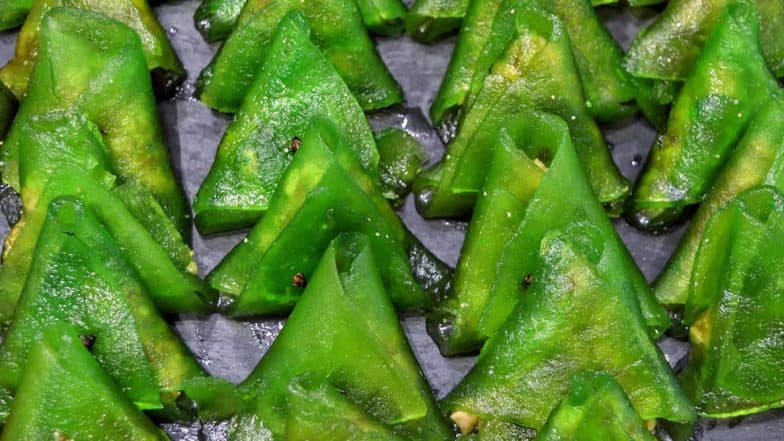 The festival of Navratri is almost nearing its end. The last day of the nine-day festival respecting Goddess Durga Maa will end on October 7 and the celebration of Vijayadashami or Dusshera will be marked on October 8. One of the many elements of the festival of Navratri is the colour code that is marked on each of the days. Each day has a specific colour and the idol of Maa Durga is also adorned in the saree of the same colour. So a lot of women especially take Navratri colours very seriously. The colour for day 9 of Navratri this year is peacock green. To go a step ahead, we give you a recipe of the same colour which you can prepare on the last day of Sharad Navaratri. With peacock green, we can think of an exotic sweet from the city of Taj Mahal, Paan Petha from Agra. Today we give you the recipe of how to make Paan Petha at home. Navratri 2019 Day 8 Purple Colour Recipe: Make Anjeer Barfi at Home That's Both Delicious and Healthy as Prasad For The Eighth Day of Navaratri.
The colour coordination just adds to the celebratory mode and how about corresponding at least one food item with the same? Given below is a detailed recipe of Paan Petha, which is more commonly found in the city of Agra. Food forms a very important part of all festive celebrations so what better way than having a matching recipe too. List of Colour-Wise Food Dishes for Each Day of the Nine-Day Navratri Festival.
Ingredients
1 1/4 cups chenna

1/4 cup powdered sugar

2 tablespoons pistachios, finely chopped

a few saffron strands

1/4 teaspoon cardamom (elaichi) powder

1 kg of Ash Gourd/White Pumpkin

A piece of Alum

3 1/2 cups of Sugar

Water for boiling

Cloves for garnishing
Method
Knead the chenna till it is as smooth as possible.

Add some sugar to it.

Put this mixture into a shallow vessel stirring constantly over low heat. Avoid over heating as it will become grainy and fat will separate.

When the mixture becomes a creamy thick paste/very soft dough consistency then add in cardamom powder, saffron strands and pistachios.

Peel the pumpkin and remove the seeds and soft fibres. Cut it into 4'x4' thick slices. Prick well with a fork, all over.

Soak these slices in water with small alum pieces in it for 2 hours.

Rinse the slices with fresh water thoroughly.

Now boil the water and cook the ashgourd slices with lid on for 4-5 mins or till it changes its colour to transparent.

Don't let it cook completely. Drain the water now.

Take another pan with sugar and add slices in to it. Keep aside for half an hour.

Once the slices leave water and mix with sugar, there will be enough of water for making sugar syrup.

Heat this pan on low heat and let the sugar dissolve completely and cook slices on medium heat afterwards.

Remove it from syrup before getting dry.

Now it is ready for wrapping the sandesh filling.

Divide the filling into equal parts and shape each portion into even-sized balls.

Place one portion of the filling on a petha slice.

Fold it along the sides to form a triangle and stud it with a clove.
Here's a Video of Making Paan Petha:
Paan Petha is not that of an easy recipe to make since you need to master the shape and the wrapping well. But it is surely a yummy sweet that will be loved by everyone as the prasad of Goddess Durga Maa. So on the last day of the festival, make this lovely exotic sweet and please everyone. Wish you all a very Happy Navratri 2019!