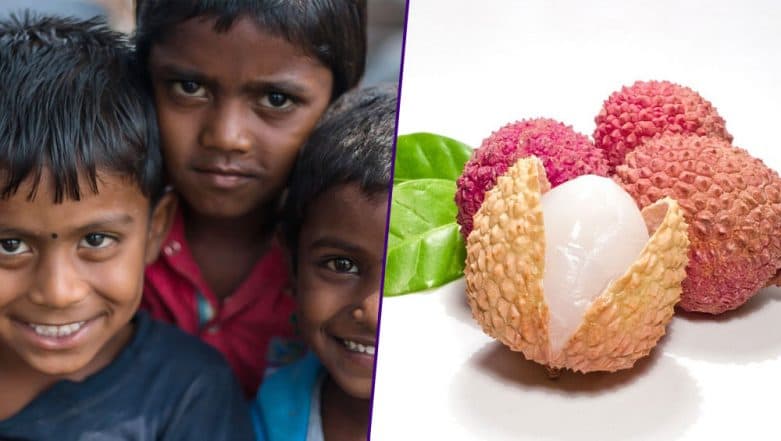 Summer is almost synonymous to tasty summer fruits like lychee. Remember as kids we used to binge on lychee likes its nobody's business? However, a recent scare after the Muzaffarpur death. The city is going through a crushing outbreak of Acute Encephalitis Syndrome (AES) has put a full stop to all the memories related to litchi. But we've all eaten lychee, if lychee was poisonous by itself, we would all be dead by now! What is it that is making people afraid of the yummy fruit? According to stats, the death toll of people affected by Encephalitis has risen to a 100 and while the state government considered the heat wave in northern India to be the reason behind it but the city in Bihar has experienced similar encephalitis attacks in the past where they were said to be caused by litchis. It is being said that eating lychee on an empty stomach is almost like ingesting poison, sometimes. Encephalitis Death Toll: 100 Kids Confirmed Dead in Bihar; Schools, Colleges to Remain Closed Till June 19.
The deaths in Muzaffarpur created a panic wave across the country and the researchers who studied 390 children in Muzaffarpur ill with acute encephalitis syndrome, a brain inflammation said that lychee has to do with the deaths. The children younger than age 15, who were mostly from poor families and malnourished, had eaten litchi on an empty stomach, the reason behind their deaths wasn't directly lychee but, in fact, the consumption of the fruit on an empty stomach. Some of the kids even hadn't had their evening meals. The study published in The Lancet said that 62 percent of the children admitted had blood glucose concentration of 70 mg/dL or less. The annual report released by the India Country Office of US Centers for Disease Control and Prevention, 2014-2015 is quoted below.   Lychee Havoc in Bihar: Deaths Due to Encephalitis on The Rise in Muzaffarpur, Over a Dozen Admitted to Hospitals.
Seasonal outbreaks of an unexplained, often deadly neurologic illness have been reported in the Muzaffarpur district of Bihar state since 1995. After ruling out infectious disease, pesticides, and heavy metal poisoning, collaborative NCDCGDD investigations in 2013-2014 helped classify this illness as a noninfectious/noninflammatory hypoglycemic encephalopathy associated with the consumption of the natural toxin hypoglycin/MCPG found in litchi fruit—a crop which is cultivated extensively in the area
What

 

H

appens 

W

hen 

Y

ou 

E

at Lychee 

on

 an Empty 

S

tomach?

Unfortunately, the flavorful small, fleshy fruit has been linked to the deaths of hundreds of children in India even in the past. But litchi is also said to be a healthy fruit rich in Vitamin C and minerals such as copper, phosphorus, low in sodium. It provides many B complex Vitamins and is a good source of Fiber too. Lychee, also known as litchi or liechee, from the soapberry family tastes similar to grapefruit. However, a study conducted by scientists from the US and India showed that lychee could be dangerous in some cases. Researchers found out that "eating lychee on an empty stomach and skipping meals before and after eating the fruit could lead to acute low blood glucose levels and lead to encephalopathy, a condition that alters brain functions, causing convulsions, coma, and in some cases, death." Can Lychees Be Poisonous? Litchis Linked to Encephalitis Deaths in Muzaffarpur – How to Eat This Fruit Safely.

Is lychee poisonous? Watch video: 

But does that mean that you must refrain from eating the delicious and otherwise healthy summer fruit? Woman Dies After Drinking Bitter Lauki Juice in Pune! Here's Why It's Dangerous To Drink Bottle Gourd Juice.

Advise from experts have it that litchis shouldn't be consumed by children on an empty stomach, especially children who haven't had their evening meal should not be given litchis to eat.  One must avoid eating unripe litchis and eating litchis while on fast is a big NO-NO. Even when the Hypoglycin Angle is ignored, soaking the litchis overnight in water will help remove the traces of pesticides that may be causing any kind of health concerns.