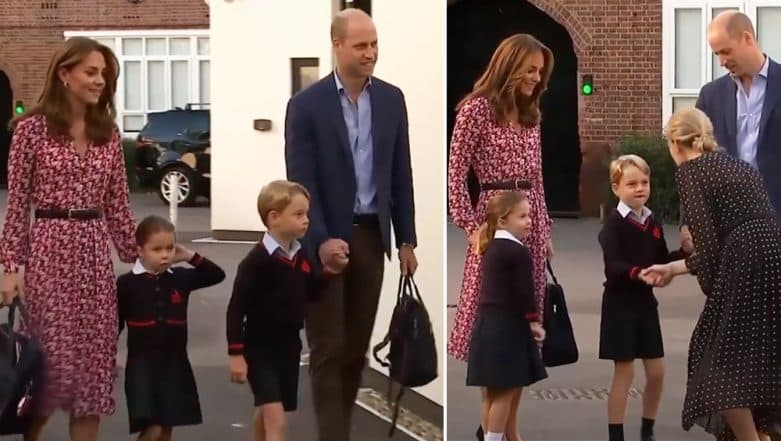 Princess Charlotte is all grown up, and it is her first day of school today, September 5, 2019. And we cannot stop gushing over the adorable video just shared by the Kensington Palace on their official Instagram. The little girl can be seen, greeting her teacher, holding her mother Kate's hand. Charlotte's big brother, Prince George and father Prince William too accompanied her. The royal kids were both wearing the school uniforms. The kids, along with their parents, walked into the class of Thomas's Battersea in London early morning. Prince William and Kate Middleton Have the Sweetest Message for Prince Harry and Meghan Markle on the Arrival of Baby Sussex. 
In the video, the family can be seen happily arriving at the school and greeting the teacher who welcomed the little one. At first, Princess Charlotte was holding her mom Kate's right hand, a little nervous, with both her hands. While greeting her teacher, who is the head of the lower school, identified as Helen Haslem, Charlotte decided to relax her grip, as she walked across the schoolyard. Father Prince George can be heard saying that her daughter is "very excited" to attend her first class. It is a special moment for the family and so for the viewers. Is Kate Middleton Ready For Baby No 4? The Duchess Responds!
Watch Video of Princess Charlotte's First Day at School: 
Holding her mother's hand, Princess Charlotte was looking smart and all set to learn many new things at the institute. She turned 4-year-old in May this year and seemed pretty excited for her first day at school. Princess Charlotte is quite famous for her spirited appearances in front of the cameras, always looking confident. And this moment was nothing short of it. Again, Prince George also appeared happy and relaxed to be back at school, where he is a pupil for two years now. We are so glad to see these two royal munchkins growing up so adorably together.