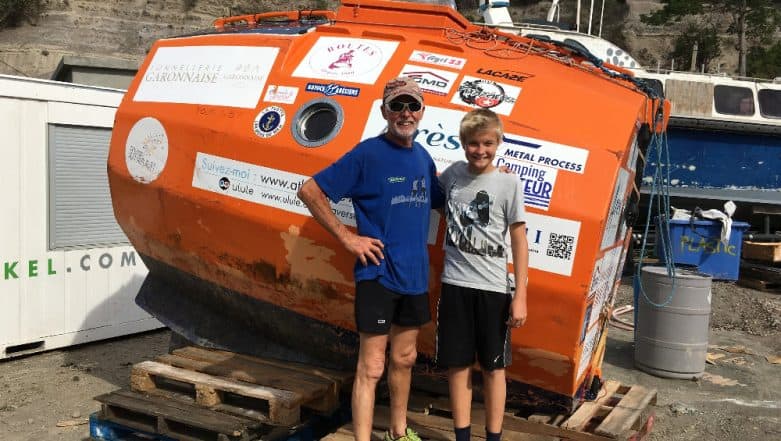 A 72-year-old Frenchman, Jean-Jacques Savin who started his journey from the Canary Islands, off the coast of Africa in a giant orange-coloured barrel just reached his Carribean destination. He floated across the Atlantic Ocean in the cubicle he built all by himself. Savin had set off from El Hierro in Spain's Canary Islands on December 26 with an aim complete his 4,500-kilometre journey to the Caribbean in about three months.
He spent the first four months of 2019 inside the barrel travelling just 3km an hour, only relying on the ocean current. Last week, he surprised visitors by reaching the Dutch Caribbean island of St. Eustatius which only has a population of 3,000 people. Savin took to Facebook saying that he was welcomed by a diving centre and was also given a hotel room to stay. Indian Couple, Who Was Travel Blogging in US, Falls 800 Feet to Death From Yosemite National Park's Taff Point.
Savin in his barrel!
The island dwellers were fascinated on seeing the handmade vessel which measures just 10 feet and seven feet wide. It has a small kitchen, bed and even space for storage. Savin kept himself alive by eating the fish he caught from the ocean. As he was set to be sailing during the New Years' Eve, he also carried with a bottle of Sauternes white wine and a block of foie gras. He also celebrated his birthday inside in the barrel in January 2019. He passed time by watching passing fish from the portholes in his vessel.
Check out his Savin's pictures after reaching St. Eustache island:
This is not the first time, Savin undertook an adventure trip. According to his project's website, he climbed Mont Blanc in 2015. He has also worked as a military paratrooper and a private pilot. A tracker on the vessel let people follow his progress online. He also dropped markers on his way to help international marine observatory organization JCOMMOPS study ocean currents. While Savin had hoped to reach the Caribbean by late March he missed the schedule and arrived after a month. He plans to make it to French-owned Guadeloupe by boat, before heading home with his barrel.
Watch the video below:
Savin was inspired by fellow countryman Alain Bombard, who in 1952 showed it was possible to travel across the Atlantic living only off plankton, saltwater, and raw fish in a lifeboat for the sake of the challenge. Savin read Bombard's book about his trip, Naufragé volontaire (Voluntary Castaway), and then decided to make his own voyage.