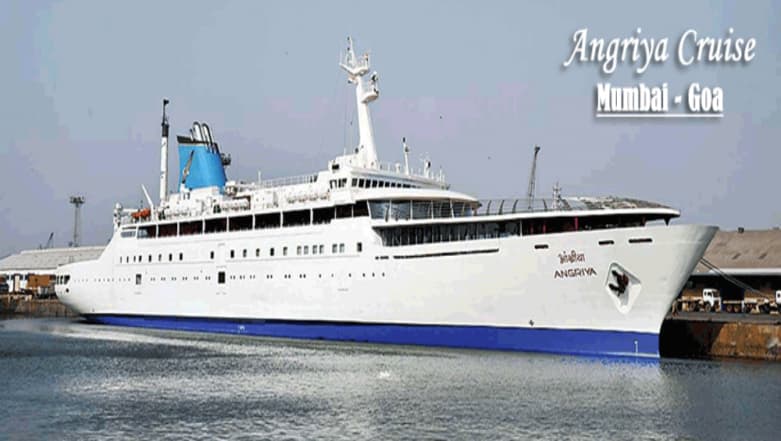 Planning a trip to Goa is never an easy task. It is infact the most awaited and always postponed trip. Now, taking a luxurious trip to the beach land is all the more in the news, thanks to the Mumbai- Goa cruise service Angriya. The first domestic luxury cruise from India, Angriya has started sailing from October 20 full-fledged. The cruise has been delayed since a year and the trial was undertaken in the month of May this year. The exact dates from when the cruise will begin kept fluctuating, but now it has begun and people are all the more excited about their Goa plan, albeit an expensive one. Angriya Cruise, Set to Sail From Mumbai to Goa, Inaugurated by Nitin Gadkari, Devendra Fadnavis: View Pictures! 
Earlier stated to start from the 1st of October, the cruise will now sail from October 12. The ship has been named Angriya after Admiral Kanhoji Angre, who was the first admiral of Maratha navy. The cruise is owned by Angriya Sea Eagle Private Limited, a subsidiary for Sea Eagle Cruises. Now that the cruise is all set to sail, let us tell you all the awaited details about the route, timings, and ticket fares of the first luxurious cruise of India.
Route and Timings of Angriya
The cruise trip will be a non-stop 16-hour journey starting from Indira docks, Mumbai. The journey will start at 5 pm from Mumbai and the cruise is supposed to reach Goa's Mormugao port at 9 am.
Ticket rates and bookings of Angriya 
The ticket fares start from Rs 7,000 to Rs 12,000. A dorm room will cost Rs 7,000 and a family suite will be Rs 11,000 per person. Two meals and snacks will be included in the fare. The bookings can be done on their website, which will be live soon.
Facilities on Angriya
The Angriya can carry 400 passengers. It has been built in Japan and has many of Japanese elements intact according to a report by CondeNast Traveller. There are 104 cabins in different categories- from dormitory rooms to family suites. There are multiple restaurants on board, coffee shops, a discotheque, infinity pool, spa and about 6 bars. There is a lounge area and conference hall too.
Your ticket fare includes three meals- snacks, lunch and dinner. The kids can also enjoy a fun tour of the ship which is provided for the guests. The infinity pool will offer a stunning view of the beautiful Konkan coastline. So if you are up for a luxurious cruise travel, then start saving up to splurge on a trip to Goa.