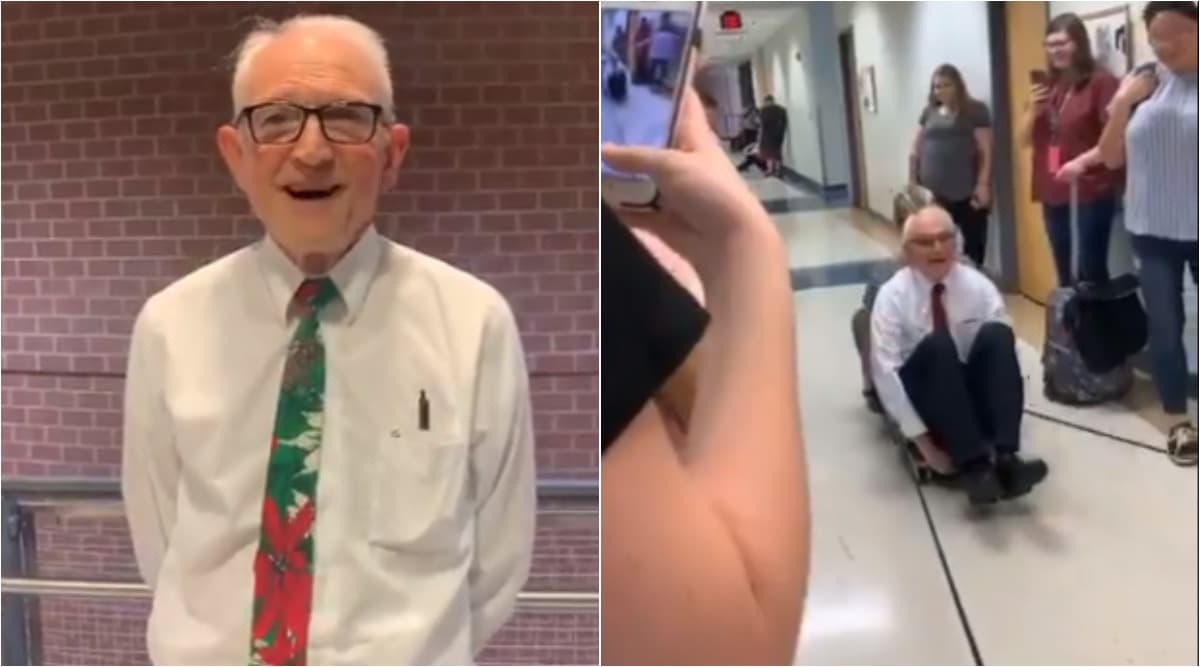 A 69-year-old professor at a Virginia community college has gone viral on social media for his creative ways of teaching students. David Wright, PhD, has been teaching at Tidewater Community College in Virginia Beach, Virginia, since 1974 and ensures his students have a great time doing their lessons. He makes sure his classes are entertaining as most of the students are who take his conceptual physics class are education or health science majors and not engineers or those with a science background. Hence, he tries to make the class entertaining to discuss scientific principles.
David told Buzzfeed News, "It was my very first job out of graduate school. I never thought I'd be at the same place my entire life, but it's been a wonderful place. I've really enjoyed it." He makes ice cream for his class using liquid nitrogen, makes flames appear and even let deflating balloons fly around the classroom. She compiled some videos and shared it on social media and her tweets were quick to go viral. In 24 hours, the videos were viewed more than 24 hours.
Check Out The Video Below:
Y'all need to see this video collage of all the crazy things my Physics Professor did this semester😭. He's in his 70s and is still doing all of this for us🥺💛 pic.twitter.com/JaICjzVB5I

— Erica✨ (@its_riccaa) December 11, 2019
Here's What The Professor Has to Say!
So here's some of the answers to the questions y'all had for Dr.Wright pic.twitter.com/UI8Mf1c9Ov

— Erica✨ (@its_riccaa) December 12, 2019
He adds, "It keeps them focused. We'll talk about what might happen. We'll do the demonstration. We'll talk about why it happened the way it did. I'm trying to show them how physics applies in the real world. They really appreciate being able to do that and see the applications of that." The professor's unique way of teaching went viral after his student, an 18-year-old Eric Church, a sophomore who takes Wright's class as a prerequisite for her sonography major posted videos of his classes on social media. She said, "I was a little worried going in. On the first day of class, he actually walked on a bed of broken glass. I was like, this is a little crazy. I've never seen a professor doing this before."
Here is What The student Mailed Him:
So I just emailed him letting him know he's gone viral😭 we'll see what he says. pic.twitter.com/AL8q1HuLL0

— Erica✨ (@its_riccaa) December 12, 2019
And Here is What He Replied:
UPDATE: He responded to my email🥺🧡 pic.twitter.com/boEdL3ab7r

— Erica✨ (@its_riccaa) December 12, 2019
As the videos went viral, the professors gained a massive fan following on social media platforms. Following which she mailed him about his fame on social media and received a beautiful reply. He has taught over 8,000 students and has done thousands of experiments in the process. From laying on a bed of nails to rolling down the hall to starting a fire, he has displayed the real role physics plays in everyday lives.