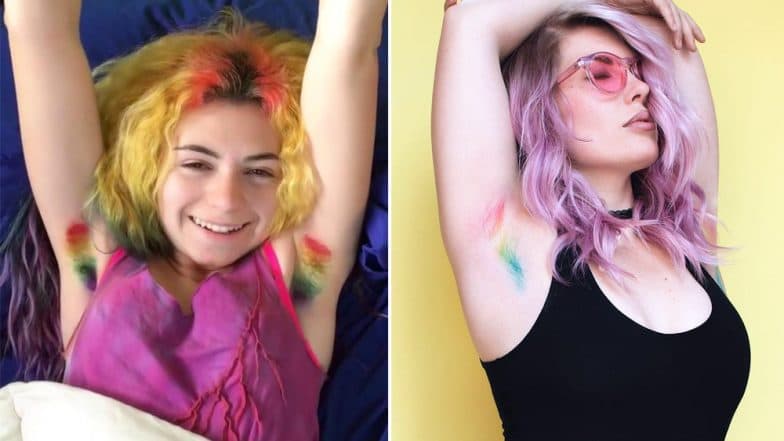 Beauty trends come and go, but some of the beauty trends are really body positive, like the unicorn armpit. With the Januhairy trend doing the rounds on the internet wherein you do not shave your body hair and let them grow for the month of January, the unicorn armpit is just a step further. You decorate your armpit hair in multiple. Women all around the world are trying this new beauty trend that is going viral. Women are dying their hair in rainbow colours and posting a picture of it on social media. Januhairy: Women Share Pictures of Hairy Arms, Legs and Pits to Celebrate Body Hair.
Looks like the definition of beauty is finally changing and becoming more and more inclusive. People all around are loving this Januhairy beauty trend upgrade. Both Januhairy and unicorn armpit is being lauded all around the internet.
Take a look at some of the pictures of women flaunting their unicorn armpit.
Sexy and HOW!
View this post on Instagram
Isn't this just incredible?
Anyone doing #Januhairy fancy taking it one step further? Say hello to unicorn armpit hair. pic.twitter.com/a3wfZnLcQ5

— Steve & Karen (@TheSandK) January 15, 2019
They are all beautiful.
How do you like the latest unicorn armpit hair trend? pic.twitter.com/jkze0XEnyh

— کاویری (@ikaveri) January 14, 2019
Uber cool!
View this post on Instagram
Here's the video featuring unicorn armpit hair that you can DIY easily at home.
This trend may seem absurd to many, but it is actually unique and liberating. It is about time we stop feeling ashamed of our body hair, what say?