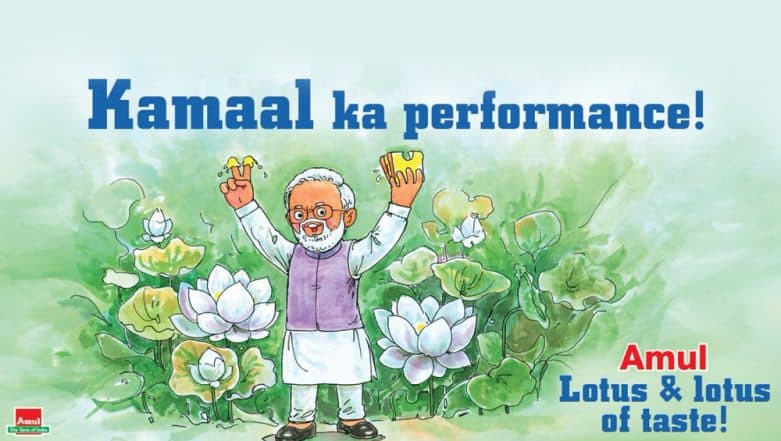 Amul ads have always won the hearts. Whether, it's their amazing puns or serious issues on recent events, their calligraphies have always been too relatable. And it is no surprise to see the Indian brand ads and tweets, going viral, gathering many reactions. The country, underwent to Lok Sabha Election 2019 results on May 23. Individuals are now celebrating the return of Narendra Modi as the Prime Minister of India. All wishes poured in online from all across the world. Being popular as the master of current affairs, Amul joined in the celebration, congratulating PM Modi on his "Kamaal ka Performance," with their blossoming topical ad. Narendra Modi Wins Lok Sabha Elections 2019! Modi GIFs, Whatsapp Stickers, Memes and Greetings to Congratulate the PM. 
With the tagline, "Kamaal ka Performance," the dairy brand praised Modi's victory, who created history by becoming the first Non-Congress Prime Minister with a significant government to get re-elected with a huge majority. The calligraphy shows Narendra Modi, holding a buttered toasted bread in one hand and showing victory sign with the other, with beautiful Lotus illustrations on the background. Smriti Irani Is The Star Of The Show In BJP's Massive Victory In Lok Sabha Elections 2019 As She Defeated Rahul Gandhi In Congress Bastion Amethi. 
Amul's Topical Ad on PM Narendra Modi's Victory
#Amul Topical: BJP sweeps Lok Sabha polls! pic.twitter.com/mx5q2r1qqE

— Amul.coop (@Amul_Coop) May 23, 2019
Amul has a take on everything, be it a sports win, or a path-breaking movie or a political situation, their representation is accurately amazing. And its recent representation is no less. It has amazing depiction, portraying country's joy to see Modi as the PM of the country. As the country continues to celebrate, we just eagerly wait for more such joyous occasion, for Amul to come up with their utterly butterly topical ads. May the puns continue to blossom.