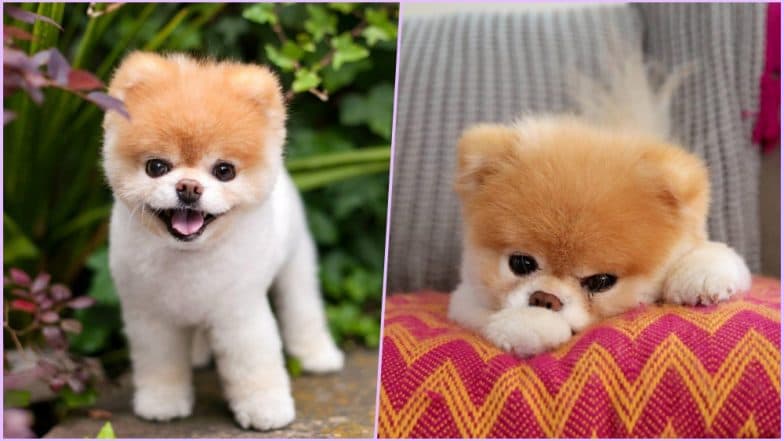 Dubbed as the 'World's Cutest Dog' in 2011, Boo, a Pomeranian has reportedly died at age 12 after mourning the death of his canine companion Buddy. His owners who run the Facebook page, 'Boo', informed that the internet sensation passed away in his sleep Friday morning, January 18. After coming across the post, millions of Boo's followers on the internet are left heartbroken and pray that the Pomeranian's soul rests in peace. Announcing Boo's sudden demise, the owners wrote, "Our family is heartbroken, but we find comfort knowing that he is no longer in any pain or discomfort." This Video of a Pet Dog and Cat Loving Each Other is Going Viral, Watch Cute Clip. 
The Pomeranian Boo and his companion Buddy became the internet sensations when their American owners began to share pictures of their adorable daily activities. Their innocence garnered them about 16 million-plus Facebook followers. However, Boo started developing medical problems after his best pal, who had lived with him for 11 years, died in 2017 at the age of 14. Meet Remus, a Dog Which Responds to Harry Potter Spells! Watch Cute Video. 
"Shortly after Buddy died, Boo showed signs of heart issues. We think his heart literally broke when Buddy left us. He hung on and gave us over a year. But it looks like it was his time, and I'm sure it was a most joyous moment for them when they saw each other in heaven," the post reads further.
Boo Passed Away in His Sleep in the Early Hours.
The post ended noting that Boo "brought joy to people all over the world." Boo became friends with Buddy in 2006, and ever since then the pair became inseparable and were the happiest when posing for photos together. The 12-year-old's fame led him to earn about 1 million dollars annual income through many partnerships. He even landed a book deal, appearing in the 2011 photo book, "Boo: The Life of the World's Cutest Dog." The news of his demise has left the internet in tears. We only pray that his soul rests in peace and continue his mischief on the other side of life with his best bud.